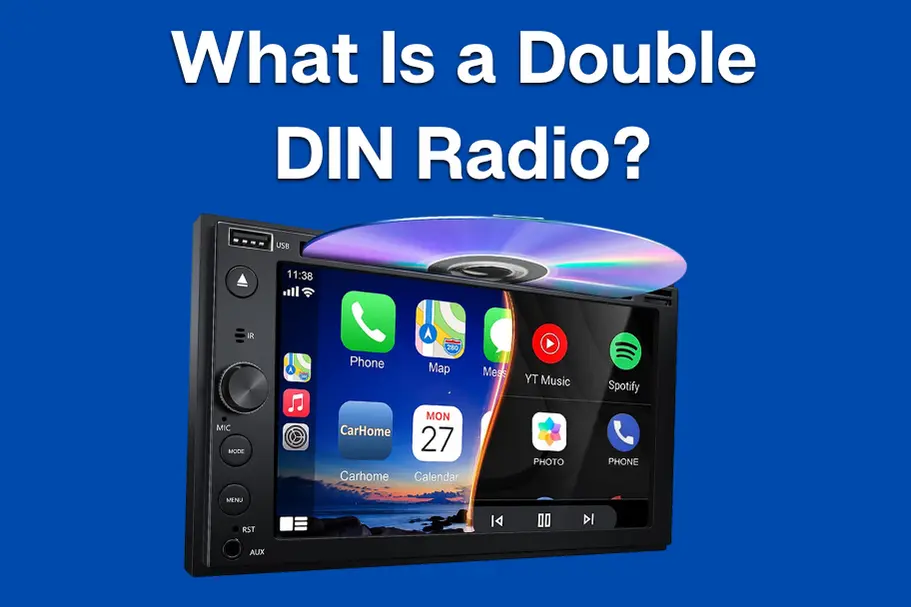 Your car stereo is an essential part of your car's entertainment system. You want a radio that is going to give you the best audio experience. But what is a double DIN radio?
Double DIN refers to the size of the radio in your car. This means it is double the height of a single DIN radio. DIN is the abbreviation for the German group Deutsches Institut für Normung (German Institute for Standardization). The DIN company sets the standard for all car radios.
A double DIN is the larger of the two sized radio heads in a car, but let's keep reading to see the variations on DIN radios and see if it will fit in your car.
How Do I Know If a Double DIN Radio Will Fit In My Car?
Because a double DIN means that the car's radio face is twice as tall as a single DIN, all you have to do is measure the face to see which radio size would fit in your car.
In 1984, the official standards were DIN 75490, but the current standard size of a dashboard-mounted head has been revised to ISO 7736. This is also known as the radios DIN size
You'll know if your car will fit a double DIN radio if the faceplate of the head unit receptacle is 4 x 7 inches in size instead of 2 x 7 inches. The following table shows us the measurements of the different standard DIN sizes of car radios:
| | | |
| --- | --- | --- |
| | Single DIN | Double DIN |
| Height | Two inches (5 cm) | Four inches (10 cm) |
| Length | Seven inches (17 cm) | Seven inches (17 cm) |
The size of the single or double DIN does not give us the depth of the radio that they conform to. You'll need to check how deep your head unit receptacle is. A shallow receptacle head may struggle to fit all double DIN radios. Always measure the depth of your unit's head receptacle.
Which Is Better: A Single or Double DIN Radio?
Which DIN radio has better quality? You'll be happy to know that whether you have a single or double DIN, the size difference won't determine the quality of the stereo. The sound quality and overall quality of your stereo will depend on the brand of DIN radio you install.
If you're still wondering if bigger means better, take a look at some of the benefits of having a double DIN radio:
Benefits of a Double DIN Radio
More internal space
The bigger the radio head, the more internal space is available for different components. The radio itself can have its own built-in amplifier. When a radio has its own built-in amplifier, it usually has a preamp output to ensure that the sound quality is not compromised.
Bigger Display
It's pretty useful to have a bigger display. Not only will you be able to see settings and information more clearly, but a bigger stereo screen is easier to operate.
Most DIN radios accommodate the best touchscreens. These top-notch touch screens also have high-quality video head units. You'll have more compatibility with phone integration systems and a bigger rear-view video with better visibility.
What Is RDS Radio? & What Is A Radio Scanner?
How Do You Pick a Double DIN Radio?
When you're deciding what Double DIN radio is best for your car, you need to keep the following questions in mind:
How Easy Is It to Installation?
A double DIN radio that's easy to install is going to save you a lot of time, whether you decide to install it yourself or go to a mechanic.
Is It User-Friendly?
Choose a radio that is easy to use, and you'll easily notice if the buttons are in a strategic location and if it's obvious what each function of the button is. When you're driving a car, you should not be distracted by complicated interfaces.
Bluetooth connectivity can make a radio super user-friendly, so most functions can be controlled from your phone for easy access. A touchscreen also simplifies the clutter and makes a radio user-friendly.
Does It Have Good Sound Quality?
You can have the best speakers in the world, but if your radio is subpar, the quality of your speakers will suffer as well.
Final Thoughts
We can identify the double DIN radio specifically by its size. A double DIN radio will always have 2 x 7-inch dimensions. Whether you enjoy the bigger or smaller radio head, this will come down to your personal preference. The double DIN radio does come with a few great benefits, but whether you choose single or double DIN will not affect the quality, but rather the brand of radio you choose to install.
Sources