Have you ever heard of NOAA weather radio? Weather radio also known as emergency weather alert radio has several advantages, but you need a particular listening device. 
What is a NOAA Weather Radio or Emergency Radio?
NOAA stands for the "National Oceanic and Atmospheric Administration." NOAA operates the NOAA Weather Radio (NWR), which is a nationwide network of radio stations that broadcast continuous weather weather forecasts, warns of terrorist threats, and broadcasts Amber alerts when a child goes missing. NOAA weather radios are also known as emergency radios.
A weather radio is a municipal service brought to you by the government to keep the public safe from natural disasters and other threats. 
In this article, you will learn the benefits, types, and differences of weather radio compared to regular radio. Read on for more information. You can get the list of Best Emergency radio here.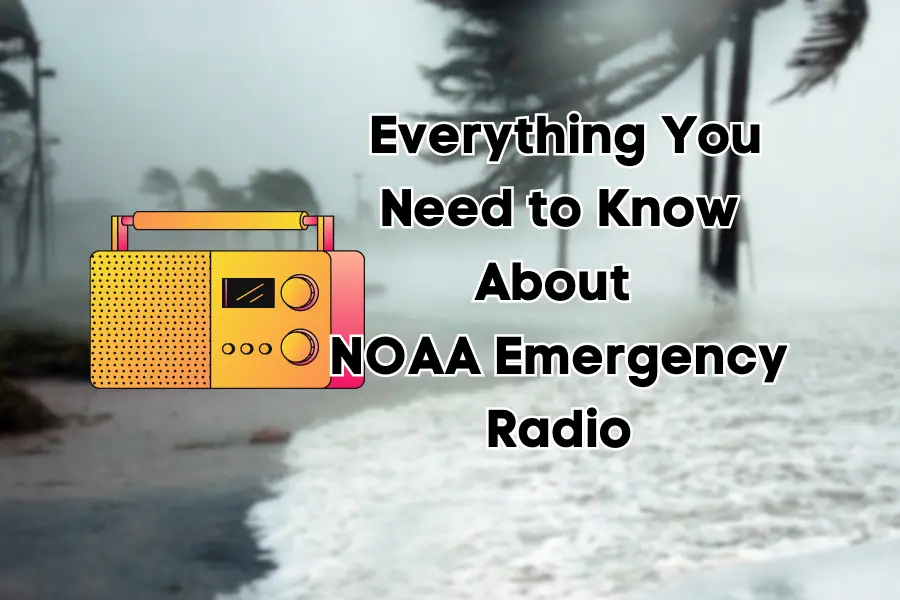 What Does NOAA Mean in Radio? 
NOAA weather broadcasting is delivered by The Department of Commerce and presented over the NOAA radio and internet stations. They report the meteorological conditions and information all day, every day. Natural disasters and national emergencies are also broadcast. The aim is to broadcast up-to-the-minute reports on the weather:
Flash floods
Tornadoes
Blizzards
Weather radio has implemented a feature to sound an alarm and automatically issue a warning. The National Weather Office activates a tone alert to warn people of severe weather. It is one of the most recognizable sound-offs, including Amber alerts for missing children, terror attacks, and technological accidents like oil spills.
The National Weather Service Office operates thirteen radio consoles broadcasting from thirteen transmitters in North Texas. NOAA weather radio works with the FCC's Emergency Alert System. It is an "all hazards" only system.
NOAA Weather Radio is sometimes termed NOAA Weather Radio All Hazards. The radios give you the same information that meteorologists are privy to. The NOAA is a scientific agency that operates within the United States government.
Can the Hearing and Visually Impaired Get NOAA Warnings?
An emergency can arise, and an alarm sounds off, but some people may not be able to hear or see it. The NOAA has taken precautions so that the hearing and visually compromised can also receive warnings. They utilize different types of alerts. The channel will have a secondary audio stream for the hearing and vision impaired. There are also radios with visual and vibrating alarms or text readouts.
Weather Radios can be linked to:
Pagers
Bed-shakers
Alarm tones
Strobe lights
Text printers
Personal computers
These include specially designed alarm clocks. For example, you can have a vibrating or shaking feature on clocks to warn you instead of the traditional signal. Some ways the hearing and visually impaired can be warned include color-coded warnings, which show the alert's severity, and a liquid crystal display readout of warnings. Alerting devices implement alarm clocks, smoke alarms, and carbon monoxide monitors.
What are the Different Features of Weather and Regular Radio?
There are some significant differences between weather radio and regular radio. Regular radio does not usually save families from inclement weather conditions or natural disasters. The following include the differentiation between weather radio and traditional radio:
Weather Radio
A weather radio is typically broadcast from government-operated radio stations. They perform a public service by warning people of potential danger from weather-related incidents. They report the weather continuously, and observations are based on the current weather and emergency or urgent information.
A radio scanner or a weather radio receiver is required to listen. However, some AM radio stations transmit weather radio. Some other sources for listening to constant weather broadcasts:
Secondary audio programming channels
Terrestrial television stations
Government access stations
Local public television
Educational Television
You can get weather radio on stationary or portable devices. Portable radios usually require batteries, and some of them are two-way receivers. The stationary receivers may have other features, like bed shakers, strobe lights, etcetera.
Regular Radio
Regular radio is simply radio that has music, news broadcasts, and talk shows. AM and FM varieties are utilized for listening. FM radio was first patented in 1933. Subsequently, radio has come a long way since then. FM radio only works with an antenna. You can also listen to FM radio online. FM radio also contains podcasts. FM radio gives you many options:
Classic rock
Rock
Hip hop
Pop
Dance
Soul
Gospel
Comedy
AM radio is not known for playing fun music or comedy. It is generally the news that attracts listeners. For example, KYW News Radio 1060 AM in Philadelphia, Pennsylvania, is all news all the time. Some AM radio broadcasts sports like live baseball games.
The first Wireless Radio Broadcast occurred in 1906. AM radio remains simple and practical to this day. You can listen to AM radio on older radio models, such as portable ones with cd players and alarm clocks, or you can go online and listen to Simple Radio. You need simple equipment to receive AM radio, which has a narrower bandwidth than FM radio. The major downside to AM radio is the static that occurs as a result.
What is an example of an NOAA Weather Radio?
You can find NOAA weather radios in two forms: Weather radios with detailed area message encoding and those without exact area message encoding. "SAME" is used for framing and classification purposes. In the 1980s, the National Weather Service began employing analog tones to convey data with radio announcements.
The NWS places special codes at the start and each message concerning life-threatening weather situations. The goal was to transmit code with NWS messages. Eventually, it became the standard protocol for weather radios. The following are examples of NOAA weather radios with SAME:
First Alert WX-167 Emergency Alert Radio
Midland WR-300 Weather Alert Broadcasting
Oregon Scientific WRB308 Public Alert Weather Radio
Reecom R1630 All Hazard/Weather Alert Radio
The National Weather Service indicates that there are various NOAA weather radios without SAME: "Freeplay Emergency Twin Pack Weatherband Radio, Sun Mate 837D Info-Mate World Band Dynamo and Solar Radio, Weather One W100 Emergency Alert Portable Weather Radio with AM/FM, and Kaito KA-007 Hand Crank Solar AM FM Worldband TV VHF Weather Band Radio." SEE CITATION
There are situations in which an emergency weather radio is appropriate for practical use. For example, when you are bunkering down during a power outage, a weather radio can provide power for your cell phone. It is convenient, and you can call your electricity provider to find out when the lights will come back on.
Of course, the most essential application of weather radio is for more severe instances. If you have an NOAA weather radio with an alarm, it can wake you and your family during a natural disaster so that you can seek shelter in a safe place.
Weather Channel Frequencies
"The Voice of the National Weather Service" functions under seven weather channel frequencies:
VHF Public Service Band
162.400 megahertz MHz
162.425 MHz
162.475 MHz
162.500 MHz
162.525 MHz
162.550 MHz SEE CITATION
Weather frequencies are not like typical AM or FM broadcast bands. Standard NOAA radio coverage spans within 40 miles of the transmitter. Currently, the span of NOAA is limited. The National Weather Service is trying to correct this and increase weather radio coverage.
Learn more about VHF vs UHF Radio Frequencies & Shortwave Radio Frequencies.
How Does Weather Radio Work?
You need a particular radio to listen to the weather radio. Weather radio operates like a blend of an alarm clock and a pager. It plays the same message repeatedly until new information is added. Weather radios usually have an alert function that automatically overrides other radio functions when an alert comes in. It will interrupt regular programming to give you a warning. The alert function must detect a 1,050 Hz attention zone to work.
The newer NOAA models detect Specific Area Message Encoding. They can pick up alerts in specific areas rather than a widespread location. When a signal is picked up, you will hear warnings or alerts for a particular area first, and then the 1,050 Hz attention tone is detected. After that, there is a message, followed by a data signal. The government determines the scope of the broadcast and the SAME location.
Here is the list of best noaa weather radio.
NOAA uses automated broadcast technology to replay messages to the public. NWR works including the FCC's Emergency Alert System and federal, state, and local disaster managers to help bring up-to-the-minute updates about the weather and other concerns. Current weather observations are also reported.
NOAA Weather Radio incorporates warnings and messages through unique radio frequencies designed to be picked up by weather radios. Regular AM/FM radio cannot pick up these frequencies. The role of weather radio expands past simple weather alerts. It also provides other messages, such as evacuations, Amber alerts, and other news that affect public safety.
Weekly Check of NOAA Weather Public Alert System
The NWS must have a weekly scheduled test of the NOAA weather radio civic warning system. Tests are often conducted on certain days of the week at set times. The NOAA usually interrupts regular programming to deliver the message. The required weekly test is a standard five to ten-second test of the Emergency Broadcast System.
FEMA, the FCC, the NOAA or The Federal Emergency, the Federal Communications, and the National Oceanic Agencies all function jointly to deliver communications from the Emergency Alert System. As a team, they help make pertinent information available to the public.
Types of Weather Alert Radios
A weather radio will help you and your family in an emergency. If your electricity goes out for an extended time, it can keep you informed. As a helpful tool in inclement weather, a weather radio with a backup battery will give you instant, continuous messages. The following includes the best weather radios:
Midland ER310
The Midland ER310 has three power options to recharge your radio:
Solar panel
Hand crank
Rechargeable battery
The rechargeable battery provides 32 hours of usage. It contains an emergency flashlight, which can be used to signal for help. The NOAA weather scan alert scans for the most robust, transparent weather channel for updates. It has a built-in AM/FM radio and an ultrasonic dog whistle.
Midland ER210
The Midland ER210 has the same advantages as the Midland ER310 but is smaller. It has multiple charging options, and the hand generator on this model will allow you to achieve more power than the Midland ER 310. Crank this bad boy up and watch it deliver.
FosPower Emergency Solar Hand Crank
With three power options, the FosPower Emergency Solar Hand Crank will sound off a loud alarm with a flashing red light. The power options that exist for this radio are:
Crank lever
Solar panel
Batteries
This weather radio features an analog setup and dials. The only issue is that it does not have an alarm clock, but it is the best for conserving energy. Read more about best hand crank emergency radio.
Midland WR120EZ
The Midland WR120EZ has a built-in alarm clock and three LED colors that display the alert's severity. IT will also let you know what type of weather-related challenges your area will encounter, and it has the SAME capabilities. It also has an emergency power backup for your convenience.
Eton American Red Cross
A multifunction digital weather radio with an alarm clock, The Eton American Red Cross has an LED flashlight and a red bulb to send a signal. It contains a large internal battery but does not take backup batteries. However, the sound quality is superb.
Eton Sidekick
The Eton Sidekick is a weather radio with Bluetooth capability and auxiliary input. It has an enormous ambient light and a built-in battery for easy recharging. It also has AM/FM radio and SAME capabilities. The best part is that it is highly portable and complete with sophisticated features.
Givoust Emergency Weather Crank
The Givoust Emergency Weather Crank has four power sources:
Corded -Electric
Solar panel
Hand crank
Batteries
The various power options allow you to switch to a different power source once the energy is used. The best feature is the flashlight. The LED bulb on this weather radio is exceptionally bright and powerful. It has an auxiliary input and a double-make auxiliary cord.
Where to Get an Emergency Weather Radio
You can check stores like Lowe's, Best Buy, and Walmart for a weather radio. You can also purchase them from Amazon or similar online stores. Some weather radios are cheaper to buy online.
Conclusion
An NOAA weather radio is a special device that broadcasts the weather continuously. It is essential because it can save your life if an adverse weather event occurs in your area. Weather radio gives warnings and emits a signal when a threat is detected. If you do not already have one, purchasing a weather radio may be wise to ensure your family's safety.
Citations:
US Department of Commerce, NOAA. "Everything You Need to Know about Weather Radios." National Weather Service, December 3, 2016. https://www.weather.gov/mob/nwrhelp
US Department of Commerce, NOAA. "NOAA Weather Radio Frequently Asked Questions." National Weather Service, June 8, 2022. https://www.weather.gov/phi/nwrfaq
Sources: