Ham radios! They are quite fascinating! They are popular not only among rookie radio enthusiasts but also among survivalists. Yes, there are cell phones and Internet connections for communication. Unfortunately, they can take us only so far.
As you know, there are many situations where mobile phones are useless, in those situations Ham Radios are the best for communication. Whether it's a survival situation or a complete Ham Radio beginner, we have got everything covered. Let's dig into the Ham Radios.
Best Handheld Ham Radios
Ailunce HD1 DMR HAM Radio & BaoFeng BF-F8HP handheld Ham radios are two of the best Ham radios for beginners and survival situations. BaoFeng BF-F8HP & Ailunce HD1 radios have many features, including USB and Bluetooth support. The reception and audio quality of these radios are unmatched. We have also reviewed and picked some other excellent portable and budget amateur radios for beginners. Here's a list of the best Handheld ham radios for beginners and survival.
We will discuss all these radios in-depth, and you can buy whatever meets your criteria. Do let us know which one is your favorite in the comments section.
#1. Ailunce HD1 DMR – Best Ham Radio For Survival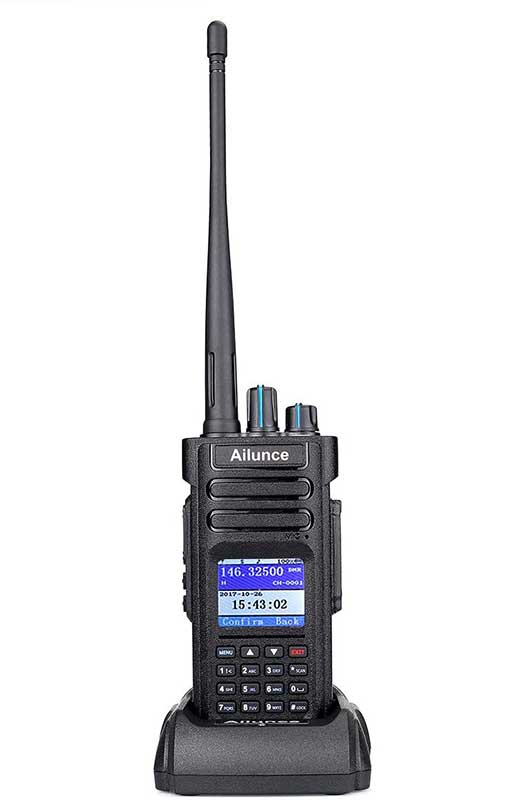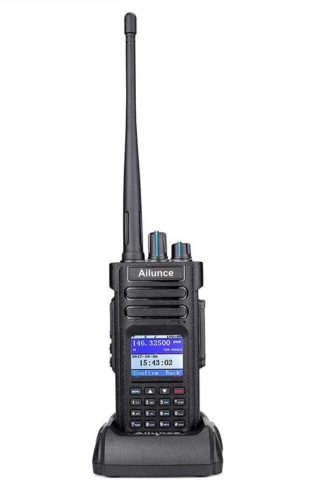 Tech Specs:
| Radio Name | Ailunce HD1 Dual Band DMR Amateur Radio |
| --- | --- |
| Brand | Ailunce |
| Band | Dual Band |
| GPS | Yes |
| Channels | 14 FRS, 15 GMRS ( 7 Common channels) |
| Frequency | 136MHz – 174MHz, 400MHz – 480MHz |
| Antenna Impedance | 50Ω |
| Battery | 3200Mah |
| Power Source | AC & Battery |
The Ailunce HD1 DMR is probably the best ham radio for survival situations that is available in the market. This is my favorite, and I highly recommend it to anyone who takes owning a ham radio seriously.

Editor
Note: Though it is quite pricey, it is highly sophisticated and works quite well. So, don't let the price discourage you from buying this. The ham radio is worth buying for survival situations.
Ailunce HD1 DMR allows transmission in both VHF (136-174 MHz) and UHF (400-480 MHz) frequencies. It worked quite well in both frequencies when I tested it.
GPS
I love the GPS accuracy of Ailunce HD1. This is a feature that plays a key role in survival situations. It comes with a highly accurate GPS tracker, capable of giving altitude, at long speed, and bearing information.
Many features like this make this two-way radio an excellent option for survivalists.
Battery
The 3200 mAh battery with 160 hours of standby and 15 hours of usage time is great during SHTF situations!
Channels
The HD1 offers 3000 channels, 200,000 contacts, 256 zones, and 1000 priority contacts. It is compatible with both digital and analog modes. It also offers a Promiscuous function that will allow you to listen to all signals even if you aren't in the same group.
Extra Handy Features
Ailunce HD1 has an SMS function with DMR data functions that will allow you to send and receive text messages of 144 characters in length.
Reception
The Ailunce HD1 comes with squelch technology to offer crystal-clear sound reception. The integrated VOX feature allows hands-free operations.
My biggest selling point is not having all these features in this radio but how well these features work and the reliability of the Ailunce HD1 DMR ham radio. I do not know about you, but this is the kind of Ham Radio that I would want to have in any kind of survival situation or even for normal day-to-day use.
#2. BaoFeng BF-F8HP – Best HAM Radio for Beginners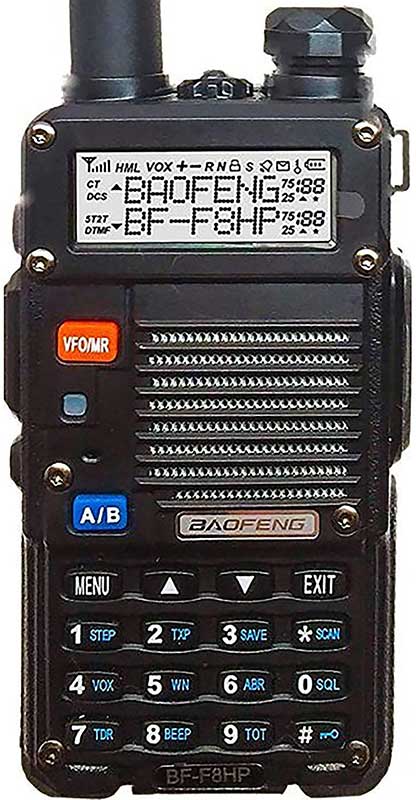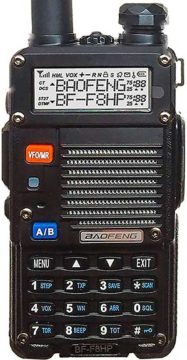 | Radio | BaoFeng BF-F8HP |
| --- | --- |
| Band | Dual Band |
| GPS | No |
| Channels | 1000 |
| Frequency | VHF: 136-174 MHz | UHF: 400-520 MHz |
| Battery | 2100mAh |
| Power Source | Battery: 7.4 Volts | AC: 110 Volts |
BaoFeng is one of those few ham radio brands that feature heavily on almost any "top list" that you will read on the Internet. There is an excellent reason for that! The Baofeng company consistently produces high-quality handheld transceivers or two-way radios that offer amazing communication features. Some of them are great options for rookies, while others are perfect for survival situations.
We highly recommend BaoFeng BF-F8HP Ham radio for beginners and for those who want to buy a budget ham radio. This give you the full value for your money and comes with all necessary features.

John – Reviewer.
The BaoFeng BF-F8HP is a radio that can provide much-needed life support in emergencies. With outstanding features, this dual-band radio comes with a massive 2000 mAh battery, a V-85 high gain antenna, and maximum 8-watt power output.
The combination of the V-85 antenna and the max power output increases the coverage range significantly. The beefed-up battery also ensures that you can stay in touch with others more often during emergencies.
It allows transmitting in two frequencies – VHF and UHF, with a frequency range of 136-174 MHz and 400-520 MHz, respectively. The semi-duplex transmission mode will allow you to transmit and receive one at a time.
BaoFeng BF-F8HP is easy to use for beginners. The radio comes with a handy manual. Also, there is a lot of video content available on Youtube for this BaoFeng BF-F8HP ham radio. So, this is a very good choice for beginners and ham radio enthusiasts.
#3. Kenwood Original TH-D74A – Best HAM For Survival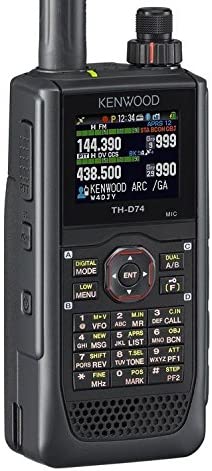 | | |
| --- | --- |
| Radio Name | Kenwood Original TH-D74A |
| Brand | Kenwood |
| Frequencies | 144 / 220 / 430 MHz Tri-Band |
| AM | 10 dB S/N |
| Voltage | DC 6.0V – 9.6 V Battery |
| GPS | Yes (Accurate up to 10M) |
| Power | 5 WATT, 2/0.5/0.05 WATT |
| Weight | 7.2 ounces |
Kenwood TH-D74A Technical Specifications
Kenwood TH-D74A Amaetuer (HAM) Radio Review
Kenwood Original TH-D74A is probably the number one overall Ham radio in my opinion. Whether you're hiking in the mountains or hunting in the forest, I think, You should go for this instead of any other handheld ham radio. This is something, I would recommend to my family and friends.

John
If you are a serious survivalist or HAM enthusiast, then this is the most advanced ham radio that you can buy for the price. Kenwood Original TH-D74A is a highly sophisticated piece of technology that requires a lot of knowledge to operate. The learning curve is very steep, and it can take weeks to master it. But, It is a good thing that it has tons of features.
Despite those initial challenges, the TH-D74A is one of the most feature-rich handheld ham radios that your money can buy. The most exciting feature of the Kenwood Original TH-D74A is its ability to share GPS locations in real time. It has APRS compliance that uses packet communication, allowing GPS location sharing. You can also use this rig for messaging.
The radio is compliant with USB 2.0 and Bluetooth 3.0. The rig has impressive IF filtering that allows superior reception. The Kenwood Original TH-D74A is compliant with D-Star digital voice and data protocol. It allows you to select from four different Tx power options – 5-watt, 2-watt, 0.5-watt, and 0.05-watt.
The Transflective color TFT display allows comfortable viewing in sunlight and in the dark.
Pros of Kenwood Original TH-D74A
It has a storage capacity of 100 weather, fixed, and mobile stations.
It has KISS TNC built-in for managing APRS on a computer.
It offers simple, semi-duplex, and IP gateway modes for digital communications. You can communicate in a local area, in a wide area or even worldwide.
TFT display also provides a compass with station information or weather conditions.
It has multi-band, multi-mode reception, capable of receiving signals in the frequency range of 0.1 to 524 MHz.
It comes with a microSD/SDHC slot.
It has a high-quality built-in GPS (Auto Clock Setting) with a high-sensitivity patch antenna capable of tracking GPS signals right from the dashboard of vehicles.
The IF filters reduce the interference of the adjacent frequencies.
It also comes with a high-performance audio equalizer.
It has IP54/55 weatherproofing.
Cons of Kenwood Original TH-D74A Ham Radio
The menus of this portable ham radio are a bit complicated, and it will take some time to master them.
The battery life is not so great. The rig's battery will last for 5 hours tops if you use both ARPS and GPS.
The programming cable doesn't come with the device.
It is not very rugged. You can damage the unit if you accidentally drop it.
You don't get a separate mic.
There is no flashlight.
#4. BaoFeng UV-82HP – Cheapest Handheld Ham Radio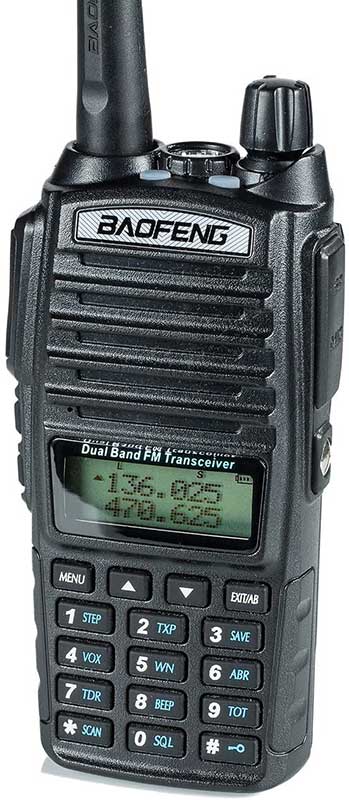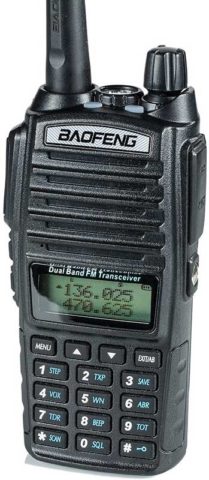 BaoFeng UV-82HP is the cheapest handheld ham radio that works well and worth buying.
There are good reasons why the UV-82HP made it to this list of best handheld ham radios for survival.
BaoFeng UV-82HP is a powerful radio that comes with 8 watts of max power output. Couple it with the high gain V-85 antenna, and your communication range will increase significantly. This antenna comes with the package.
Unfortunately, the battery is not as powerful as the BF-F8HP. The UV-82HP features an 1800 mAh battery. To make up for the less powerful battery, BaoFeng included a dual PTT button.
PTT means push-to-talk. This button will allow you to transmit in two different frequencies by merely flipping the button up and down. Nonetheless, you will have to satisfy yourself with the semi-duplex communication mode, that is, you can transmit and receive one at a time.
This particular model of the transceiver or two-way radio from BaoFeng also supports both VHF (136-174 MHz) and UHF (400-520 MHz) frequencies.
The Pros of BaoFeng UV-82HP Handheld Ham Radio
It has 128 programmable channels.
It can be programmed using a computer or a laptop.
It comes with a dual-PPT button.
It includes a high gain V-85 antenna.
It comes with 8-watt power output. There are two more power settings to choose from.
It comes with a channel locking mechanism so that you don't change the channel accidentally.
It has a bright LCD display.
It has an integrated flashlight.
It has a sturdy build quality.
The Cons of BaoFeng UV-82HP Ham Radio
The battery has a low capacity. You must buy a separate battery as a backup power source.
From the safety aspect, it is better to have a separate microphone, which is not included in the package.
The programming cable is not included in the package.
It is neither waterproof nor dustproof.
#5. Yaesu FT-60R – Straightforward and Robust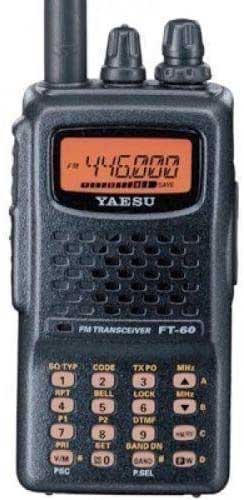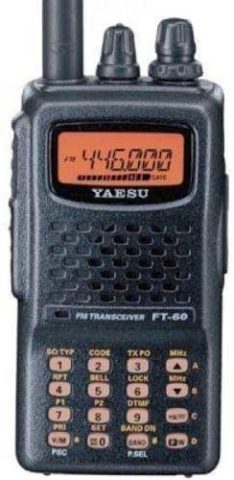 Yaesu is one of the most trusted brands in the world of ham radios. This particular model, the FT-60R, is one of the finest two-way radios from the company. What I liked most is its new EAI feature. EAI stands for Emergency Automatic Identification. EAI is an excellent feature for search-and-rescue operations.
The FT-60R operates in 2-meter and 70 CM frequency bands. It can transmit in both VHF and UHF frequencies. In VHF, the frequency range is 144-148 MHz. For UHF, the frequency range is 430 to 470 MHz.
The transceiver can receive in the frequency range of 108 to 520 MHz and 700 to 999.99 MHz.
The maximum power output for the radio is 5 watts, but there are two more low-power outputs available.
The plastic body is pretty lightweight, but it is pretty hard. It can survive long drops! However, no need to deliberately try that!
The default antenna that comes with the Yaesu FT-60R is good enough to give long-range transmission and reception abilities. However, you can pair up the rig with the Diamond SRH77CA antenna to increase its coverage range. You will have to buy the Diamond SRH77CA separately! This portable ham radio is also good for activities like fishing and hunting.
The Pros of Yaesu FT-60R Ham Radio for Survival
It is capable of receiving emergency channels.
It can receive NOAA weather alerts from the weather channels.
It comes with a backlit keypad and an alphanumeric display unit.
The radio boasts 1000 memory channels.
It comes with a much-needed locking mode mechanism that prevents an accidental change in frequency.
It also has different scan modes that can monitor weather, aircraft, and other bands.
The radio is computer programmable.
It has a lightweight and yet a rugged build quality.
The Cons of Yaesu FT-60R Handheld Ham Radio for Survival
It is not weather-resistant.
The battery capacity of 1400 mAh seems a bit low. You can, however, get a spare battery if you want.
The battery type is not modern. It uses the old NiMH battery instead of the newer Li-Ion battery.
The programming cable is not included in the package.
There is no flashlight.
There is no separate microphone.
If you are just starting out your journey with ham radios, the list above is not the right one for you. Unlike other people who will include a few of the rigs mentioned above in the list of hams for beginners, I will focus on something less powerful, but capable of giving you an understanding of how ham radios work.
Fair enough?
So, let us begin with our list!
5 Best Ham Radios for Beginners
Our top pick for beginners is BaoFeng BF-F8HP, as it is cheap and has many features. If the budget is not an issue, it is best to buy the Ailunce HD1 DMR HAM Radio.
6. Retevis RT82 – Great for Beginners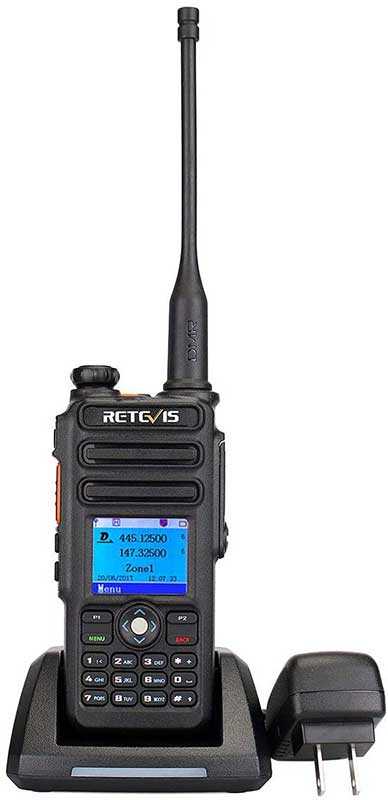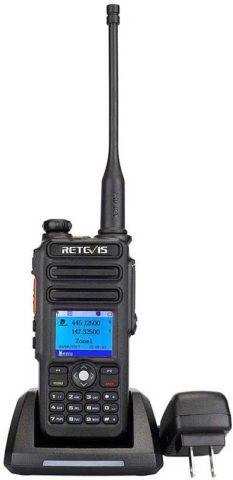 The Retevis RT82 radio can operate in both digital and analog modes, but the GPS remains functional only in the digital mode. In digital mode, it also allows sending GPS text messages.
Retevis RT82 has IP67-grade weatherproofing. It is both dustproof and waterproof. The device will remain functional even after putting it in water for 30 minutes at a depth of 1 meter.
IRetevis RT82 has a fascinating Lone Worker function, which will send out an alarm if you haven't used the device for some time.
The RT82 is a dual-band two-way radio, which means that it can transmit in two different frequency bands. The allowed bands are VHF and UHF.
The Pros of Retevis RT82 Ham Radio
It comes with IP67 weatherproofing.
It has a unique Lone Worker function.
It allows calling freely without any group restrictions.
It supports single, group, and all calls.
The integrated VOX feature allows hands-free operations.
It has both keypad and password lock features.
The RT82 comes with advanced squelch technology that gives crystal clear sound.
It is computer programmable.
It comes with a programming cable.
The cons of Retevis RT82 Ham Radio
It doesn't have a flashlight.
Though easy to operate, some may find it slightly difficult to learn.
It doesn't come with a separate mic.
#7. TYT MD-380 – DMR/Moto TRBO Ham Radio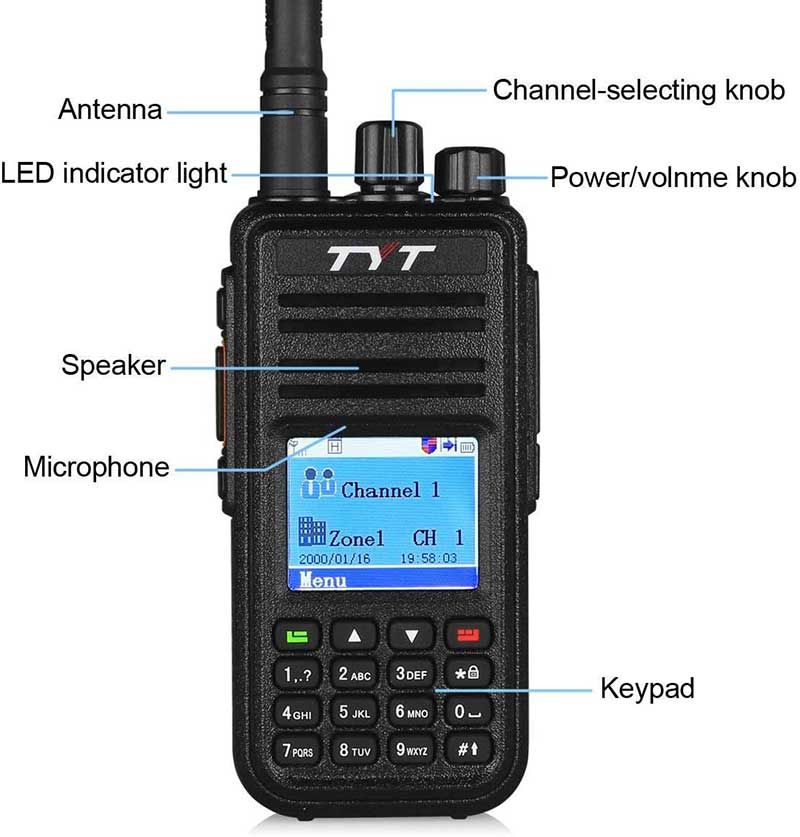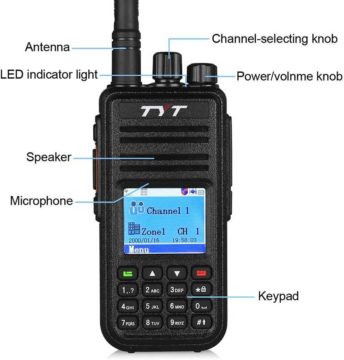 Tytera MD-380 DMR [DMR stands for Digital Mobile Radio] is an excellent choice for beginners because it is digital, inexpensive, and easy to learn.
This entry-level two-way radio can operate in both digital and analog modes. However, when you use the analog mode, you cannot send or receive a text message, which is allowed only in the digital mode. The maximum power output of this ham radio is 5 watts, which is pretty standard for amateur radios.
It can also work as a GMRS handset because it is a single-band radio and broadcasts only within the frequency range of 400 MHz to 480 MHz. It has two antennas – a smaller one and a high-gain antenna. I will, however, always recommend you go with the high-gain antenna to get the best results.
The TYT MD-380 comes with a 2000 mAh battery that is sufficient for outdoor activities like hiking. Unfortunately, the radio is made of ABS plastic, which is not at all waterproof. If you want to take this thing out during rough weather, you better pack it in a waterproof bag.
The Pros TYT MD-380 – DMR/Moto TRBO Ham Radio
It has a capacity of 1000 channels.
It is computer programmable.
A computer programming cable is present in the box.
It is compliant with all radios that are compliant with Motorola TRBO Tier I and Tier II.
It comes with two antennas.
The Cons of TYT MD-380
It can be programmed only on a Windows computer.
It doesn't have a flashlight.
It operates in a single band.
It doesn't have proper weatherproofing.
#8. Tenway UV-5R Pro – Can be a Great First Ham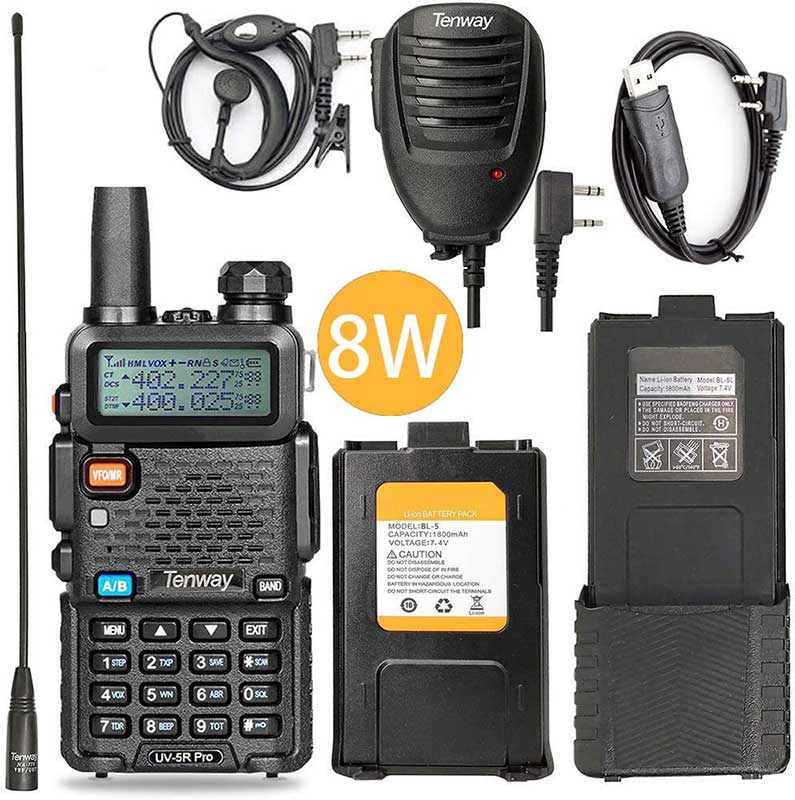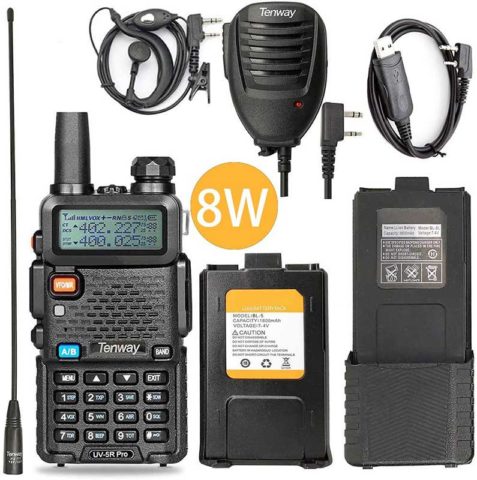 It is cheap, it is loaded with functions, and it is simple! The Tenway UV-5R Pro with 8 watts of maximum power output is a great walkie-talkie.
It is perfect for rookies who want to get a lot of functions in a small and affordable package so that they can fiddle around with it and learn a lot about ham radios.
The Tenway UV-5R Pro comes with a voice-companding feature that provides crystal-clear sounds. It supports VHF (136-174 MHz) and UHF (400-520 MHz) transmissions.
This rig allows hands-free operations with the integrated VOX function. It comes with an NA-771 long antenna that gives a long range and packs in a V-85 high gain antenna. You don't see that always!
What's interesting is that it comes with two batteries. One of them has a capacity of 1800 mAh, while the other has a capacity of 3800 mAh.
You can use both batteries interchangeably!
The rig operates in a simple-duplex mode, which means that you can transmit and receive one at a time. You can get free shipping by ordering on Amazon.
Tenway UV-5R Pros
It comes with two batteries.
It comes with two antennas.
It comes with a programming cable.
It is a computer-programmable two-way radio.
It has an integrated flashlight.
It provides hands-free operation.
It comes with a single earbud-style earpiece.
It has a handheld speaker mic.
It can receive only commercial FM channels in a 65-108 MHz frequency range.
It has three different power settings.
Tenway UV-5R Cons
It does not have any type of weatherproofing.
#9. Baofeng UV-5RA – Basic & Functional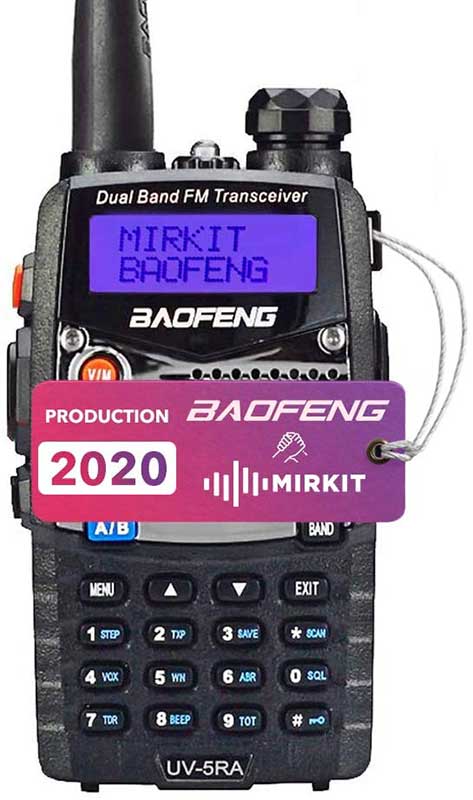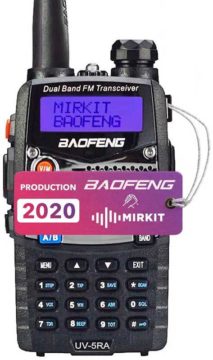 As I told you earlier, Baofeng is a name that you will find in almost every generic list of top ham radios. No wonder you can find it here as well.
The UV-5RA is one of the various models you can find in the Baofeng UV-5R family. All these two-way radios are almost similar, but with a few changes here and there.
The UV-5RA is no exception.
The device supports the frequency range of 136-174 MHz for VHF and 400-520 MHz for UHF. It is programmed with 50 CTCSS and 104 DCS codes that help to keep your communications as secure as possible.
The radio has a storage capacity of 108 channels. The VOX function will allow you to operate the radio hands-free. It has a dual PTT or Push-to-talk button that allows transmission in two different bands.
The power output is on the lower end, with a max output of only 4 watts. The rig operates in a semi-duplex mode that allows you to transmit and receive, but one at a time. Soon this Baofeng UV-5RA will be the new favorite Ham Radio handheld.
The Pros of Baofeng UV-5RA
It works out of the box. However, you should program it before using it.
The dual PTT button is a great option.
It has the ability to store 128 channels.
The hands-free operation is fantastic.
It has an integrated flashlight.
It has a key lock feature.
It supports dual watch and dual reception.
It is very economical.
The cons of Baofeng UV-5RA
It doesn't come with a separate speaker mic.
Though it is computer programmable, you do not get a programming cable.
The antenna is not that great, and its coverage is not impressive.
It is not sturdy and cannot withstand a sharp fall.
It doesn't have any weatherproofing.
#10. Baofeng Walkie Talkie UV-5R5 – Perfect for Rookies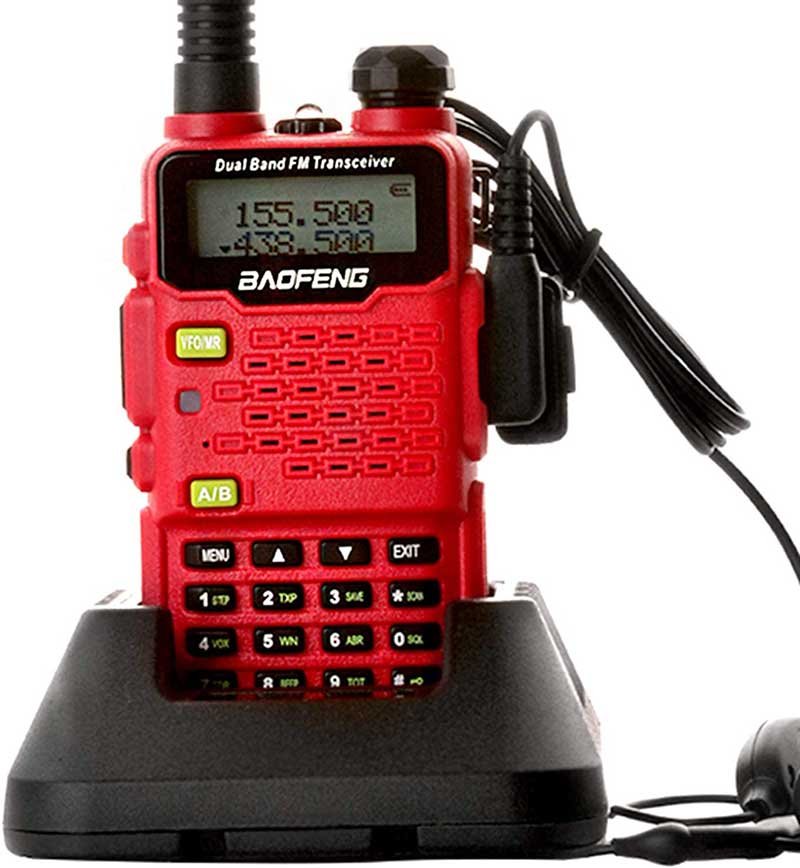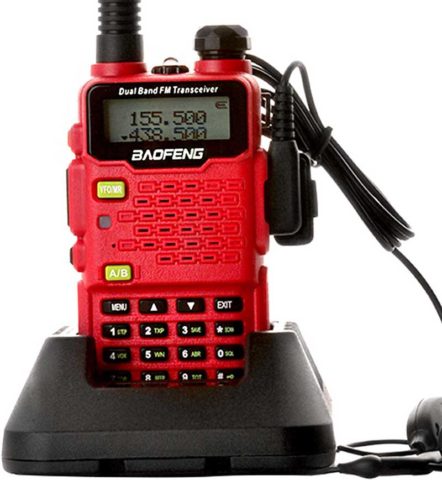 If you are looking for something straightforward, something that can help you to get a good understanding of how ham radios work, the Baofeng Walkie Talkie UV-5R5 is a perfect choice.
It comes with a simple PTT button that will allow you to talk over a range of 3 miles in open terrain.
With a 7" high gain antenna, 128 memory channels, keypad lock, integrated VOX function, support for VHF and UHF frequencies, channel monitoring, and 1800 mAh battery, this small and compact rig has everything that a rookie will need to get started with.
This rig's frequency range is 136-174 MHz for VHF and 400-520 MHz for UHF. It can tune into a 65-108 MHz frequency range, which allows commercial FM radio reception.
The Pros of Baofeng Walkie Talkie UV-5R5
It is cheap and durable.
It is computer programmable.
It comes with a 7" high gain antenna.
It also has an integrated flashlight.
It comes with squelch technology that gives clear sound.
It allows hands-free operation with the VOX function.
The Cons of Baofeng Walkie Talkie UV-5R5
It doesn't come with a programming cable.
It doesn't come with a handheld speaker mic.
It does have a waterproof display, but the rest of the rig isn't waterproof.
Have you ever wondered what will happen in serious emergencies, apocalypse-type situations where every known mode of communication is gone? This is where handheld ham radios and other forms of ham radios come into play.
These robust transceivers can be the much-needed lifeline! However, how do you choose the best handheld ham radios for survival and beginners? That is what I will tell you in this long blurb that will also try to answer a few crucial questions.
Topics Covered: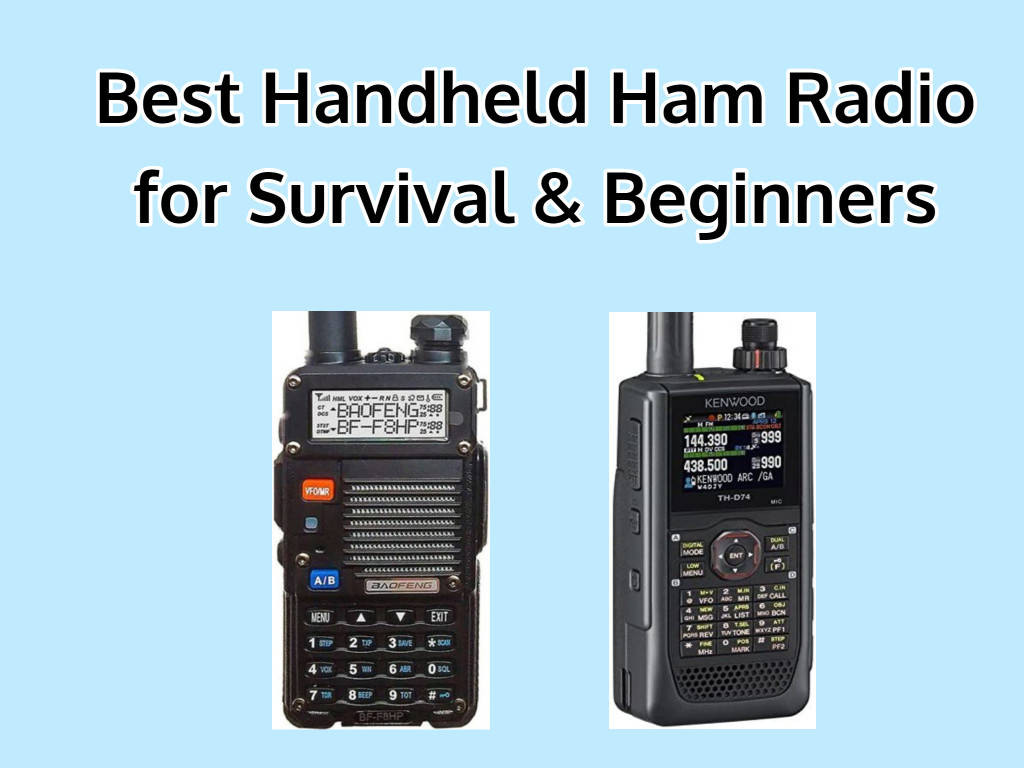 Before you go to the next section, here are some important things that you should know about Ham Radios:
How to Select the best Ham Radio for Survival?
If you are looking for ham radios for survival, there are several factors that you need to consider. Here is a quick explanation for each one of them:
Coverage and Range of the Ham Radio
In survival situations, coverage and range are essential. This is where the frequency comes into play. Your handheld ham radio should have VHF and UHF frequencies. But frequencies alone do not do the trick. There's more to it.
The antenna and the power output are crucial as well. While most of the handheld hams will give you both VHF and UHF frequencies, some will not have high power output, and others may lack in the antenna segment.
It is not necessary that you will get all the features in a single rig. Sometimes, you may have to buy a high-gain antenna separately.
Weatherproofing
Can you name a survival situation where the weather is pleasant and you don't get into rough conditions? I bet you won't find any! Some excellent ham radios are high on the functionality side but lack weatherproofing.
I prefer to go for something that can withstand dust and water, along with other elements. You, too, should take this into consideration.
Additional Light Source
It is highly likely that you will be carrying a flashlight in a survival situation. However, it really doesn't hurt if your handheld ham has an integrated flashlight. It is not a necessary condition!
Many manufacturers will not include the flashlight to make space for some extra functions that can be helpful in such SHTF situations.
Battery Life of the Ham Radio
This is crucial. Ideally, in an SHTF situation, the power sources are knocked off. This is why your ham radio should have a high-capacity battery or at least a separate or spare battery that can help you to stay connected with others, especially the search and rescue teams.
Memory Slots
Depending on the survival situation, the number of memory slots matters. If you are hit by a Godzilla-like emergency that wreaks havoc internationally, you are better off with more memory slots that will help you communicate nationally and internationally.
By the way, Asian countries are safe havens in Godzilla-like situations, but if it is something of the sort of Mayan calendar prophecy, no one is safe! You better build a boat, then!
Now that you know how to choose a perfect Ham Radio for your specific needs, let's look at the best Ham Radios for Survival and the best handheld ham radios for beginners. So, without further ado, let us begin…
Here are Some Basic Q&A about Ham Radios.
What Are Handheld Ham Radios?
Ham radio is nothing other than amateur radio. On the other hand, an amateur radio does not mean a radio for rookies. Instead, it means a radio that is meant for non-commercial use.
There are various types of ham radios. One of those types is the one that can be held in your hand, placed in your pocket, your backpack, and even in your raincoat pocket! You can carry it with you, and go out on hiking expeditions. These are portable two-way radios.
Ham radios, including handheld ham radios, are designed for hobbyists. Though you may be a hobbyist, you can still use it for several purposes.
Handheld ham radio is lightweight and usually very limited in range. However, depending on the power output and the type of antenna used, a handheld ham radio can help you to communicate over long distances.
Handheld hams also come with a limited frequency range. The two usual frequencies allowed are Very High Frequency (VHF) or Ultra High Frequency (UHF). Some hams will also allow another frequency range that will allow only the reception of commercial FM radio.
The VHF and the UHF frequencies are the ones that you can use for communication (or transmission). The frequency range you will use will depend on your location.
You need to understand that the power output is usually 5 watts in handheld hams. Still, some manufacturers are now offering 8-watt output.
What Are Ham Radios Used For?
Ham radios are for hobbyists. You cannot use it for any commercial purpose. However, even though you may be a hobbyist, you will still need a license to transmit using a ham radio. It is easy to acquire a license.
Without a Ham Radio operating license, you can only listen to different channels within the allowed frequency ranges.
You can transmit if you have a ham license, even if it is a technician (the most basic license). Transmitting without a license can land you in serious trouble, including hefty fines.
Assuming you have a license, you can use the ham radio for many things. For instance, you can use it to talk to someone across the town. You can even talk around the world.
You can talk to people on the ISS or International Space Station.
While these can all be categorized as fun uses, the real benefit of ham comes during emergencies, where communication can differentiate between life and death. Emergencies like earthquakes, tsunamis, etc., can quickly knock off other communication methods like phones and the Internet.
Hams can operate without them, becoming real lifesavers in SHTF situations.
Should I Buy VHF or UHF Ham Radio?
First, you must understand the different frequencies, radio wavelengths, etc.
Let's begin…
There is something called the "electromagnetic spectrum." This spectrum contains all the different types of signal waves floating around us. These include the visible light from the Sun, infrared rays, UV rays, microwaves, X-rays, GPS, radio, and even the signal from your TV or AC remote!
These signal waves differ from each other in terms of how big they are and how fast they are.
Different airwaves work great for different types of jobs, for example, transmitting TV shows or communication between Earth and the ISS.
So, to keep the airwaves highly organized, governments worldwide went ahead and assigned different frequency blocks. A particular block caters only to a particular set of functions.
The governments are the ones who manage these frequency blocks.
Different blocks or frequencies are reserved for different purposes like satellite communication, military use, commercial aircraft, emergency services, mobile phones, commercial radio stations, etc. Maybe there are blocks that the CIA uses for its mind-control devices (pun totally intended).
This categorization explains why the commercial radio stations that you listen to while traveling in a car always range between blocks 88 to 108. You will never find a commercial radio station transmitting outside this range.
Now, 88 to 108 correspond to their frequencies, which are 88 MHz and 108 MHz.
Similarly, if you notice carefully, the AM stations have a frequency range of 540 kHz to 1600 kHz.
Here comes one problem!
Not all frequencies are equal! The sound of FM radio stations is way clearer than the sound of the AM radio stations.
Let us take another example. The radio frequencies used for opening/closing a garage door is totally different from the frequencies used for transmitting HD TV signals. The difference between them lay in the size and speed of the waves.
How fast they travel, and how big they are will define how much information you can pack in those signals. A simple talk radio needs much less info per second that an HD TV.
What is radio frequency?
I have continuously used the word 'frequency or frequencies.' But what does that mean? It merely means how often something is happening within a specified time window. You can understand the difference when you listen to music. You must have heard fast music and slow music.
Fast music may have a frequency of 120 bpm (beats per minute). Slow music may have a frequency of 66 bpm.
Regarding radios, frequency means the number of waves in a second. Radio frequencies are denoted by numbers like 800 kHz, or 500 MHz, etc.
Hz is the acronym for Hertz.
While k, M, and G denote Kilo, Mega, and Giga, respectively.
Did you notice I did not capitalize the letter 'k?' That is how it is done. In the case of Kilohertz, we do not capitalize on the 'k.' In the case of Megahertz and Gigahertz, we capitalize on the M and the G.
In the case of radio frequencies, GHz > MHz > kHz.
So, what do these number means?
1 kHz = 1000 waves.
1 MHz = 1,000,000 waves.
1 GHz = 1,000,000,000 waves.
So, when someone says 300 MHz, they simply mean 300,000,000 waves in one second. Similarly, if someone says 500 GHz, they mean 500,000,000,000 waves per second.
Time to understand wavelength
The wavelength is the physical length between one point on a wave and the same point on the next wave. The image below will explain it: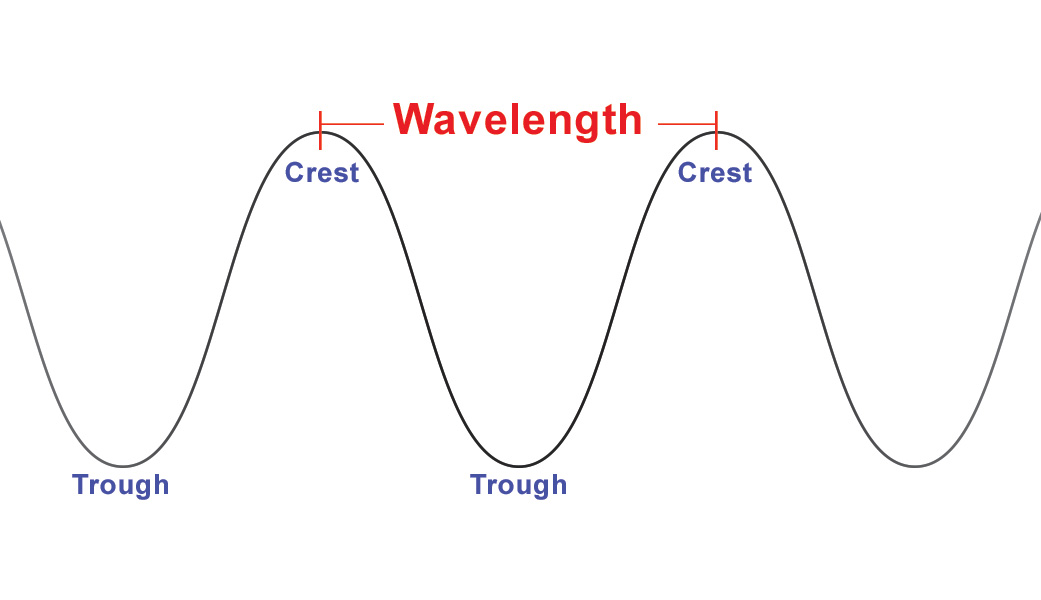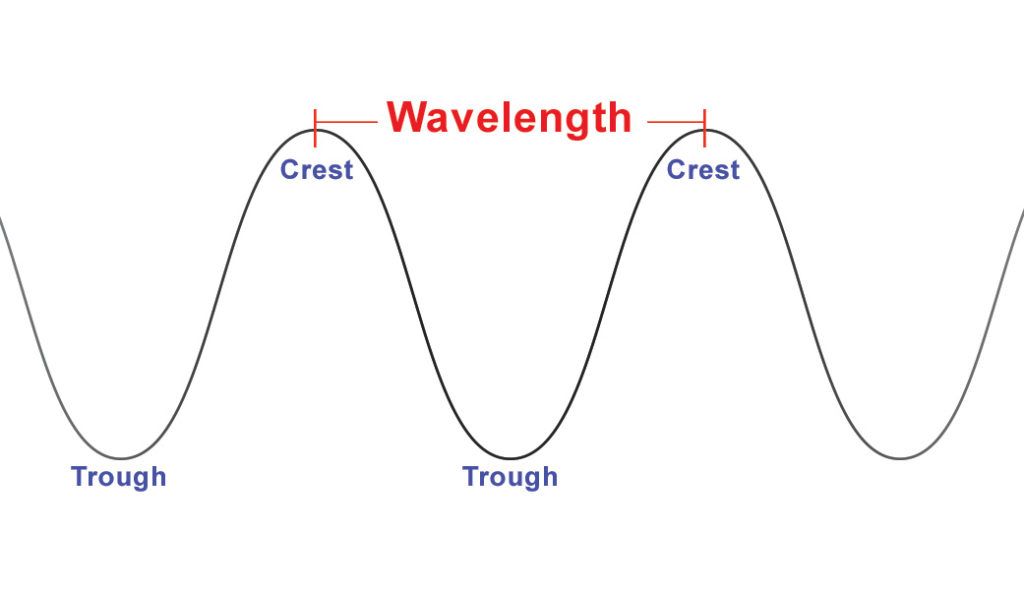 So, the wavelength is the distance between one crest to another or from one trough to another.
Relationship between wavelength and frequency
The wavelength and frequency are inversely related. What does that mean? It means that if the wavelength increases, the frequency decreases. If the wavelength decreases, the frequency increases.
That's how it works! Why?
Imagine a wave with a wavelength of 50 miles (crest-to-crest or trough-to-trough).
How many of those 50-mile-long waves can you crunch into a transmission lasting only 1 second?
Understanding HF, VHF, and UHF Frequencies
There are different types of radio frequencies. They are used for different purposes. In the case of ham radios, VHF and the UHF are used.
Here is a table that will help you understand:
| | | | | |
| --- | --- | --- | --- | --- |
| Acronym | Name | Wavelength | Frequency | Use |
| ELF | Extremely Low Frequency | >100 km | < 3 kHz | Penetrates rocks and water. Used in communication in caves and mines and with submarines. |
| VLF | Very Low Frequency | 10 to 100 km | 3 to 30 kHz | Used in maritime radio and navigation. |
| LF | Low Frequency | 1 m to 10 km | 30 to 300 kHz | Used in maritime radio and navigation. |
| MF | Medium Frequency | 100 m to 1 km | 300 kHz to 3 MHz | Used in AM radio, aviation radio, and navigation. |
| HF | High Frequency | 10 to 100 m | 3 to 30 MHz | Used in shortwave radio broadcasts. |
| VHF | Very High Frequency | 1 to 10 m | 30 to 300 MHz | Used in VHF television and FM radio. |
| UHF | Ultrahigh Frequency | 10 cm to 1 m | 300 MHz to 3 GHz | Used in UHF television, Wi-Fi, 4G, GPS, mobile phones, etc. |
| SHF | Super High Frequency | 1 to 10 cm | 3 to 30 GHz | Used in Wi-Fi and satellite communications. |
| EHF | Extremely High Frequency | 1 mm to 1 cm | 30 to 300 GHz | Used in satellite communications and radio astronomy. |
Understanding Radio Bands
A 'band' in the world of radios refers to a block or a range of radio frequencies. People can refer to bands either by wavelength or frequency. For instance, one may say, '14 MHz band,' while the other may refer to the same as a '20-meter band.'
When it comes to ham radios or amateur radios, there are 27 different bands. As far as the most popular ones are concerned, you can find them in the list below:
| | | |
| --- | --- | --- |
| Range | Frequency [MHz] | Band [in Meters] |
| UHF | 430 – 440 | 70 cm |
| VHF | 144 – 148 | 2 |
| VHF | 50 – 54 | 6 |
| HF | 28.0 – 29.70 | 10 |
| HF | 24.890 – 24.990 | 12 |
| HF | 21.0 – 21.450 | 15 |
| HF | 18.068 – 18.168 | 17 |
| HF | 14.0 – 14.350 | 20 |
| HF | 10.1 – 10.15 | 30 |
| HF | 7.0 – 7.3 | 40 |
| HF | 3.5 – 4.0 | 80 |
Take a good look at the two tables above. Though the UHF has a frequency range of 300 MHz to 3 GHz, ham radios are allowed to use on 430 to 440 MHz [430 MHz band, or 70 cm band].
You will find ham radios in the market that offer UHF of 400 to 520 MHz. You should not get tempted to use them as is. You can land yourself in trouble.
You must ensure that you are programming your amateur radio to transmit within the 430-440 MHz range. Crosschecking your radio's frequency range with the table above is always a good idea.
In general, ham enthusiasts usually focus on two bands. They are:
70 cm band.
2-meter band.
Also, remember that the local emergency radio services like the Community Emergency Response Team, Radio Amateur Civil Emergency Service, Amateur Radio Emergency Service, etc. use the 2-meter and 70-cm bands.
What Are Radio Channels?
You visit websites, don't you? You are reading this article on a website. How did you access the website? Most likely, by a quick Google search. How will you remember the website? Of course, by its name! Now, the name of this website is a public-facing identifier. There is a different thing that allows the Internet to access this website. It is called the IP address.
An IP address looks something like this: 78.161.25.254. Can you remember this number and the IP addresses of the hundreds of other websites that you visit?
I doubt that! It is not really possible. You are more likely to remember the public-facing name of a website. That is how we are tuned!
The same is the case with radios. It is not really to remember the frequencies. If you can get a public-facing name or a label, you can easily remember it.
For instance, you may have heard of CB Radio. It has multiple channels. Can you recall what is broadcast on the 27.24500 MHz frequency or 27.18500 MHz frequency?
Chances are, you can't recall anything.
Now, if I say the two frequencies 27.24500 and 27.18500 correspond to Channel 25 and Channel 19, respectively, you can recall, right?
So, that's what a radio channel is! It is just referring to a particular frequency in a given frequency band.
So, VHF or UHF?
Now the big question! When you are using a ham radio, should you select VHF or UHF? That's a decision that you have to make depending on the situation at hand.
The golden rule of thumb that you need to remember is that small wavelengths can sneak into buildings easily, while longer wavelengths can travel far.
You know by now that VHF has a longer wavelength than UHF. So, your location and purpose will define the one you use.
For instance, if you are on a hiking expedition and you lose contact with your friends or family, you should use VHF if you think they are far from you. VHF can travel over long distances. It can bounce off mountains, the atmosphere, and the moon (yes, yes… the moon that we see in the sky at night).
Alternately, using the UHF makes more sense if you are playing paintball in a building or if you and your friends/family/colleagues are stuck in a building in an SHTF situation. UHF will quickly pass through doors and windows.
Are Handheld Ham Radios Dangerous?
All lifeforms on our planet (Earth, just in case…) have, since immemorial, adapted to an environment with natural and weak low-frequency electromagnetic fields. These electromagnetic fields come from thunderstorms and the Sun. In addition to these electromagnetic fields, we also have the geomagnetic field of our Earth.
These are not man-made, and they don't harm us. But we have man-made fields around – those that are of extremely high intensity. These fields are known for their very different spectral distribution from the natural electromagnetic and geomagnetic fields.
These man-made fields have disturbed, distorted, and altered the natural ones over the last century in ways that we don't even fully understand even today!
What about ham radios?
Well, from what we know so far, Ham Radios are harmless.
But now, questions are popping up! People are talking about the possible hazards that electromagnetic radiation can cause. These electromagnetic radiations include both Radio Frequency radiations and 50 to 60 Hz power frequency, both of which are electromagnetic fields.
Now, you need to know that both the 50-60 Hz power frequency and the Radio Frequency radiations come under the "non-ionizing" radiation classification.
Non what?
Non-ionizing means that they cannot convert atoms to ions. The frequencies of these two electromagnetic fields are too low to have enough photon energy to ionize atoms.
But, if the power densities of these electromagnetic radiations become sufficiently high, they can cause health hazards. We do know that Radio Frequency energy is capable of causing thermal effects. Thermal effects are health hazards caused by heat.
Radio Frequency (RF) energy, in enough density, can lead to the heating of body tissues and in extreme cases, lead to sterility, blindness, and various other health problems.
But as I said, those thermal effects are possible only at very high levels of RF energy. There are various factors on which these thermal effects will depend. These factors include the frequency of the energy, the RF field's power density, and even on the polarization of the waves.
If the Radio Frequency energy is close to the body's natural resonant frequency, the body absorbs the RF energy far more efficiently, leading to maximum heating!
In the case of adult humans, the most potent Radio Frequency energy to cause damage is 35 MHz provided the person is on the ground. If the person gets insulated from the ground, the frequency becomes 70 MHz.
Not just that! Different human body parts may be resonant at different frequencies. For instance, in the case of adults, the resonance frequency for the head is around 400 MHz. For babies, the head will have a resonance frequency of 700 MHz.
Bottom line? The size of the body will determine the frequency at which the body absorbs the maximum RF energy.
So, should you be concerned?
NO! You should not be!
Ham radios have relatively low Radio Frequency power. Additionally, amateur transmissions are intermittent by nature. Amateur radio enthusiasts do not transmit much. They listen more!
Studies have shown that it is improbable for amateur ham enthusiasts to be subjected to Radio Frequency fields that are sufficiently strong to cause thermal damage.
Yes, you can get into trouble if you get pretty close to unshielded power amplifiers or energized antennas. If you still have some confusion, you can follow a few safety measures that include:
Keep your handheld ham radio's antenna away from your head.
Use the lowest power setting possible. Usually, the maximum power output for a handheld ham radio is 5 watts. Some manufacturers give 8 watts or 10 watts power output. Try using the lowest power possible.
Use a separate microphone and keep the rig as far from you as possible.
Are Ham Radios Still Used?
Ham radios are very much in use. People all over the world use these amateur radios. Some use them to scan transmissions, and some talk to astronauts stationed onboard the ISS, some just have fun talking with friends and family members. You can do the same. However, make sure that you have an entry-level Ham Radio license. You can get the Ham Radio license here.
What is the Handheld ham radio range?
Some handheld ham radio manufacturers will claim up to 20 miles of range for their devices. Typically, a handheld transceiver will give you a range of up to 2 miles in a city, and if you have a clear line of sight with no obstructions (like trees, high grounds, etc.) in between, you may get ham radio range up to 6 miles. If you are in the countryside with flat terrains, the range may increase to 10 miles. That's the most you can get. This range may increase if you are using a separate high-gain antenna. You can improve your radio signal range using some techniques.

What are the Top Ham Radio Brands?
There are quite a few ham radio brands. The most notable brands in this field are Baofeng, Yaesu, Kenwood, TYT, Retevis, Radioddity, and Alinco.
You can read our recent article about the Best Baofeng ham Radio, Tabletop radios 2023 and best Handheld CB Radios.
References to learn more about Ham Radios: