Mobile phones and tablets have, to a certain extent, reduced the popularity of radios. However, that doesn't mean radios are no longer in use. Some people still love listening to Shortwave radios.
International broadcast organizations use radio waves, and radios make essential survival gear for many people globally. You can get the list of all Shortwave Radio Stations here.
So, if you are one of those radio enthusiasts who love to listen to Shortwave radios once in a while, here is a list of the best shortwave radios to buy in 2022 and beyond. Enjoy reading!
13 Best Portable Shortwave Radios
I can say that Tecsun PL880 is probably the best shortwave radio to buy. Tecsun PL880 comes with beautiful and compact design, the outstanding reception capabilites, supports all four bands, works perfectly and the sound quality is great.
That's why Tecsun PL880 is our top pick of the best shortwave radios. Eton Elite 750 is another excellent radio and it is our runner-up. We have also picked up some other shortwave radios considering everyone's needs. Here's the list of all top-rated shortwave radios to buy.
#1. Tecsun PL880 Shortwave Radio – Editor's Pick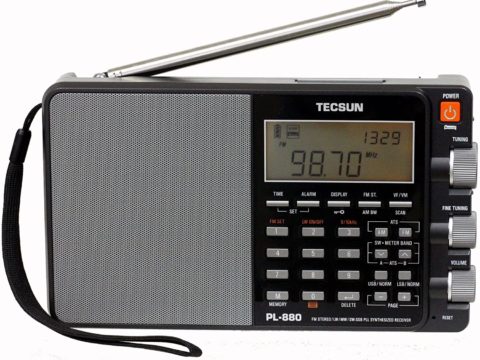 | Brand | Tecsun |
| --- | --- |
| Model | PL880 |
| Weight | 1 pound 3 oz. (without the battery) |
| Dimensions | 7.56 x 1.30 x 4.45 inches |
| Colors | Black and Grey |
Technical Specifications of Tecsun PL880
Tecsun PL880 Shortwave Radio Review
Tecsun's PL880 is an upgrade from the insanely popular predecessor – PL660. The PL880 is a true all-rounder, as it supports all 4 bands and delivers outstanding reception and great ergonomic design. It is famous among professional DXers.
At the price point of this radio, probably no other shortwave radio comes even close to this one. I highly recommend the Tecsun PL880.

John – Radios Expert.
Tecsun PL880 Frequency Bands
Tecsun PL880 can operate in all four bands – SW, AM, FM, and LW, and provides exceptional AM reception because of its high sensitivity to distant and weak signals. The frequency ranges that this radio can capture are:
AM: 520 to 1710 kHz.
FM: 64 to 108 MHz.
Shortwave: 1711 to 29999 kHz.
Long-wave: 100 to 519 kHz.
The SW frequency works really well in this radio. There are four broadband filtering arrays in AM and three in SSB. It operates at a 2.3 kHz frequency, with only slightly impacting the audio quality.
Display
The Tecsun PL880 shortwave radio sports a large screen with a backlight. You can turn off the backlight if you don't need it. The screen displays a lot of information, including band name, battery status, time, and frequencies. The best part is Tecsun PL88 display shows the signal meter and noise meter.
Signal Reception Quality
As I said earlier, the PL880 has a very high sensitivity to weak signals, making it a great option for AM reception. It gets rid of digital noises and background hisses. Another strength of the radio is its SSB reception. You can enhance SSB reception using the supplied antenna.
The best of this radio comes out with FM reception. Not only is the PL880 shortwave radio capable of capturing distant FM broadcasts, but it can also separate the channels which are very close to each other with great clarity.
I found the telescopic antenna to be extremely sensitive and powerful. I learned it the hard way that extending the whip antenna while tuning to local stations will simply override them. So, don't not that!
Tuning is extremely easy on Tecsun PL88 shortwave radio as it has a separate fine-tuning button. The tuning experience on this radio is next to one. Trust me; you will love it.
The fine-tuning knobs of the radio allow for very easy SSB tuning. The 10 Hz tuning step makes it a better option for those who love SSB.
Tecsun PL880 Sound Quality
As far as the sound quality is concerned, don't let its small size fool you. Tecsun PL88 is surprisingly loud and clear for its given size.
The 3-watt 40 mm speaker with 4 Ohm impedance gives clear sound. The speaker isn't very loud, but it is good enough for any household surroundings or a place with less noise.
You can ditch using the speaker and use a pair of earphones or headphones by hooking it up to the headphone jack.
Presets & Channel Memory
Tecsun PL880 portable shortwave radio comes with a memory capacity of 3050 stations!
It works with a 3V Li-ion rechargeable battery. The good thing is the battery comes included with the radio.
What's more?
Go ahead and buy this radio. Tecsun PL880 provides the best value for your money, and it is my number one #1 pick for the best shortwave radios.
#2. Eton Elite 750 – Most Advanced With Dual Antenna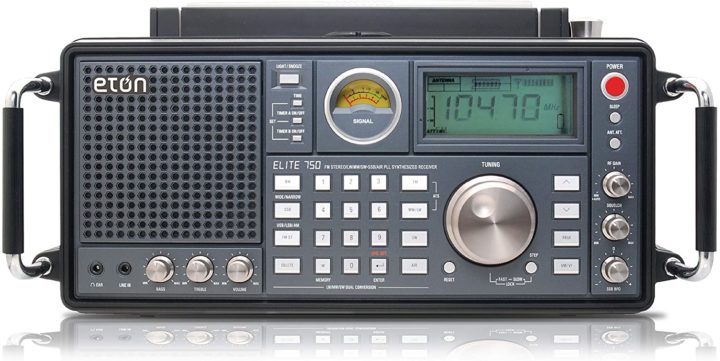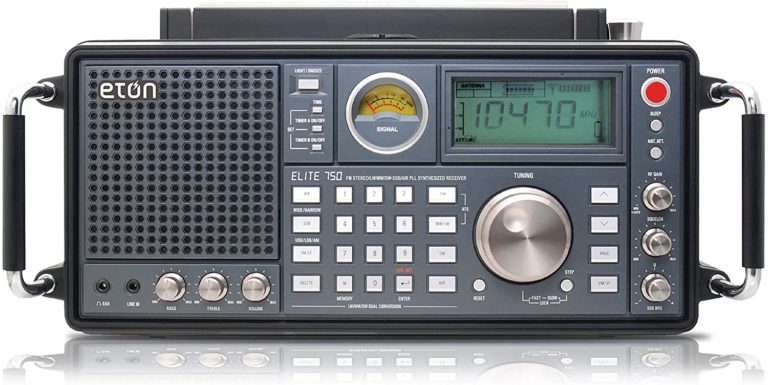 | Brand | Eton Grundig |
| --- | --- |
| Model | Elite 750 NGSAT750B |
| Weight | 7.1 lbs |
| Dimensions | 5.75 x 14.65 x 7.24 inches |
| Colors | Black |
Specifications of Eton Grundig Satellit 750 Ultimate
Eton Grundig Elite 750 Review
Eton Elite 750 Shortwave Radio is premium, advanced and the most durable. The higher price point is compensated by an assortment of features that will take you by surprise. For the basic questions, here is what you need to know. It has a rugged build quality that makes it look like it can withstand a nuclear blast or a worldwide zombie apocalypse.
If budget is not a concern, Elite 750 is the radio that I would want to use. The Eton Elite 750 has the excellent radio reception in all bands, thanks to the 360 degrees dual Antenna.

John – Radios Expert
Elite 750 has two easy-carry handles flanking the unit from two sides, and an additional carry handle on the top ensures that you can never complain about portability.
Eton Grundig Elite 750 Radio can handle AM, FM, shortwave, and aircraft bands with ease.
You might ask What about Longwave?
It is there! The longwave range is 117 to 137 MHz, while the shortwave has a range of 1711 to 30000 kHz.
It is needless to say that the Elite 750 radio is designed for intermediate and pro users, and it can also receive Single Side Band – something that ham operators prefer. AM talk shows, FM music channels, news channels – you name it, and the Eton Grundig Satellit 750 Ultimate shortwave radio will give you the entertainment you seek.
Of course, you cannot carry this thing in your pocket, but it is a perfect option for your desk.
The most striking feature of the radio is its dual antenna. There is the usually shortwave antenna (the telescopic antenna), and then there is the 360 degrees-rotating longwave and medium-wave antenna for AM reception that can receive signals and amplify them.
You can toggle the AM band with 10 kHz increments. Did I tell you that it contains a 1000-channel memory out of which you can personalize 500 of them? The remaining 500 are distributed between AM, FM, SW, LW, and aircraft bands.
The Elite 750 radio comes with a line-out socket that will allow you to transfer radio signals to another radio. Additionally, you can also add external antennas for both FM and AM jacks.
Elite 750 radio's tuning is very good, with very little drifting after you tune to a station. The radio's bulk it attributed to a separate compartment that houses the powerful speaker and the amplifier. Because of the separate compartment, there is enough room for reverb, giving the Satellit 750 Ultimate the blessing of premium sound quality.
Elite 750 sound is crisp and clear with treble and bass customization options. However, I did notice that dealing with bass control impacts the volume level.
The radio has a dual alarm clock that you can use for setting alarms at two different times!
This shortwave radio sports a large backlit LCD screen. You can dim the light so that it doesn't interfere with your sleep. The screen is large enough to give clear alarm time, clock, and frequency readings.
On the downside, it will work only with 6V DC input. So, no batteries!
#3. Sangean ATS-909X – Excellent FM Reception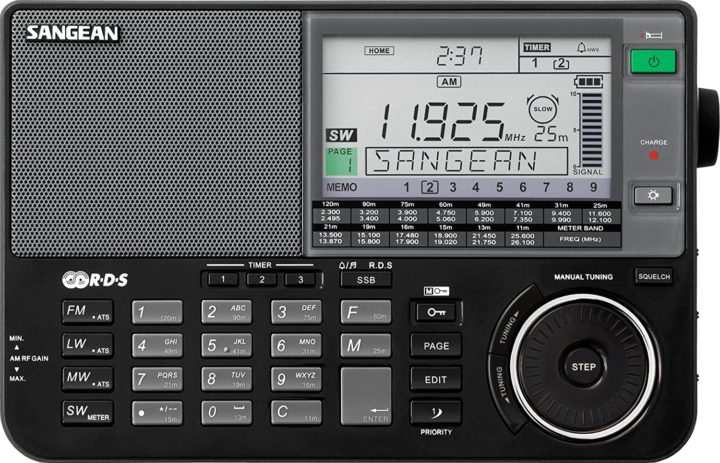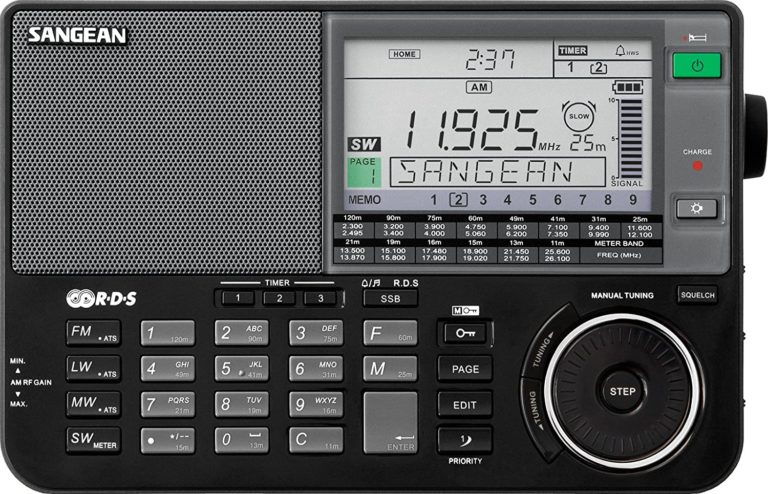 Technical Specifications of Sangean ATS-909X
| Brand | Sangean |
| --- | --- |
| Model | ATS-909X BK |
| Weight | 1 pound |
| Dimensions | 8.17 x 5.31 x 1.63 inches |
| Colors | Black and Silver |
Sangean ATS-909X Shortwave Radio Review
The ATS-909X improves on the previous version of the ATS-909. This Sangean radio is one of the finest things your money can buy. With phenomenal FM reception, a fantastic FM tuner, 1600+ Station presets, and a compact but well-built design, the Sangean ATS-909X is a perfect choice for a nice desktop or tabletop Shortwave radio.
Update (November 2022): Sangean ATS-909X has been upgraded to Sangean ATS-909X2 with a few more useful upgrades like Air Band Mode, four times more station presets and total editable station display,
Sangean ATS-909X2 is an all-in-one radio, With the ability to receive frequencies from 153 kHz (longwave band) to 108 MHz (FM band), the ATS-909X2 can operate on shortwave, medium-wave, and AM frequencies. If I have to put my money on one Shortwave radio then this is the one I would buy.

John – Radios Expert
You can enhance the shortwave performance using the bandwidth switch. The radio offers five methods of tuning. Those five methods include:
The traditional rotary tuning.
Auto-scan tuning.
Manual tuning.
Direct frequency tuning.
Memory-recall tuning.
If you are an SSB listener, the Sangean ATS-909X2 radio also offers a "Single Side Band" performance with 40 Hz steps. That's not so great, but a decent one.
Sangean ATS-909X2 Screen
The LCD screen is large, and you can read it clearly. The screen comes with a bright white backlight feature. Though the backlight is LED, the contrast is not as great as orange backlights. Still, the screen's visibility is great, if not the best.
The screen displays a lot of information, which may look a little busy at first sight. But the information you get on the screen is pretty useful. It tells you about the frequency you are tuned into at any given point in time. Additionally, you will get information on alarms, clock, and even the battery status.
Sangean ATS-909X2 Reception Quality
Regarding the reception quality, the ATS-909X2 has better AM and SW reception than its predecessor. There are more clarity and less noise for both AM and SW reception, which is made possible due to a narrow, wide filter.
This reception improvement definitely allows people to explore noisy and weak signals. The best part of the radio is the FM reception, which is exceptionally good.
Sangean ATS-909X2 Audio Quality
The audio quality of the Sangean ATS-909X2 is amazing for a portable shortwave radio. The integrated 3-inch speaker is definitely not the loudest one out there, but it is pretty loud.
Sangean ATS-909X2 comes with a headphone jack to use a pair of earphones or headphones for private listening, even in crowded places. The radio sports a sliding tone control to improve the overall listening experience.
The sound quality is further improved using squelch technology, eliminating background noise (static), and making the distant and weaker signals clearer.
Sangean ATS-909X2 Other Features
Sangean ATS-909X2 shortwave radio has dozens of features that can keep you entertained for a long time. It comes with a rechargeable battery, and you can switch to an AC adapter if necessary. The radio can read WMA and MP3 content using a MicroSD card slot.
The radio has an alphanumeric memory system that you can use to access 406 present stations. There are 351 presets for shortwave, 27 for FM, 18 for AM, 9 for long wave, and 1 priority.
It has three alarms with options for waking by radio or a Humane Wake System buzzer. It also comes with a sleep timer. This is one of the best shortwave radios of all time.
#4. Tecsun PL-360 – Best Portable Shortwave Radio


Technical Specifications of Tecsun PL-360
| Brand | Tecsun |
| --- | --- |
| Model | PL360 |
| Weight | 128 gms |
| Dimensions | 6.26 x 1.02 x 2.09 inches |
| Colors | Black |
Tecsun PL-360 Portable Shortwave Radio Review
If you are done being amused by this little guy's design, it is time you focus on its quality and abilities. Tecsun PL-360 Portable Shortwave Radio comes with a digital signal processor that improves the listening quality with high tone quality and excellent clarity.
Tecsun PL-360 Shortwave portable radio is capable of reducing the static. That's quite surprising given the small form factor of the radio. This static reduction comes with Tecsun's patented Easy Tuning Mode that makes tuning easy.
This super portable radio comes with a detachable high sensitivity AM antenna. It also comes with an external shortwave antenna for FM reception. The radio is capable of receiving AM, FM, and SW.
The device has four tuning methods that include:
A tuning knob.
Memory.
Easy Tuning Mode.
ATS tuning.
The radio can memorize 450 channels. You can save 250 memories for shortwave channels and 100 each for AM and medium wave.
Additionally, the radio has a snooze function, a sleep timer, and an alarm clock. It also has a built-in rechargeable battery (AA rechargeable batteries) that you can recharge using the 5V mini-USB DC input jack. You can use three AA batteries for powering the radio.
This shortwave radio is capable of giving a clear and crisp sound output, thanks to its Digital Signal Processing technology.
In case you are wondering whether you can use a pair of headphones with this shortwave radio or not, the answer to your question is YES. In fact, the manufacturer actually throws in a pair of stereo earphones in the package.
Additionally, the manufacturer also provides a nice carrying pouch. It is a great touch considering that the radio is lightweight and can go to places with the owner; a carrying pouch also acts as a protective layer.
#5. Sony ICF-SW7600GR – It Offers Four Tuning Methods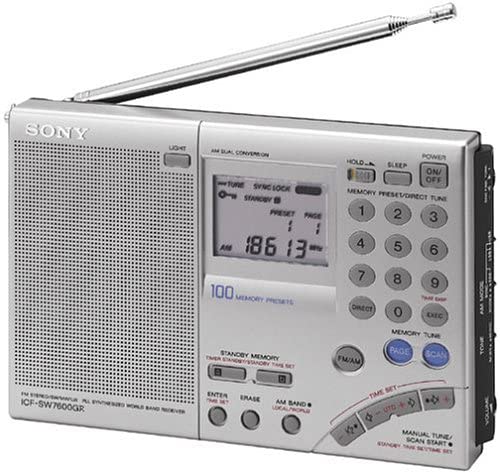 Technical Specifications of Sony ICF-SW7600GR
| Brand | Sony |
| --- | --- |
| Model | ICFSW7600G |
| Weight | 1.34 pounds |
| Dimensions | 7.5 x 1.25 x 4.75 inches |
| Colors | Silver and Black |
Sony ICF-SW7600GR Shortwave Radio Review
The Sony ICF-SW7600GR is a world-class portable shortwave radio that offers solid construction and high portability because of its small form factor. It comes with a smooth border design and pretty stylish looks suitable for fitting right into any environment.
What struck me instantly about its design is the neat arrangement of the buttons. The buttons are quite large and spaciously placed, making it an ideal option for old people with eyesight problems. The screen isn't a very large one, but it is just big enough to give clear readability.
Coming to the overall functions of the device, this shortwave radio receiver works with AM, FM, SW, and LW frequencies. It allows storing up to 100 channels, but you can listen to many more.
There are four methods of tuning the radio, which include:
Direct
Manual
Scan
Preset
I particularly love the preset method because that's only a one-time job. Once I set my favorite channels, all I need to do is to access them quickly. I don't have to go through the pain of finding my favorite channels again and again.
The radio comes with a world clock, built-in time, and dual clock functions. The telescopic antenna is highly sensitive and does a great job with reception. What's interesting is that the radio has SSB or Single Side Band tuning option as well. The SSB tuning option allows 1 kHz step tuning for precise and quick reception.
The shortwave radio comes with a built-in ferrite antenna for AM and LW reception. The radio includes a unique Synchronous Detection Circuitry that reduces distortion caused by fading AM reception.
It also reduces annoying, fading beat frequency interference from nearby stations. In simple words, it gets rid of statics and annoying sounds, providing clear reception and sound quality.
The 3-inch stereo speakers provide clear sound, but it lacks the necessary loudness that is ideal for crowded places. So, you better use the radio in somewhat silent areas.
You can power up the radio by hooking it to a wall AC outlet, but you will need an AC adapter for that. If you don't want to keep it fixed to a single place, you can use four AA batteries that will last for 70 hours.
#6. Retekess V115 Shortwave Radio – It Can Record Stuff!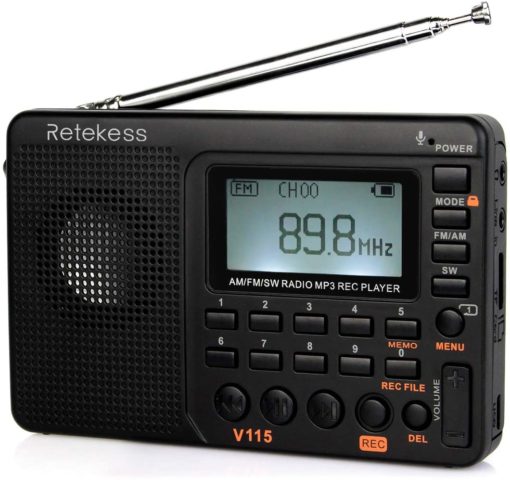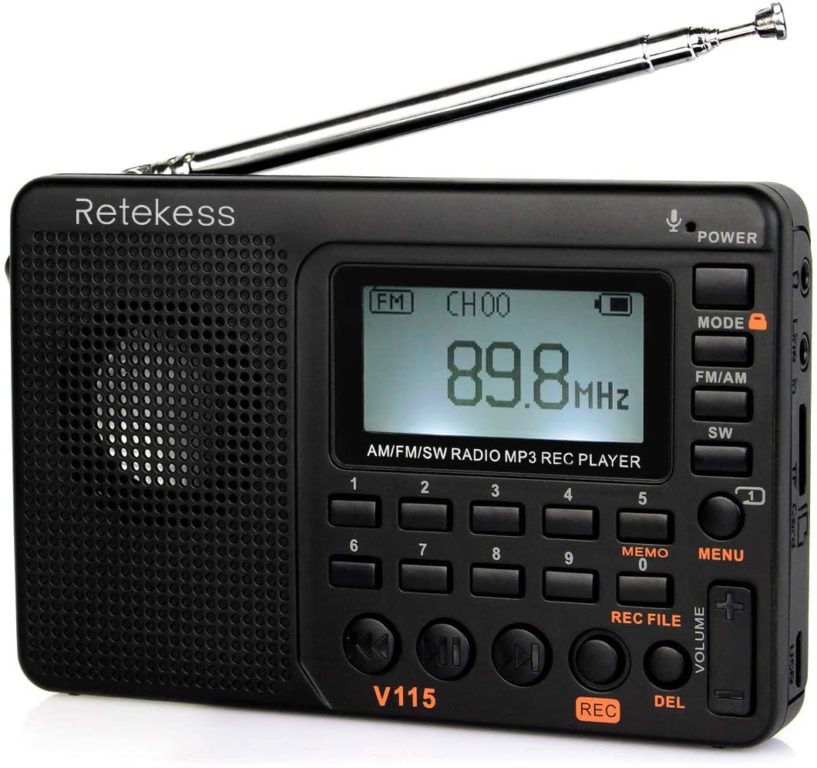 Technical Specifications of Retekess V115
| Brand | Retekess |
| --- | --- |
| Model | V-115 |
| Weight | 5.6 ounces |
| Dimensions | 4.7 x 3.1 x 0.9 inches |
| Colors | Black |
Retekess V115 Shortwave Radio Review
Not many shortwave radio receivers come with recording ability. The Retekess V115 does that like a pro. What's surprising is that the radio can do that even with its small size. It is so small that it can easily fit into your pocket.
Capable of working with AM, FM, and SW bands, the Retekess features a very neat design. Of course, the small size of the radio did lead to a cramped up button placement, but that's not really so bad, because the buttons are decently big.
The backlit LCD screen is large enough to give clear readings. What's interesting is that the Retekess V115 is a transistor radio with recording capabilities. It has a MIC function that will allow you to record whatever you are saying or singing.
It also features a line in recording and radio recording capabilities. You choose the recording quality. There are three options to select from. You can go for 64 kbps or 96 kbps or 128 kbps.
The mic is of surprisingly good quality, and it can pick up conversations from a distance of 20 feet. Whatever you record will be stored in the MicroSD card. The maximum card capacity allowed is 32GB. Do keep in mind that the card is not included in the package.
This portable radio also has a 3.5 mm AUX input that you can use for a pair of earphones or a headphone. It also supports TF cards that you can use for playing MP3. Hook it up with a USB cable, and this small transistor radio can also work as a loudspeaker.
The radio has internal batteries that you can recharge. You can recharge it using your computer and the included USB capable.
If you have a phone charger adapter (which most likely you have), you can use the adapter with the included USB cable to charge the radio receiver directly from a wall outlet. The battery that is included with the radio is a 1000 mAh rechargeable Li-ion battery.
#7. LCJ Portable Shortwave Radio – Has Large Buttons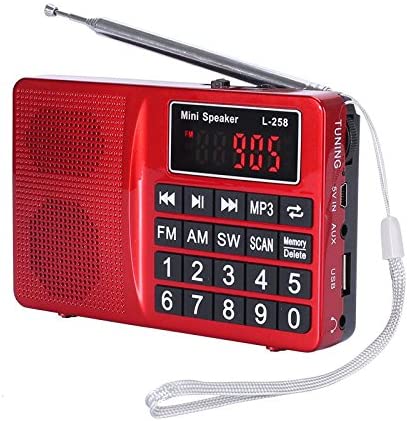 Technical Specifications of LCJ Portable Shortwave Radio
| Brand | HaozheY |
| --- | --- |
| Model | 8541720076 |
| Weight | 8.8 ounces |
| Dimensions | 5.04 x 3.27 x 1.14 inches |
| Colors | Red (also available in Black, Blue, Silver, and Gold) |
LCJ Portable Shortwave Radio Review
Neat design, big buttons, large LCD screen, simple, no-fuss design – the LCJ Portable Shortwave Radio is one of the best your money can buy if you are looking for a simple and cost-effective shortwave radio receiver.
The device comes with support for AM, FM, and SW frequencies. In addition to that, it also comes with support for a manual tuning knob, preset tuning, and scan tuning.
What impressed me is the arrangement of the buttons with large fonts and numerals. There shouldn't be an iota of doubt in anyone's mind that it is one of the best radios for elder people.
The telescopic antenna can extend up to 21 inches in length, making it one of the longest antennas I have seen so far. The antenna is very sensitive, but I did notice some static when tuning into the AM channels.
The speaker is decent. It has an internal magnetic speaker along with a bass diaphragm, creating a clear sound. However, I did notice sound distortions at max volume. So, I will not suggest cranking up the volume to the maximum.
The radio also features the ability to play MP3 music from microSD cards. The card is not included in the package.
As far as powering options are concerned, the only option you will have is to use the rechargeable Li-ion battery included with the package. You can recharge it using a USB cable.
The cable is provided, but you will need the adapter to use it with a wall socket. Alternatively, you can use the USB cable with your computer for recharging the battery.
You can use a 3.5mm audio jack to stream music from your phone, MP3 player, tablet, etc. The manufacturer also includes an AUX cable.
I did notice a few problems. To start with, the battery life is not so great. The maximum it can last is 8 hours with the unit using the loudspeaker at normal volume. Increase the volume to maximum, and the battery life drops to 2.5 hours tops! That's not expected. I did expect a longer battery life.
The other problem I encountered with that the shortwave radio was incapable of capturing AM frequencies when operating indoor. The moment I took it outdoor, reception worked find.
This led me to conclude that too much interference from electrical devices indoors led to this problem.
Overall, the small and compact shortwave radio provides great value for money. It has a lot of functions, and there are many more that you will desire. However, it is needless to say that whatever the unit offers is more than enough for the price.
#8. Kaito KA500 Shortwave Radio – It Is an Emergency Radio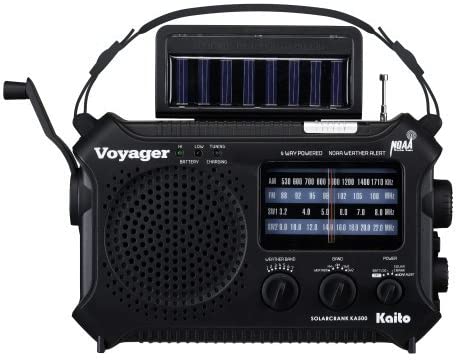 Kaito KA500 Short wave Radio Specifications
| Brand | Kaito (manufactured by Hisonic International, Inc.) |
| --- | --- |
| Model | KA500BLK |
| Weight | 1.25 pounds |
| Dimensions | 8.3 x 2.3 x 5.3 inches |
| Colors | Black (other colors are also available) |
Kaito KA500 Shortwave Radio Review
Technically, I should have placed this unit higher on the list, but since I am not writing about emergency radios, I decided to push it down. But, it is indeed one of the finest shortwave radio receivers you can buy with your hard-earned money.
It has a hand crank, a solar panel, and a built-in rechargeable battery. You can use the hand crank for recharging it. You will also get the option of recharging the battery using an AC adapter or a USB power source.
You can also use the 180-degree swiveling solar panel for powering up the radio even if the internal batteries are removed. You can also use three AAA batteries to power up the device.
What's interesting is that the radio comes preprogrammed with 7 NOAA channels that will alert you of weather conditions in real-time.
The radio can work with AM, FM, and shortwave frequencies. You can extend the telescopic antenna to improve the reception quality. The radio comes equipped with a flashlight, a reading lamp, an emergency beacon light.
The internal battery can work as a power bank and recharge your phone or other smaller devices that accept USB charging. There is a 3.5mm headphone jack in the unit that you can use with headphones or earphones for private listening.
The speaker quality is decent and produces clear sound. There will be some problems with audio quality if you increase the volume to the maximum allowed.
The radio comes with an easy-carry handle that allows for easy portability. It is definitely not a pocket radio, but it is a great survival tool.
#9. Panasonic RF-562DD – The Retro Hero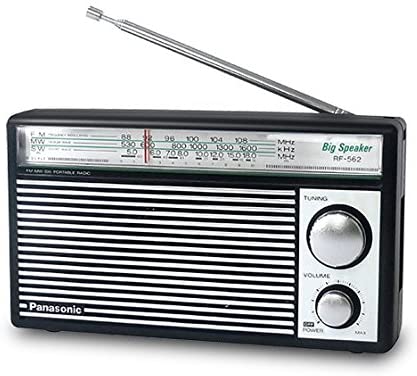 Technical Specifications of Panasonic RF-562DD
| Brand | Panasonic |
| --- | --- |
| Model | 8541720371 |
| Weight | 1.63 pounds |
| Dimensions | 9.5 x 6 x 3.3 inches |
| Colors | Silver and Black |
Panasonic RF-562DD Portable Shortwave Radio Review
The touch of classic, the touch of retro, the Panasonic RF-526DD is one of the finest shortwave radios available today. With a fantastic retro design that can accentuate any modern desk, this radio supports AM, FM, and SW frequencies.
You don't expect too many things from this transistor radio. It does only one thing – radio reception. That's it! There is MP3 support, no buttons, no memory, no alarm, no clock – nothing!
You get a headphone jack, but with radio this classic, you will probably like to discard that piece of tech too!
It has a large speaker that produces loud and distortion-free sound. Tuning is all manual, and you have to do that using the tuning dial. This might be laborious, but it is fun.
It is meant for those lazy summer afternoons when you think that taking a break from the modern digital life is all you need to rewind and rejuvenate yourself.
I am sorry if I didn't fulfill your expectations here, but trust me, it is an absolute classic that will give you doses of nostalgia that you will cherish.
#10. Eton Elite Executive – Offers Aircraft Band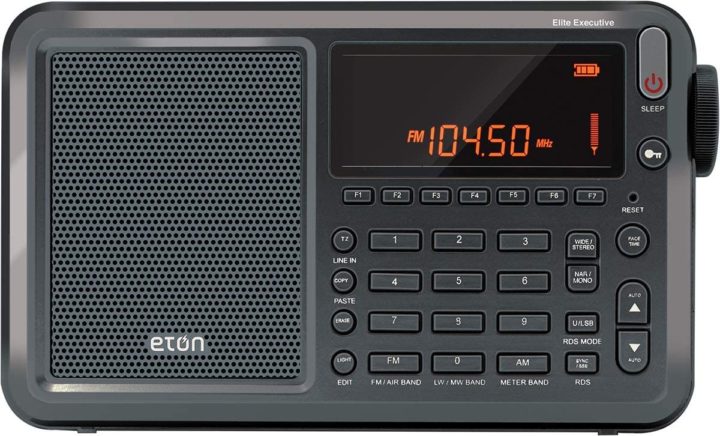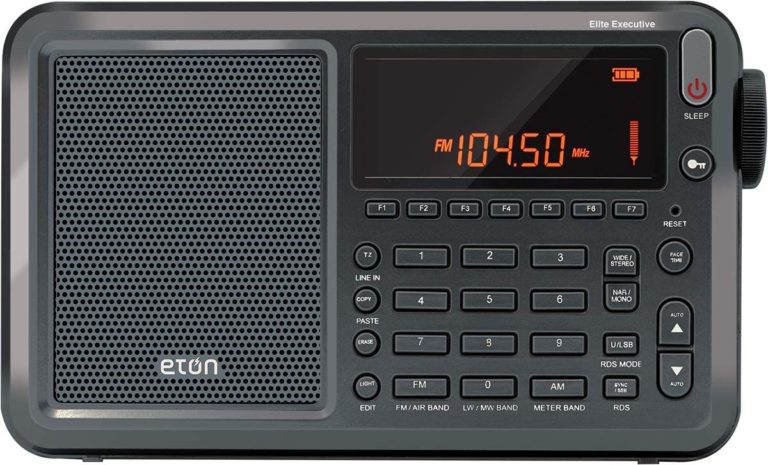 Eton Elite Executive Portable Shortwave Radio Review
Another great one from Grundig, the Eton Elite Executive, may look like average portable shortwave radio, but don't be fooled. With exemplary craftsmanship, this radio reflects Eton's commitment to quality.
Eton Elite Executive Technical Specifications
| Brand | Eton Grundig |
| --- | --- |
| Model | NELITESATELLIT |
| Weight | 1.8 pounds |
| Dimensions | 7.4 x 13.11 x 2.6 inches |
| Colors | Black |
The radio may look like just an average portable unit, but it packs in some well-thought design elements that reflect in the neat arrangement of the buttons underneath the large LCD screen that allows for clear readability.
This compact shortwave radio can capture not only AM, FM, SW, and LW frequencies, but also the VHF aircraft band. What else, you can also enjoy the SSB or Single Side Band. Offering automatic and manual tuning, the radio sports an external antenna connector, a headphone jack, a sleep timer, and an alarm clock.
The radio has what Eton calls the Sync Detector technology that allows for removing fading and distortion to improve the overall sound quality. The sound produced by the radio is indeed very clear and crisp.
There are two powering options. You can use the included AC adapter to use it with a wall socket, or you can use four AA batteries to power up the unit. Unfortunately, Eton doesn't include the batteries with the unit.
For all frequencies taken together, this shortwave radio receiver can memorize up to 700 channels of your choice. Honestly, 50 channel memory would have sufficed, because no one really listens to those many channels. Anyway, it is there, and it is not harming anyone!
The backlit bright-orange display provides not only the channel number and the signal strength but also provides a battery indication.
For SSB, you will get a 1 kHz tuning step, making the radio an attractive option for ham operators.
Finally, the included leather carry cover adds a premium look to the radio. The stitched leather carry cover adds a whole new degree of sophistication to the radio, and it is a great option to keep this expensive little gadget protected during travels.
#11. XHDATA D-328 Shortwave Radio – Small But Feature-Packed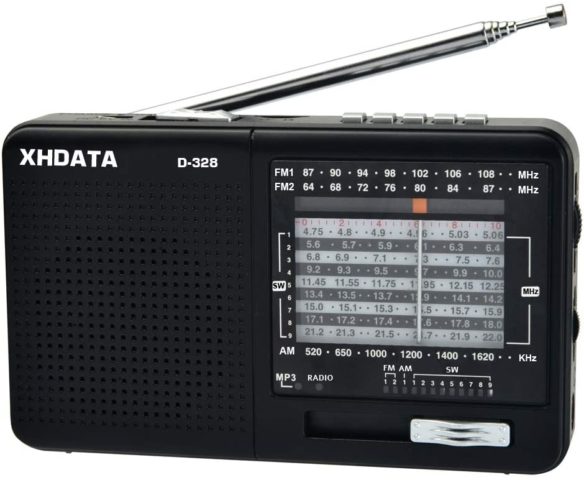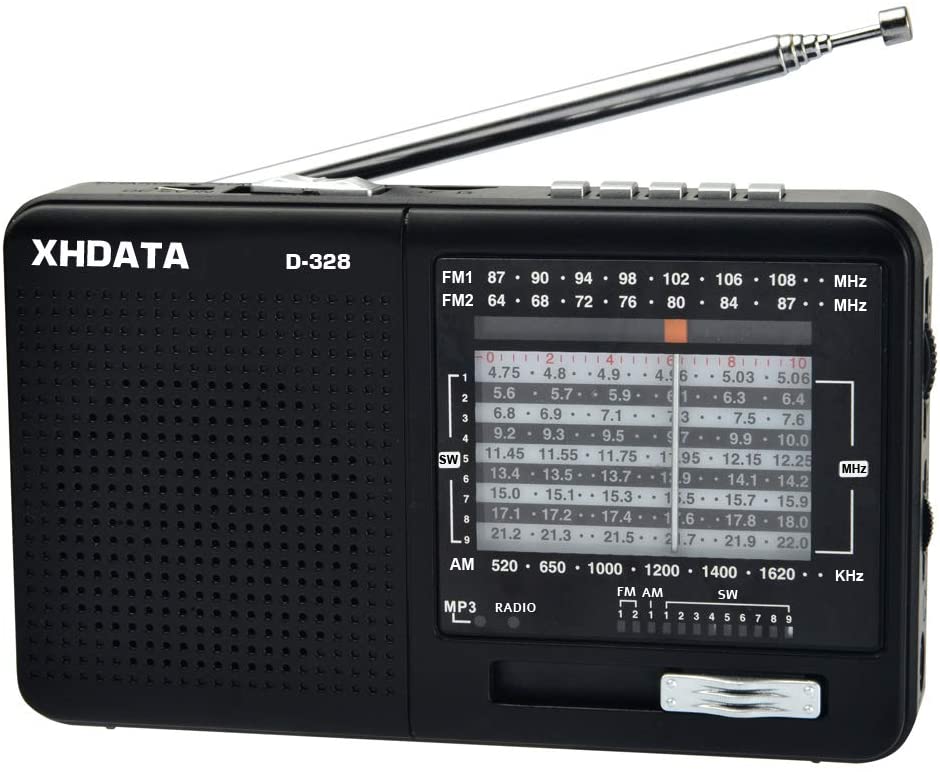 XHDATA D-328 Shortwave Radio Review
A small radio that can fit in your pocket, the XHDATA D-328 packs in many features despite its small size and low price. It supports AM, FM, SW, frequencies, and DSP receiver. Apart from that, you also get MP3 support, TF card support, high-quality sound, earphone jack, etc.
The build quality is pretty decent, and the telescopic antenna does a pretty satisfactory job. However, the antenna could have been slightly better. The antenna can rotate 360 degrees to get better reception. However, I did notice problems with AM reception when using the device indoor.
#12. Radiwow R-108 – Offers a Lot!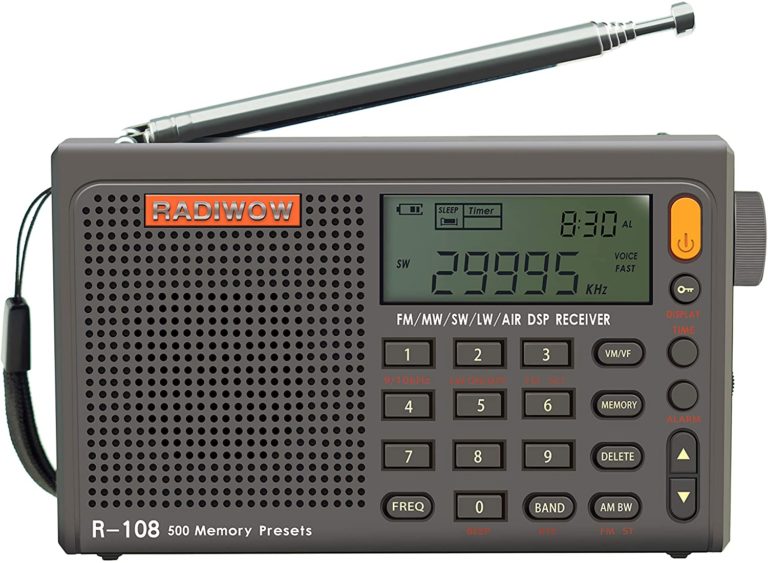 Radiwow R-108 Portable Shortwave AM FM SW Radio Review
This is an underdog! With support for AM. FM, SW, and AIR bands, this unit boasts a DSP receiver. The reception was surprisingly good – something I didn't really expect.
This small portable shortwave radio packs in some nifty features that make it a feature-rich radio. For instance, you will get an alarm clock, temperature display, 500 preset channel memory, external antenna support, telescopic antenna, headphone support, etc.
That's a lot of features for a small price. The large backlit LCD screen is also pretty nice and shows a lot of information. The unit has a rechargeable battery that you can charge using the included USB cable.
The unit also packs in a squelch control button for better sound quality. In fact, Radiwow actually did a great job with the sound output!
#13. C Crane CC Skywave – A Marvelous Travel Companion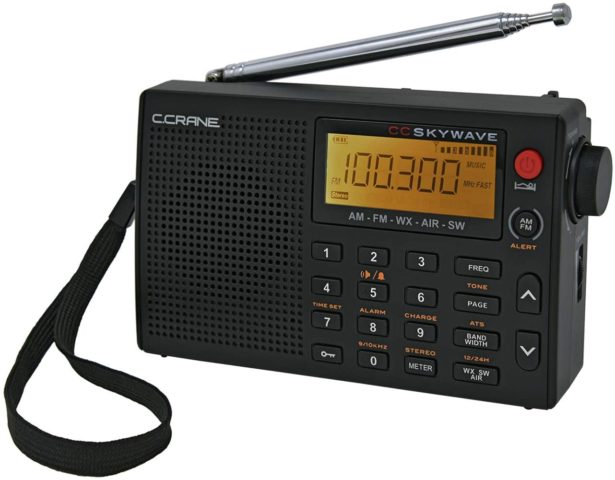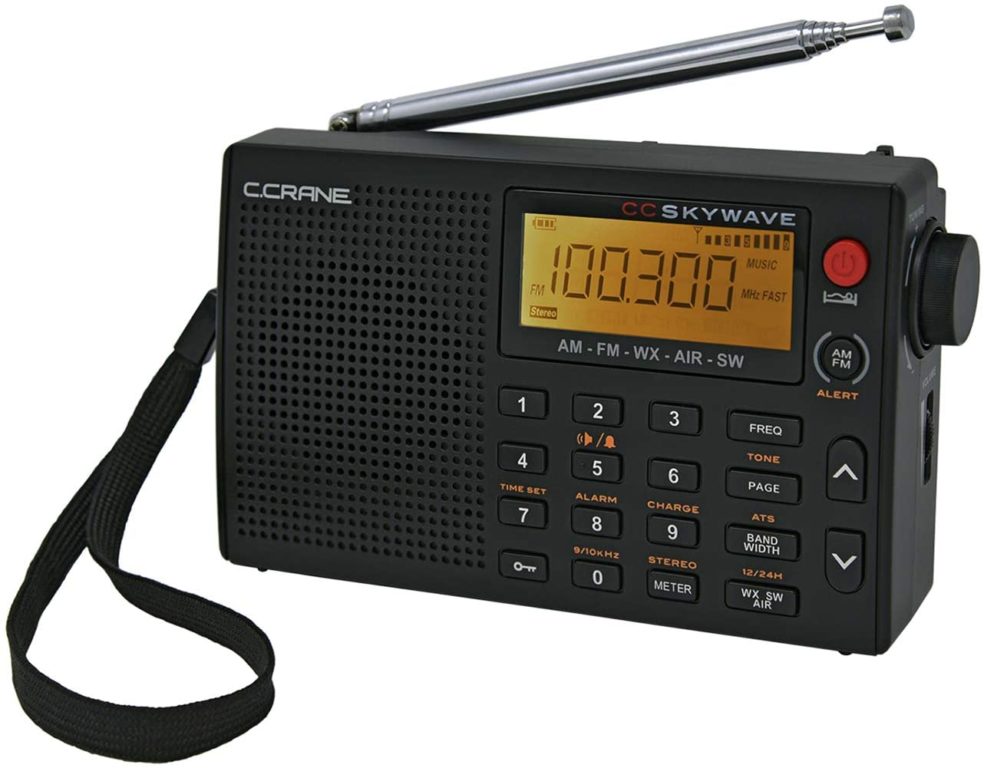 Last but not least, on this list, C Crane CC Skywave shortwave radio is one of the finest. Complete with support for AM, FM, SW, AIR, and NOAA bands, this radio can be powered using two AA batteries or an AC adapter. There are 400 memory presets, an auto-scan feature, and a direct entry keypad.
Other prominent features include a fold-out back stand, stereo headphone jack, signal, and battery meters, lock switch, clock in both 12- and 24-hour formats, backlit LCD screen, and more.
The company packs in a pair of earbuds and a carry case that become handy while traveling.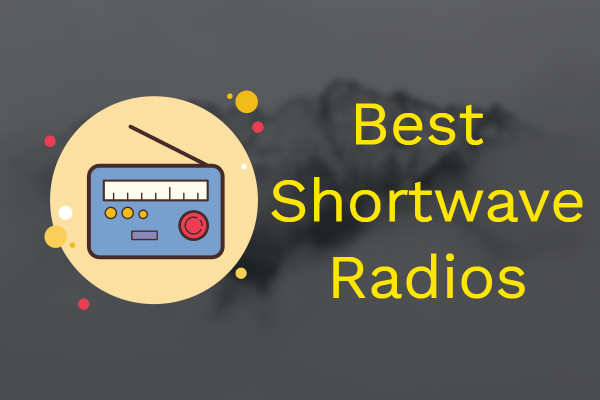 Topics Covered:
The Best Shortwave Radio Reviews.
What is Shortwave Radio?
A shortwave radio or a shortwave radio receiver is a receiving device that can receive or catch radio frequencies within the frequency range of 1.6 MHz and 30 MHz (1600 kHz to 30,000 kHz). Typically, the shortwave range includes all frequencies in the HF band. HF stands for high-frequency. The HF band has a frequency range of 3 MHz to 30 MHz. This allows you to tap into higher AM bands. There are newer models of shortwave radios that will allow you to receive AM/FM modulations and all types of frequencies.
If you were unaware, shortwave, medium-wave, and longwave radio frequencies can all be subjected to FM or AM modulation. In AM modulation, the signal changes with modulations in the wave amplitude. In FM modulation, the signal changes with modulation in frequency.
The FM band usually has a frequency range of 50 MHz to 150 MHz, but commercial radio stations usually using the range 87 MHz to 108 MHz. The AM band occupies 550 kHz to 1720 kHz (0.55 MHz to 1.72 kHz).
If a shortwave radio is operating within the range of 1.7 MHz and 30 MHz, it cannot capture either AM or FM bands. This explains why they come with additional AM/FM receivers that will allow them to capture those lower AM and higher FM frequencies.
In case you are wondering how shortwave radios work, I can give you a quick explanation! The theory states that the shortwave radio signals have very high energy and high frequency, allowing them to be reflected from Earth's ionosphere.
Read more about, Shortwave vs Longwave radio signals.
So, the shortwave radio signals keep bouncing up and down, reaching places beyond the horizon that you cannot see. This type of propagation is referred to as Skip Propagation. It is this Skip Propagation that allows the shortwave radio communications to travel across the globe.
Exactly opposite to this is the Line-of-Sight-Propagation. It applies to longwave radio signals that have low frequency and low energy. They can travel only in straight lines and struggle to go to points beyond the horizon (about 40 miles).
Different Types of Shortwave Radios
There are different types of shortwave radios. These different types are categorized based on usability and form-factor. There are four broad groups in which the shortwave radios are categorized. They are:
i). Portable
ii). Tabletop or Desktop
iii). All-in-one
vi). SDRs or Software-Defined Radios
i). Portable Shortwave Radios
Portable shortwave radios are among the commonest types of shortwave radios that you will find in the market. They are easy to carry around and are fairly cheap. The problem with these radios is that they are mostly analog. You will get digital variants for sure, but they are quite expensive.
Most of these portable shortwave radios will come with an alternative power source (like a solar panel) that will ensure that you can keep your radio running even if the batteries are dead. This feature is particularly helpful if you are taking your radios to travel errands.
ii). Desktop or Tabletop Radios
Tabletop radios or desktop shortwave radios are among the oldest versions of radios that you can find. They are typically powered by a power outlet. This means that you have to hook them up with a power outlet on your wall.
It is not that you will not find versions powered by batteries, but they are difficult to find. On top of that, finding batteries can be not only difficult but also expensive!
These are quite bulky by design and are perfect for those people who love to listen to a radio from home.
iii) All-in-One Shortwave Radios
These can come in both portable and tabletop or desktop versions. They can pick up most AM bands and FM bands because they have a wide range of available frequencies.
vi). Software-Defined Radios
These are top-of-the-line shortwave radios. They were invented long after compared to other radio types you read above. To operate, they need a computer. Using the software on your computer, they can receive all radio frequencies.
Do not forget that radios can be classified as analog and digital as well. Analog radios have the advantage of long-life because of solid build quality, but they lack the accuracy to pinpoint a channel or a station.
The analog radios have a dial that you need to manually turn and adjust to get to the desired station. The digital radios, on the other hand, have unmatched signal accuracy. Digital radios can pinpoint to any channel or station quickly. It is this accuracy that makes digital shortwave radios the desired breed.
However, some people prefer the analog version because they just can't get over the nostalgia, and I am one of them.
Shortwave Radio Buying Guide
Buying a shortwave radio might seem easy, but the reality is far from what you think. Picking up any radio from the market is something that anyone can do. However, you need to make sure that the radio that you are purchasing has everything that you need.
Here is a set of things that you need to keep in mind while purchasing a shortwave radio:
Type
Frequency support or coverage
Sensitivity
Antenna
Battery
Display
Buttons arrangement
Sound quality
Extra features
Available accessories
Let's take a closer look at each of these factors.
The Type of Shortwave Radio
You already know about the different types of radios that are available in the market. Which one should you settle for? This is an important factor! If you are a frequent traveler who cannot live without his or her radio, you should settle for a portable radio.
In case you prefer staying indoors, a bulky desktop or tabletop radio won't hurt. However, if you are more of a modern tech-savvy dude, you can always settle for software-defined radios. Remember that software-defined radios come with a very steep learning curve, and SDRs can give you a horrible time without you being comfy with technology.
Then there is a choice between a digital shortwave radio and an analog shortwave radio. The one you select will depend on your taste. If doing things the old-school way is your thing, an analog radio will be a great choice. If you don't like manual tuning, digital radio will become your best friend.
Not to forget, a digital device will have several problems. The first thing first, a digital version of a shortwave radio will be subject to malfunction. The digital screen or the internal circuit may just stop working. Also, digital versions are more expensive and don't have such great build quality.
So, there are pros and cons that you need to consider before you settle for a certain type.
Frequency Coverage
Frequency coverage is one of the most important factors to consider. The wider the coverage, the more radio stations you get to access. A shortwave radio, in general, will pick up various frequency bands. If you need access to only AM and FM bands, a regular portable or desktop or tabletop radio will work.
In case you want your radio to pick up FM, AM, and SW bands, you should settle for an all-in-one radio. Some radios will catch VHF or very high-frequency signals. They will give you access to NOAA weather channels and even air traffic communications. Depending on what you need, the radio price will vary.
The Sensitivity of the Radio
A radio receiver's sensitivity is very important. The quality of the sound a shortwave radio receiver reproduces depends on how well it detects the amplitude differences. The sensitivity is measured in either microvolt (µV) or millivolt (mV).
Every frequency band and modulation has an ideal sensitivity level. For the FM band, the sensitivity of 4mV or less is best. In the case of the AM band, the ideal sensitivity is 4mV/m.
If the sensitivity is 6mV/m or less, the longwave bands get benefits. The best decoding of shortwave signals happens at less than 20µV sensitivity levels. I will advise that you check out the sensitivity level before you purchase a radio.
Antenna
Antennas play a vital role in the overall reception quality of the shortwave radios. A longer antenna with a better build quality will work better than the stock antenna that comes integrated with a radio.
In general, an external antenna will always produce clearer sound quality by enhancing the radio signals. So, I will advise that you go for SWL Antennas. SWL stands for Shortwave Listeners.
So, if your radio has an external antenna connector, it should be an ideal choice because you can later add SWL Antennas to boost reception.
Battery
If you want a radio powered using a wall power outlet, that's a different thing. There is nothing to discuss. However, if you are opting for a battery-operated radio, there are two options that you will get.
The first option is that of AA or AAA batteries. The second option is that of a rechargeable Li-ion battery. In the first option, you can easily buy battery packs and replace the dead ones with the new ones. That's easy and helpful when you are traveling, or you are in the middle of a place where there is no power source to recharge the internal battery.
In the second option, for the rechargeable Li-ion batteries, you need to have a power outlet to recharge the battery. Such rechargeable batteries are internal batteries that you cannot take out. It is very much like a modern smartphone that does not allow separating the battery.
Honestly, internal rechargeable batteries are better-suited for emergency radios. In emergency radios, such batteries work as power banks and help recharge phones and other smaller devices using a USB port.
As far as the runtime is concerned, two AA batteries will give up to 80 hours of runtime. Some radios accept up to four AA or AAA batteries.
For internal Li-ion batteries, you can expect a runtime of up to 30 hours on a single charge. Such internal batteries have a capacity of 1000 mAh to 4000 mAh.
The battery life is heavily dependent on two factors – the screen and the speakers. The bigger the screen, the faster the battery drains. Similarly, if you use the speaker too much, the battery will drain quicker.
Considering all these, if you have an analog radio with the ability to hook up a pair of headphones (instead of using the speaker), you will get the longest battery life. That's because an analog radio will not have a digital screen that will drain the battery quickly.
Display Unit
The majority of today's digital radios will come with LCD screens, which are fairly easy to read in direct sunlight. LCD screens are easy on the batteries as well. There will be variants that will offer backlit LCD screens.
A backlit screen will allow you to read even in complete darkness, but unfortunately, it will drain the battery quicker.
There are three different color choices that you will get in backlit screens. You can get grey, orange, and green. I always settle for orange because of the increase in contrast. Yes, orange screens are far easier to read. You may have a different opinion!
If you want LED screens for increased brightness, that is also a possibility. However, radios with LED screens will cost a lot more.
Buttons Arrangement
There are radios with very few hard buttons, and then there are radios with many buttons. The one that you choose will depend on what you need. If you need advanced functions, you will possibly have to settle for a radio that has many hard buttons.
If you settle for simplicity, a radio with basic buttons like AM/FM/SW toggle switch, number pad, menu button, volume knob, and frequency toggles should suffice. If you get a radio with alarm and time functions, separate hard buttons for them make much more sense.
Finally, consider the layout of the buttons. Just having buttons is not enough. You need to get a radio that arranges those buttons in a logical fashion that makes sense and is easy to operate.
Sound Quality
Radios will come with integrated speakers. The sound output of the speakers can be a deal-breaker. Some cheap radios will come with terrible speaker quality. The diameter and the wattage of a speaker will determine how loud the speaker is. But again, just because a speaker is loud doesn't mean that it will give a clear sound.
The sound quality matters too! Settle for speakers with good impedance (Ohms), which should be between 4 and 10 for any standard speaker with a diameter of 40mm.
However, do remember that most of the base speakers that you find in radios will give clear sound for midsections, but they will give a painful experience with high notes and basses.
The speaker's quality will also determine the price of the speaker. So, if you are going for radio from a manufacturer that is well-known for high-quality speakers that do not lack a wide sound specter (that is they have good bass and sound good at high notes), expect a higher price.
Extra Features
Extra or additional features do not belong to the core functions of the radio. Consider them as add-on services that improve the utility of a radio. There are dozens of extra features that you can get. However, here is a quick list of things that you can find commonly:
A better of an improved camera, or a least, support for an external antenna.
Solar panel for charging internal batteries.
Improved stereo speakers instead of mono speakers.
LED display.
Support for headphones.
Streaming capabilities either using Bluetooth or using AUX-in port.
Sleep mode and lock buttons.
Alarm, and time functions.
Time zones (city/country).
As I said, none of them are classified as core functions of radio. They are great add-on features that provide an improved experience. The more features you get, the pricier the radio unit gets.
Also remember, too many functions can make the radio's internal circuitry fragile that can easily succumb to malfunctions. So, it is better that you settle for a high-quality unit from a popular manufacturer with a reputation for building quality radios.
Available Accessories
If you are purchasing a high-quality radio, you may get a nice leather case. It is not uncommon to find a travel bag or a write strap or a shoulder strap with portable shortwave radios. They make a great add-on if you travel frequently and take your radio along.
Some radios can offer extra batteries (though that's not very likely for low-priced models). Some premium models can offer an extra high-quality antenna so that the radio performs better in far off locations where signals are not that great. A better antenna can improve reception.
Shortwave Radio General FAQ
Can I use a shortwave radio during emergencies?
If you are thinking of talking to someone using your radio, you will need a ham or a CB radio. They are more meaningful during emergencies. Generally, a tabletop shortwave radio or a portable version will not allow you to talk. You can, however, listen to emergency broadcasts and get up-to-date news on developing situations.
In fact, during mass power failures or similar disasters, a shortwave radio will become a tool to learn about what's happening around you. It will also help you to stay abreast of information from various emergency services.
If your shortwave radio has VHF reception capabilities, you can also tune into NOAA weather channels to get an update on weather conditions. However, if you are looking for emergency radios that can double up as an essential survival tool, feel free to check out the list of the best emergency radios.
Note: Do not blindly believe all the ratings you see on Amazon. A lot of them are manipulated, sometimes to increase the rating of their product and sometimes to decrease the rating of the competitor Radios. It's better for you if you stick to our Shortwave Radio Picks.
Can I listen to international broadcasting with shortwave radios?
Yes, you can! Many political, religious, and alternative media broadcast shortwave bands. Not just them; there are non-commercial and commercial networks as well that do the same. Many countries will broadcast in shortwave bands and offer music, news, and even propaganda channels. You can listen to all these and get a good perspective of different cultures worldwide.
How far can shortwave radio signals reach?
Shortwaves have skip propagation that allows radio signals to travel thousands of miles. So, you can pick up a shortwave radio transmission from across the globe.
Are shortwave radios good for pastime?
Music channels and talk shows – don't they kill boredom? Of course, shortwave radios are good for pastime. Not everyone uses shortwave radios for listening to emergency broadcasts, and you don't get zombie apocalypse-type situations every day! Apart from that, some people use DXing to pick up radio transmissions from distant corners of the world. They do that, especially during the night. So yes, shortwave radio is good for pastime.
Conclusion
Shortwave radio technology has not changed much in about a century now. What has changed is the complexity of the shortwave receiver. Modern designs incorporate amazing features that were impossible to conceive about 50 or 60 years ago.
The increasing number of features is what makes choosing shortwave radios so complex. Take your time first to figure out what you need, and then opt for a shortwave radio covering all or most of your needs.
External Sources: