No matter how many music-streaming devices flood the market, AM/FM Radios have a special place in many of our lives.
People like us love small habits like listening to the FM/AM radio every day or once in a while. If you are one of them, then Check out the list of the best AM FM portable radios that will give you best value for your money.
Best AM FM Portable Radios
After reviewing over 20 plus AM/FM portable radios for more than 2 weeks, I can say Kaito KA500 is probably the best portable AM FM radio out there. Kaito KA500 comes with a dual-band, dual stereo speakers, Solar batteries, and is weatherproof. Kaito KA500 portable AM FM Radio is also my personal favorite compared to all other portable radios. I have also hand-picked the 11 best portable radios to buy.
Without any further Ado, let's look at the best rated AM/FM Portable radios to buy.
#1. Kaito KA500 – The Overall Winner
Kaito-KA500 Technical Specifications
| Product Name | Kaito KA500 |
| --- | --- |
| Power Source | Corded-Electric, Solar, Battery |
| Brand | Kaito |
| Radio Bands Supported | 2-Band |
| Speaker | Dual Stereo |
| AM Range | 530 – 1710 KHz |
| FM | 88 – 108 MHz |
Kaito KA500 Portable Radio Review
Kaito KA500 is one of the finest AM FM portable radios in the market today. Sturdy, weather-resistant, and funky-looking, the Kaito KA500 appears to be a piece of a gadget designed for some superhero flick.
With Multiple Power Sources, Kaito KA500 Is Good for Both Indoor and Outdoor Use. Kaito KA500 is our top pick and probably one of the best AM FM portable radio.
Kaito KA500 not only handles AM, FM, and shortwave frequencies but also comes with preprogrammed NOAA channels to alert you of bad weather conditions. It is built to last. With weatherproofing, this sturdy radio can be a great companion for your outdoor adventures.
In case you are wondering about the options you get to power up the radio, there are multiple that you can select from. The best part is the hand crank generator that you can spin to fire up the radio. This particular feature makes it a perfect outdoor companion.
Additionally, it also comes with the options of using AA batteries, mini USB input, and a built-in battery pack that you can recharge. It also has solar panels, and you can use the regular wall outlet to power this thing up. However, do keep in mind that you will have to purchase the AC adapter separately if you want to hook up the radio to a wall outlet.
Performance-wise, the Kaito KA500 is not going to give you deafening sound (if that is what you are looking for), but its sound production is excellent even at its maximum volume capacity.
As for the features, Kaito packs in a lot of them. For instance, you will get a LED flashlight, LED light, and even a beacon light. It has a telescopic antenna, and you can use it to charge your mobile phone or your GPS device when you are stranded somewhere.
#2. Sangean LB-100 – Exceptional Sound Quality
Sangean LB-100 Radio Technical Specifications
| Radio Name | Sangean LB-100 |
| --- | --- |
| Power Source | Corded-Electric, Solar, Battery |
| Brand | Sangean |
| Bands Supported | 2-Band |
| Speaker | Dual Stereo |
| AM Range | 520 – 1710 (10k), 522 – 1629 (9k) Khz |
| FM | 87.5 – 108 MHz |
Sangean LB-100 AM/FM Portable Radio Review
If you are ready for a compromise on the easy-portability side in favor of big sound, the Sangean LB-100 is a great option for you. The radio has been designed for noisy job sites, but it is a perfect option even for indoors, poolside parties, or a picnic somewhere far from home.
The best part of the Sangean LB-100 portable radio is that it comes with a protective roll cage that keeps the radio safe from unexpected shocks. With a large LCD display, easy-to-use buttons, the Sangean LB-100 is designed for sound. The big 5" speaker produces clear sound. However, if you crank up the volume to maximum, there will be distortions and crackling.
Of course, since the radio is meant for job sites, it is a bit heavy, weighing 6.9 lbs. It can play both AM and FM bands. The 9' cable that comes attached with the radio will allow you to power up the unit using a wall outlet.
If you are using the radio outdoor, make sure that you have four C-type batteries. No other battery will work with radio. Since it is a job site radio, it is rain and dust-proof, making it a great companion for outdoor use.
The big, bold dial is what you need to use for selecting a radio channel. It comes complete with the telescopic antenna to improve the reception. There are only two ways to power up this thing. You can use a wall outlet, or you can stuff in four AA batteries.
#3. Panasonic RF-2400D – Analog Design & best for Indoors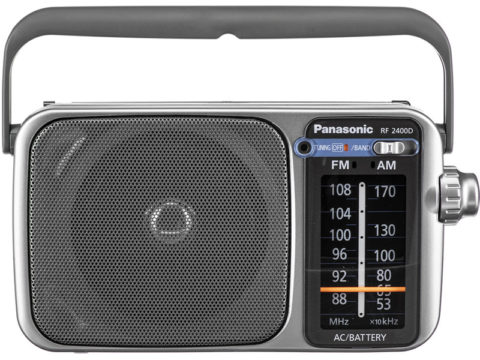 Panasonic RF-2400D AM & FM Radio Review
If a retro design steals your heart, Panasonic knows how to press the right nerve! The company ditched the modern design and decided to go for a good old-fashioned design with a manual flip-switch to jump between AM and FM.
It is designed for indoor usage, so you should not be expecting it to come with weatherproofing. To complete its ancient design, Panasonic threw in a nice carry handle that you can use for carrying around your radio at home.
The speakers are tiny and great for bedside or on-desk usage. Don't even think of using it as a boombox at some pool party or a picnic gathering. It is for personal use. So, keep it that way.
#4. Running Snail MD-088s – Great for Outdoors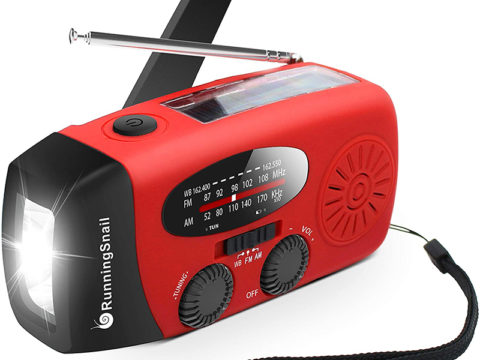 Running Snail MD-088s Technical Specifications
| Radio Name | Running Snail MD-088s |
| --- | --- |
| Power Source | Corded-Electric, Solar, Battery, Hand Crank |
| Brand | RunningSnail |
| Bands Supported | 7-Band |
Running Snail MD-088s AM FM Portable Radio Review
If you are not taken aback by a silly-looking radio, the Running Snail MD-088s is a great option that you can settle for. This radio comes with solar charging capabilities in addition to a hand crank generator and rechargeable batteries.
Yes, there are three power options only! If you want it to work with a wall outlet, you will be disappointed. That's not happening! However, I being a big advocate of hand crank generators, that feature, I believe, makes it the most important feature when you are looking for a portable radio for outdoor usage.
The MD-088s is built for outdoors, and it is capable of handling rough weather conditions pretty nicely. Besides offering the regular AM and FM radio bands, the radio also offers NOAA weather stations to tell you of any upcoming bad weather. This is especially helpful when you are venturing out.
The radio also doubles up as a charger for your phone and your GPS device. The manual hand crank generator particularly helpful if you are in a place where you don't have access to a power source and light. The generator can help you keep the large LED light on.
#5. Sony ICFP26 – Best Compact AM/FM Radio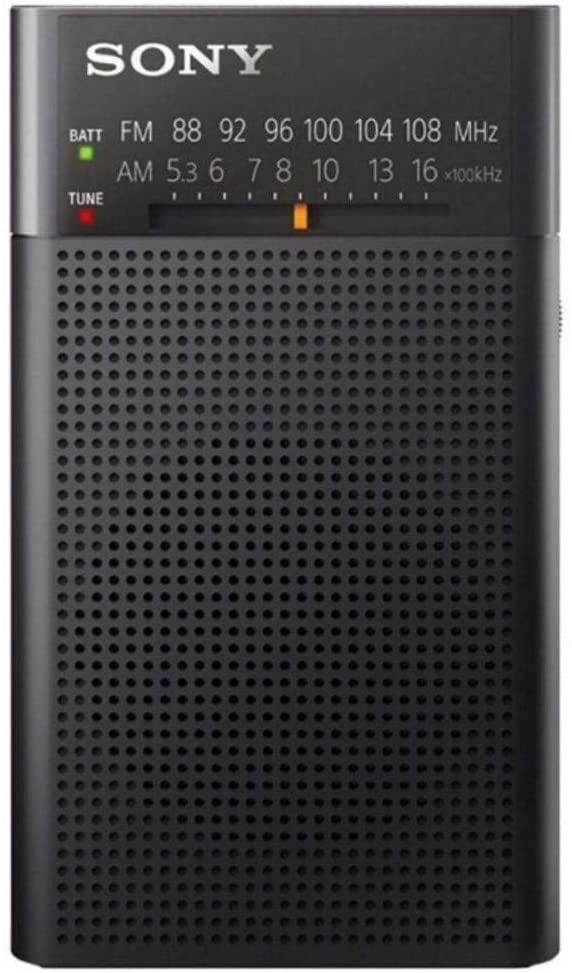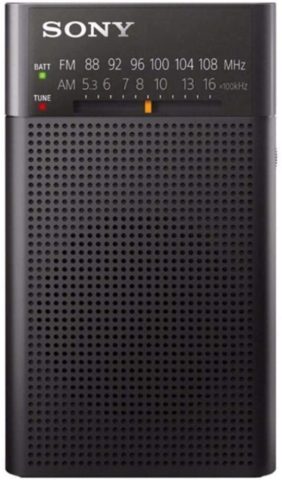 Sony ICFP26 AM/FM Pocket Radio Review
If you are a die-hard radio fan and prefer carrying your radio everywhere you go, the Sony ICFP26 has just the perfect gadget you need. A blend of the modern and the old, the Sony ICFP26 is a super lightweight radio.
In case you are thinking that this flimsy-looking radio will not deliver good sound quality, you are plain wrong! It definitely doesn't produce a sound like a boombox, but with Sony's sound tech working behind, the ICFP26 can generate crystal clear sound.
Just in case you do not like the idea of making using the speaker while using the subway or any other public transport, you can hook up your earphones to the radio and enjoy your favorite radio channels.
If poor reception is bugging you, you can go the old way of pulling out the telescopic antenna to improve the reception. There are LED indicators for AM and FM signal strengths, and even for the battery level.
The unit will run only on batteries. Well, that makes sense, because it is a pocket radio. So, do keep some spares handy!
Did I say that it is not meant for rough outdoor usage? It has a flimsy build quality. So, make sure that you are not taking it out for a hiking expedition. It is not even weatherproof. So, keep it away from the elements of nature! Don't drop it either.
#6. Sangean PR-D18BK – Excellent Design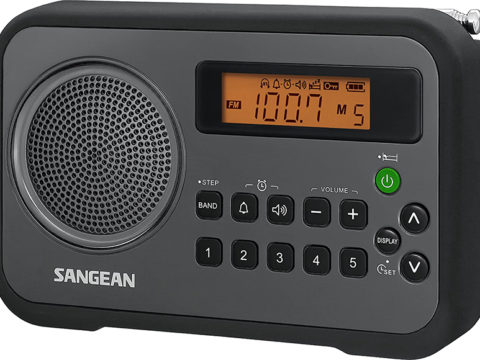 Sangean PR-D18BK Portable FM AM Radio Review
If you are more of an outdoor guy with love for radios but hatred for bulky designs, the Sangean PR-D18BK is the perfect option you can have.
It is neat – design-wise! With a classic Sangean-style design, the PR-D18BK comes with a protective rubber bumper to protect the radio from accidental falls.
Complete with a nifty little backlit LCD screen, clearly arranged buttons, a telescopic antenna, Sangean PR-D18BK is a simple and straightforward radio. You don't have to pick up the manual to operate it.
This little guy has 5 AM presets and 5 FM presets, and if you have used any AM/FM radio previously, you can set preset stations before your neighbor can even blink.
You can run this radio using both AA batteries or a wall outlet. However, if you want to hook it up to a wall outlet, you need to get an AC adapter separately. The adapter is not included in the package.
The sound quality is not astounding, but you can expect a clear sound.
#7. Sangean PR-D7 – Pretty Understated Design
Sangean PR-D7 Portable Radio Review
Yet another beauty from Sangean, the PR-D7, has some interesting technology stuffed in it. It comes with PLL synthesized tuning system, which will prevent the radio signal from fading away. What does that mean? It means that the signal always remains clear.
It comes with 5 presets for AM and another 5 for FM. If you are looking for NOAA reception, that's not happening. The radio comes with a cleverly arranged button and a big volume dial that allows for easy operation.
It also packs is what Sangean calls the Humane Wake System. If you are using the radio as an alarm (which you can), it will not start blaring at its peak volume, making you feel like smashing it into microscopic pieces.
It also has a nice backlit screen that shines orange and gives a clear view of what's on the screen. The sound that this radio produces is not stellar, but yes, it is quite nice for its size.
You will need 6 AA batteries to operate this thing, but if you don't want to buy batteries, you can always use the included AC adapter to hook it up the wall outlet. Yes, yes, you get the AC adapter with the radio. That's quite unnatural, but true in this case.
#8. ION Block Rocker Plus – Rugged Build & Made to Move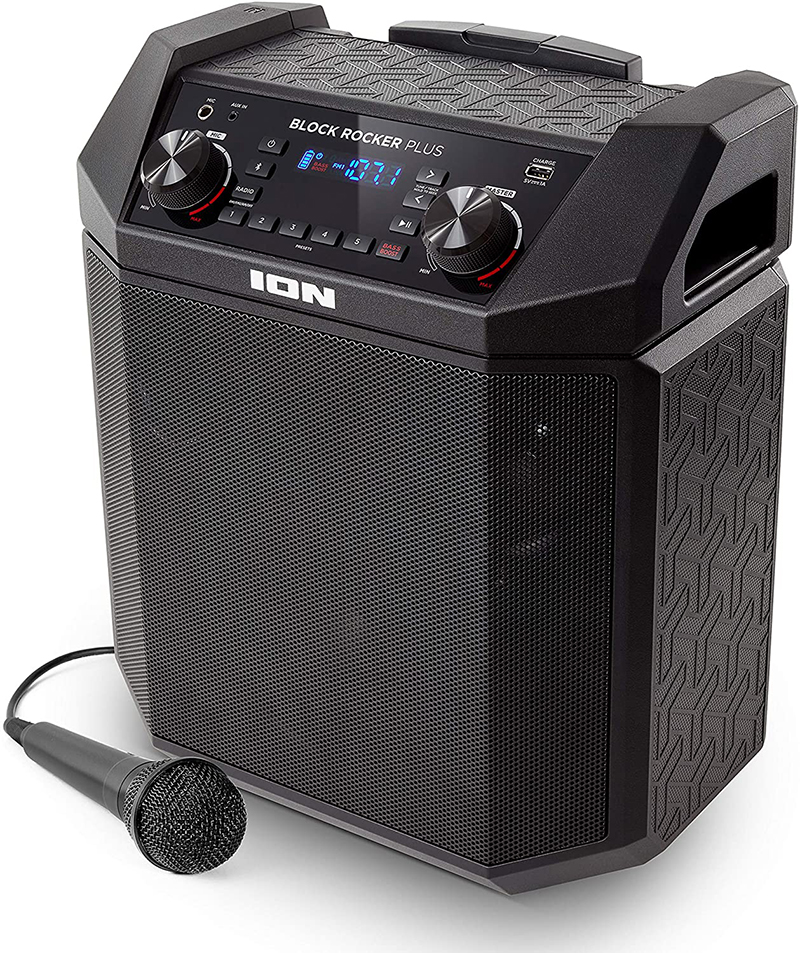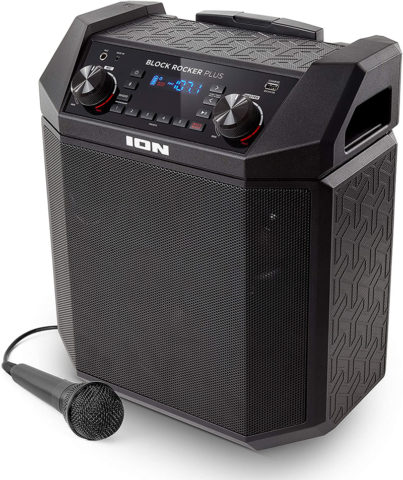 If you are looking for a radio that doesn't shy away from adding a lot of weight and is road-ready, the ION should be your next best friend. I really don't know where to start. Let me give it a try.
At 21 pounds, you may think it is very heavy and immobile. You are wrong. It has a telescopic handle that you can use for pulling it around, that's to the tiny wheels at the bottom. Reminding you to luggage bags? I had the same feeling!
It is indeed a radio, but it adds a whopping 100 watts of power amplifier! That makes it too loud! Yes, it is road-ready, but make sure you are not taking it out to the beach or in the rain. Keep it away from water.
It has Bluetooth to stream your favorite music from your Bluetooth-enabled devices. It even has an AUX-in port, and there is a freaking mic. You can literally use this thing as a karaoke machine. The mic has its own volume control option as well!
Yes, yes, it is a radio. It has both AM and FM support. ION threw in a nice LED screen, a USB port for charging your mobile devices, a master volume, and a bass boost feature. The build quality is quite rugged with a hard plastic enclosure.
It comes with a rechargeable battery with 50 hours of playback time, depending on how you are using the unit.
#9. DreamSky – FM/AM Pocket Radio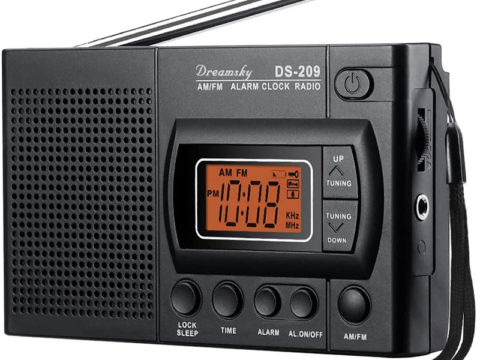 If you are not looking for a big boy like ION, you can look for a pocket-sized radio that works equally great indoors and outdoors.
The DreamSky fits the requirement very well. With zero technical complications, this radio is perfect for rookies or elderly people who are not very tech-savvy.
DreamSky throws in an old-fashioned dial for tuning and includes a telescopic antenna that can extend up to 14 inches. You can always use the loudspeaker, but if you want to block yourself out of the external distractions, you can use the headphone jack to get some isolation.
There is a separate volume control if you want to crank up the volume. You can also switch between AM and FM. It is a no-fuss, no-frills radio.
It is a battery-only radio, which means you cannot hook it up with a wall socket. If you are taking it outdoor, make sure you are carrying some extra batteries. It needs two AA batteries to operate.
#10. Retekess PR11 – AM FM Pocket Radio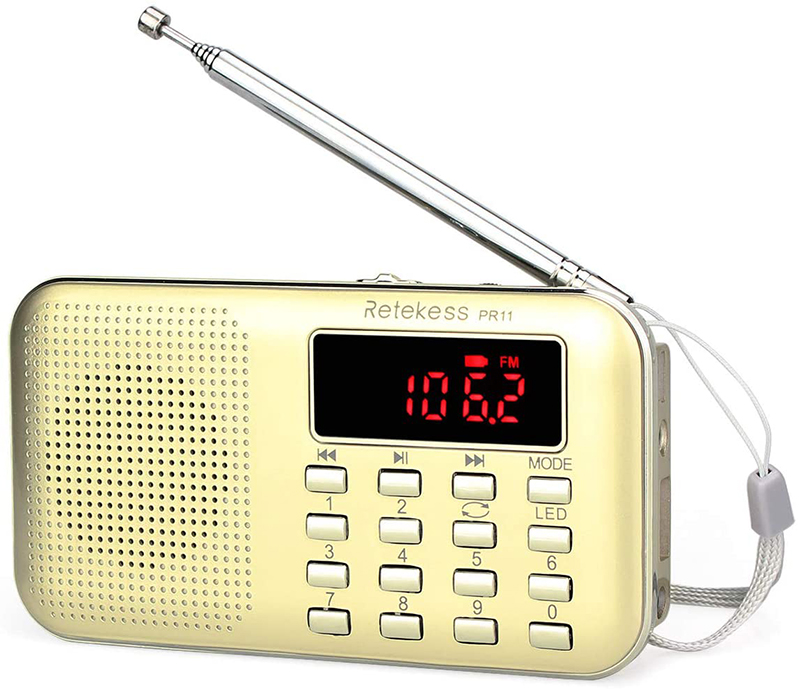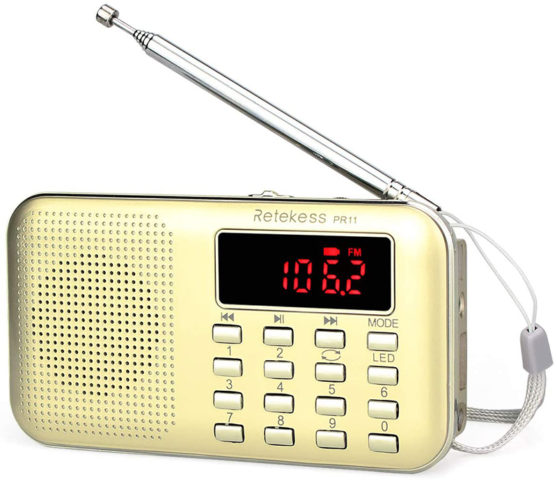 Retekess PR11 is yet another pocket or portable radio that comes without much complication. However, it does come with TF Card and U Disk playback support. That's something you won't find in other pocket radios.
This unit delivers quite a loud sound. Coupled with a 45mm high fidelity speaker, its high-end decoder IC generates powerful bass and high clear notes. However, never expect it to be of stellar quality.
The radio doesn't come with AM and FM presets, but it can automatically scan stations. It runs on a rechargeable Li-ion battery.
The Pros of Retekess PR11
Given its size, it has a clear and loud sound.
It supports U Disk playback and also supports TF Cards.
It has a headphone jack and AUX input.
It includes a flashlight.
The Cons of Retekess PR11
It runs only on battery.
It is not weather-resistant. So, be careful while using outdoor.
#11. Midland – ER310 – Ultrasonic Dog Whistle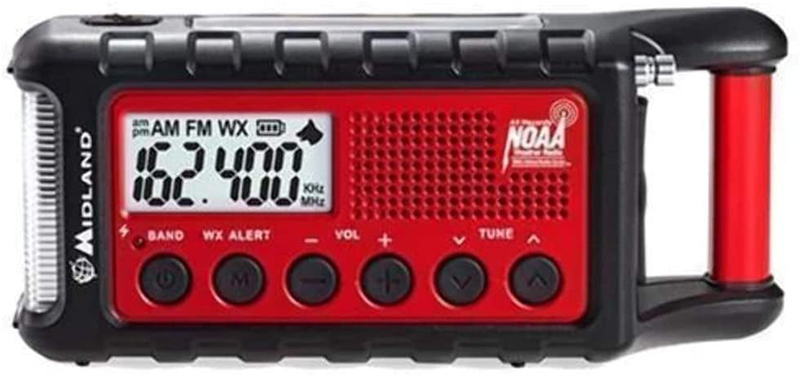 A perfect radio for outdoors and emergency situations, the Midland ER310 is a perfect choice for a rugged radio with sustainable power sources.
The ER310 comes with three sustainable power sources – a solar panel, a hand crank, and an internal rechargeable battery that can last up to 32 hours. You can also use 6 AA batteries if you want.
There is a flashlight beacon that you can use during emergencies. The company also throws in an ultrasonic dog whistle that can be very handy for search and rescue operations.
The Midland ER310 offers all 7 NOAA weather stations so that you stay alert about the weather conditions. You can also tune into AM and FM bands using straightforward buttons.
Design-wise, it is not so pleasing, but if the functionality is on the top of your mind, the Midland ER310 should be your perfect companion. Did I mention that you can use the radio to charge your devices?
Pros of Midland – ER310
It has a long battery life.
It can charge other devices.
It comes with an ultrasonic dog whistle.
It includes a telescopic antenna for better reception.
It has NOAA weather alerts.
It integrates multiple power sources.
Cons of Midland – ER310
It is not water-resistant.
Design-wise, it is not pleasing.
That concludes my list of 11 best portable radio (AM and FM) for home and outdoors. Now, it is time to tell you how AM and FM radios actually work.
Topics Covered:
Things to consider before buying a portable FM/AM radio.
Top 11 best portable Radios.
Further reading on how AM/FM radios work.
Here's overall review once again.
Overall Winner and a Complete Package: Kaito KA500
Runner Up and Great for Outdoor Use: Running Snail MD-088s
Great Sound Quality: Sangean LB-100
Best Retro Design: Panasonic RF-2400D
Lightest Pocket Radio: Sony ICFP26
Things to Consider Before Buying a Portable Radio
When you go shopping for portable radios, you will be greeted with too many choices. When the options increase, choosing becomes difficult. This is true even for radios. You need to understand that different radios have different price tags. The price differences should give a clear indication that there will be differences in features.
However, you might not need all those features, and hence, buying an expensive portable radio doesn't really make sense always. Settling for what you need will help you to get the best option that fits your needs.
So, you should consider a few things before making a purchase. Here is a quick list of things that you should keep in mind:
Weight
Are you willing to settle for a very heavy radio? A heavy radio usually gains its weight because of its overall size, speaker size, battery size, etc. If you are looking for a radio with stellar sound quality, you will most likely have to settle for a radio that is bulky by design.
Heavy radios will have mobility issues. You cannot carry them around so easily. Yes, many heavy radios have easy-carry handles, but picking up such radio and moving around quickly will always be a challenge. So, if you are an adventure seeker who loves hiking or similar activities, you should avoid getting a heavy radio.
Power Sources
The number of power sources available should be an important factor. There should be at least two power sources if you intend to use a radio at home. They are:
This is necessary because, in the case of power outages, you can switch to battery. If you are an outdoor person, having more power sources is important. Look for radios with solar panels or hand-crank generators. Those are especially helpful when you are far from power sources.
Emergency Flashlights
Again, you should settle for radios that have emergency flashlights. Such flashlights are especially helpful in SHTF situations. Powergrid failure during hurricanes, earthquakes, etc. is quite normal. Having a radio that can give you some light during blackouts is always a desirable trait.
Device Charging Ability
This is an essential feature if you spend frequently go hiking or engage in other outdoor activities. Your phone or GPS battery will not last for long. If a radio can charge them up, why not? It will only help you in staying connected to your loved ones.
Battery Life
Again, for outdoor use, battery life is an important thing to consider. Remember that the battery will drain faster if you have more modern features like backlit LCD, Bluetooth, etc.
Sound Quality and Speakers
The audio quality of your radio is important. You will not get a boombox quality sound if you are settling for light and portable radios. However, you should always settle for those that produce crystal clear sound.
You may not be an audiophile, but that doesn't mean that you cannot figure out the difference between very poor audio and good audio. Of course, the bigger the radio, the bigger the speaker, and the better the sound! But that's not always true. The speaker's quality also matters a lot.
Also, if you are settling for a bigger portable radio, look for the ability to adjust EQ. Not all radios will have this feature, but those with the option are always a better choice.
Antenna
The signal reception is dependent on the antenna. The bigger the antenna, the better it is. For portable radios, you should look for units that offer telescopic antenna that can be easily extended.
The length of the antenna, when fully extended, is an important factor. Look for radios which will offer an antenna length of 12 inches or more, which fully extended.
Headphone Feature
If you don't like using the integrated speaker of a radio, you should settle for a unit that will give you the ability to attach a headphone. This feature is particularly helpful for those people who love to listen to radio channels while commuting (especially using public transport).
You can settle for a speaker-only radio if you are traveling with your family or friends. That will never be a choice if you are using public transport. People will get disturbed if you pull out your radio and let its speaker blast sound into others'ears!
Presets
Some portable radios will not have any presets. If you don't like setting things up on your own, you should go ahead and settle for a radio that will give your presets. There are three different preset – AM, FM, and Weather.
Which presets you will have will depend on what radio you have. You can get these options:
AM-only radio with no NOAA support.
AM-only radio with NOAA support.
FM-only radio with no NOAA support.
FM-only radio with NOAA support.
AM/FM radio with no NOAA support.
AM/FM radio with NOAA support.
Which one you will select will depend on your need. If you are more into outdoor activities, you should always settle for radio with NOAA support. If you intend to use your radio at home, a unit with no NOAA support is fine. read more about the best NOAA weather radios.
However, my opinion is that you should always settle for radio with NOAA support irrespective of whether you are using it outdoor or at home.
Durability
If you intend to use your radio outdoor, you should look for a unit that has a rugged build quality. It is better if it at least has a protective bumper. If the radio you choose has a protective roll cage, that's even better.
However, remember that if you are going after a gadget with a protective roll cage, the unit will become heavy.
Also, the overall build quality is important. The material used for the body should be strong. Your radio should preferably have a body made of ABS plastic.
Weatherproofing
For rough outdoor use, your radio unit should have weatherproofing. Radios with dust- and waterproofing are always desirable. However, you can settle only for waterproofing. For indoor use, such weatherproofing is not necessary.
Streaming Options
In case you want a radio that will allow you to play your favorite playlist, you should look for one with Bluetooth streaming ability. Do not forget that Bluetooth is not the only method of playing your favorite playlist on your radio.
If you don't want Bluetooth and still want to play your personal collection of music, you should look for an option that has an AUX-in port. Or, you can also look for an option that will allow you to connect a memory card.
Additional Features (If You Need Them)
If you need them, look for radio units with the following features:
Alarm clock.
Backlit displays.
Auto-scan (available only on digital radios).
Belt clip or carry strap.
Price
Finally, you should know your budget. If you have a low budget and are still looking for a radio with many features, that's simply not happening! The more sugar you add, the sweeter the tea becomes! You need to shell out a lot of money if you are looking for a high-end radio with a multitude of modern features.
How do AM/FM Radios work?
Did you know that AM/FM radios have been around for several decades now? They are not new. However, AM and FM came into use at different points in time. The AM came into use somewhere in the later 19th century.
The FM, on the other hand, came into use in 1933. The US and Europe started broadcasting in FM in the late 1930s and after WWII, respectively.
What does the AM and the FM actually stand for? AM refers to amplitude modulation, while FM refers to frequency modulation.
The AM stations will emit signals at a frequency that remains constant. They will change the signal strength, which, in turn, will change the signal amplitude. This is called amplitude modulation. The audio data that is sent is reflected by the amplitude changes.
The antenna that will receive the signal must be tuned to the frequency at which the AM stations emit the signals. Only then can an antenna catch those signals and play the sound (music or speech).
The age of AM is not over. It still remains in use. One great example where AM is used is the aviation industry because AM allows hearing multiple signals on the same frequency, and also because AM signals can be picked up even at very low signal strengths. AM can also be used for sending video signals.
FM, on the other hand, uses constant amplitude. What fluctuates is the carrier frequency. The sound quality of FM is far better than AM because most of the FM channels that you come across are stereo, that is, they have a distinct right and a distinct left channel.
The AM channels, on the other hand, are mono. This is why they don't have great sound quality. But, FM cannot receive multiple signals on a single frequency, but at the same time, FM has less interference than AM.
AM is strictly analog, whereas FM is capable of transmitting digital data by altering the carrier frequency within a narrow range of values. The technique used by FM is called frequency-shift keying.
External Resources for further research: