Monitoring radio communications can help you stay informed and safe. Scanning the digital police communications or conversations between emergency responders can help you know about the current or developing conditions.
However, do remember that depending on where you live, using such scanners may be illegal. So, before you purchase a handheld digital police scanner, make sure it is permitted. Getting caught in a legal hassle is something you will definitely not want. Here are my top 6 digital Police radio scanners to buy.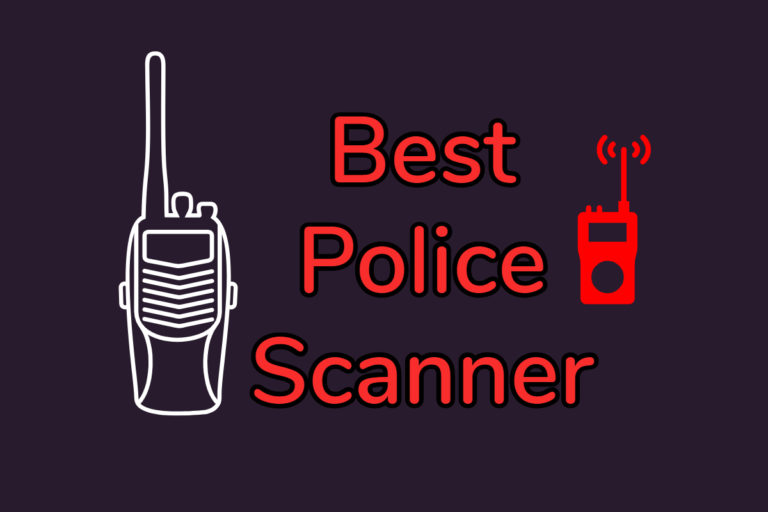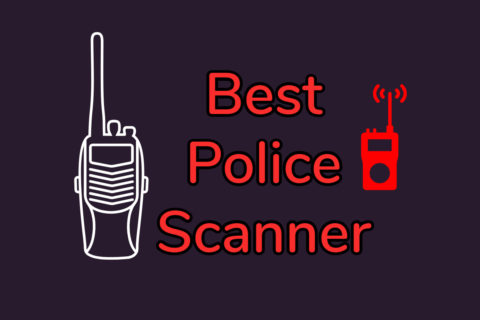 Without wasting any more time, let's dive into the Best Handheld Police Scanners and their reviews.
#1. Uniden BCD436HP HomePatrol – Advanced Scanner Features


Uniden BCD436HP Technical Specifications
| Brand | Uniden |
| --- | --- |
| Model | BCD436HP |
| Batteries Required | 3 AAA |
| Memory Storage | 4 GB Micro SD Card, Max 32GB |
| Instant Relay | Recent 4 Min Transmission |
| GPS Connectivity | Yes |
| Audio Recording | Yes |
| Encryption | APCO P25 |
| Scanning Speed | 80 Channels/Second |
| Weight | 1 pound |
| Dimensions | 3.8 x 2.4 x 9.02 inches |
| Color | Black |
Uniden BCD436HP Police Scanner Review
The Uniden BCD436HP is a hi-tech piece of gadget that you can purchase to scan police bands. It works out of the box. You don't even have to program this police scanner. Entering your zip code is enough to start scanning.
Uniden BCD436HP digital police scanner includes some of the most advanced technologies related to scanning. For instance, it includes Discover Modes, Radio System Analysis, Close Call RF Capture (Uniden exclusive feature), GPS connectivity, etc.
I was pleasantly surprised to find that it can scan 85 channels in a single second! That's quite some speed, don't you think so? It can scan Police bands, EMS, Ambulance, Public Safety, Weather, Military, Aircraft, and much more. It works both in the US and in Canada.
In case you happen to be an advanced user, you can program the scanner to give alerts under different conditions. For instance, you can get alerts for a tone-out hit, a close-call hit, or whenever you receive a unit ID. The scanner is smart enough to let you set different tone patterns, different colors (7 colors), different flash patterns (3 patterns), and 15 volume settings.
There are two specific features of this handheld police scanner that I like the most. First is the S.A.M.E. Weather Alert, and the second is the Close Call RF Capture Technology.
In case you are not aware of what they are, I will give you a quick heads-up. The S.A.M.E. Weather Alert system will give you weather alerts based on your specific location. If there is a bad weather condition in your immediate area, the Specific Area Message Encoding system will alert you of that based on the code of your location.
The Close Call RF Capture Technology, on the other hand, will detect and tune to nearby transmissions. This will happen even if the frequency is not programmed into any channel.
The gadget needs three AA batteries to operate. The rechargeable batteries are included with the unit. You will also get a belt clip, a wrist strap, a rubber duck antenna, one SMA to BNC adapter, and one USB cable for either data transfer or for charging.
If you want to use the USB cable for charging, you have to buy the adapter separately, or you can use the one that you have for your smartphone. It does have a GPS receiver, but you need to buy the GPS antenna separately, which will cost you about a hundred bucks extra.
One of the downsides is that you cannot use a noise cancellation headphone with the unit because the headphone jack included in the handheld scanner is of 32 Ohms, and unfortunately, the noise-canceling headphones operate at 600 Ohms.
#2. Uniden BC125AT Handheld Scanner – Gives 500 Alpha-Tagged Channels
Uniden BC125AT Technical Specifications
| Brand | Uniden |
| --- | --- |
| Model | BC125AT |
| Weight | 14.4 ounces |
| Dimensions | 4.33 x 2.17 x 7.28 inches |
| Color | Black |


Uniden BC125AT Handheld Police Scanner Review
The Uniden BC125AT handheld police scanner is one of the most sophisticated scanners you can buy. This model also includes the Uniden-specific Close Call RF capture technology. What's interesting is the Do Don't Disturb mode that will stop all close call checks during any transmission.
There are 500 Alpha-Tagged Channels, which are divided into 10 storage banks, making it way easier to find the channels that you want to listen to frequently.
In total, this gadget works with more than 40,000 frequencies so that you can listen to many bands that include the police band, the military, civilian, aircraft, railroad, civil air, racing, and amateur radio services, bands. Of course, you will get access to weather bands as well.
The unit doesn't require programming to use because you can use the handheld scanner straight out of the box using the presets for the common searches. That doesn't mean you cannot program it. It comes with a USB cable that you can use for programming it using your computer. The programming software is available for free on the internet.
The device comes with a multi-functional rotary knob that you can use for controlling the volume, scroll through channel banks, and adjusting squelch.
The sound quality of the scanner is decent, and it can remove static. The backlit screen is also easy to ready. The unit is very lightweight and allows for easy portability.
#3. Uniden SR30C BearCat – Listens to 32K Frequencies
Uniden SR30C BearCat Technical Specifications
| Brand | Uniden |
| --- | --- |
| Model | SR30C |
| Weight | 1 Pound |
| Dimensions | 7.5 x 4.5 x 2.4 inches |
| Color | Black |


Uniden SR30C Portable Police Radio Scanner Review
With a conveniently compact design that more or less matches the design of BC125AT, the Uniden SR30C is packed with some advanced features. It supports 500 channels divided into 10 storage banks that allow for quick search and easy access.
This police scanner or handheld scanner listens to 32,000 frequencies and covers police band, fire band, ham radio, CB radio, civil aircraft, racing, NOAA weather, railroad, and more.
The unit is equipped with Close Call RF Capture that allows instant tuning to signals coming from nearby transmissions. However, you can always use the Do Not Disturb function to prevent close call checks during transmissions.
The unit doesn't have a big display, but it a backlit display for clear readability. You can dim the display if you want. The powering options include AA batteries. You can use the non-rechargeable one for longer battery life, or you can opt for NiMH rechargeable batteries.
What I liked about this unit is that you can charge the batteries even when the unit is actively scanning for transmissions. That's something you won't find in BC125AT.
The scanner comes with a flexible antenna with a BNC connector. So, you can change the antenna to improve reception. The audio quality is not so great, but it is decent enough and can remove static using the squelch technology.
The handheld scanner comes with a USB cable (but no adapter) that you can use for recharging the batteries or program the device. However, one of the downsides is that programming the unit can be very difficult for newbies.
#4. Whistler TRX-1 – Gives Preloaded MicroSD Card
Whistler TRX-1 Technical Specifications
| Brand | Whistler |
| --- | --- |
| Model | TRX-1 |
| Weight | 7.4 ounces |
| Dimensions | 1.06 x 2.12 x 5.31 inches |
| Color | Black |


Whistler TRX-1 Police Radio Scanner Review
Whistler TRX-1 is one of the most advanced police radio scanners in the world, something at par with the Uniden BCD436HP. With tuning steps of 2.5, 3.125, 5, 6.25, 7.5, 8.33, 10, 12.5, and 25 kHz, this handheld scanner is capable of recording up to 50 hours of audio on a microSD card (2GB).
The Whistler TRX-1 radio scanner comes with location-based programming, upgradable CPU firmware, and covers the frequency ranges of 25 to 54 MHz, 108 to 174 MHz, 216 to 512 MHz, 764 to 960 MHz, and 1230 to 1300 MHz.
You can use AA batteries for powering up the radio or use a USB power plug. It is also capable of two-way radio reception in a straight line-of-sight. However, I will suggest that you go ahead and purchase a better antenna and replace the stock antenna.
The audio quality of the scanner is great, and the overall unit is quite sensitive. Of course, there are some glitches that you need to live with. For instance, the screen is quite small, will low contrast, and a lot of cryptic symbols that don't make much sense.
The unit is capable of storing multiple virtual scanners, and it can receive modern digital trunking systems that include NXDN, DMR, LTR, P25 Type I and II, etc.
Overall, the handheld scanner is pretty advanced and is far more suitable for experienced users who know their way around such complex devices. Learn more about this radio here.
#5. Whistler WS1040 – Has Skywarn Storm Spotter Feature


Whistler WS1040 Technical Specifications
| Brand | Whistler |
| --- | --- |
| Model | WS1040 |
| Weight | 8.5 ounces |
| Dimensions | 1.65 x 2.56 x 5.71 inches |
| Color | Black |
Whistler WS1040 Radio Scanner Review
One of the finest handheld scanners or police scanners from Whistler, the WS1040, comes equipped with the Skywarn Storm Spotter feature. And what is that supposed to be? This feature will allow you to access all frequencies that storm spotter agencies use.
So, the WS1040 is a great device that should accompany you when you are going for trekking, hiking, etc.
This model from Whistler includes the digital AGC feature that instantly compensates for low user audio levels, putting the WS1040 ahead of other digital systems that are often plagued by the problem of low user audio levels.
Also, you can arrange frequencies in a way you want so that you can access them quicker and faster. For quick access to police band or fire band or ambulance band, you can use the pre-programmed settings.
This scanner also comes with Motorola P25 Phase I capabilities. One interesting feature that you should know is that while scanning if you find a frequency, you can lock it out and continue scanning in the same band. This means that the device will not scan the same frequency again.
WS1040 is capable of scanning 1,800 frequencies, and you can directly jump to the frequency you have already found! Programming the device is relatively easy. However, you will need a computer for programming this thing.
#6. Whistler WS1010 – It's Analog
Whistler WS1010 Technical Specifications
| Brand | Whistler |
| --- | --- |
| Model | WS1010 |
| Weight | 7.8 ounces |
| Dimensions | 1.56 x 2.37 x 5.68 inches |
| Color | Black |

Whistler WS1010 Analog Radio Scanner Review
This is one of the best police scanners that you can get. The WS1010 police scanner is completely analog and offers a lot of interesting features include NOAA S.A.M.E. alert and Skywarn feature.
With 200 channel memory that can be stored in 10 separate storage banks, this small handheld gadget can set a priority channel that it will check every 2 seconds even when scanning for other frequencies.
If you want, you can program it using your computer. You can update the database, take a backup, or program the scanner directly through your PC.
As far as powering options are concerned, you can power it up using the included AC adapter or using rechargeable batteries or non-rechargeable dry cells.
The sound quality of the device is pretty impressive, but you can make it better using the squelch control knob on the top that can eliminate static. It comes with a backlit screen with good contrast that allows for easy readability.
The device is equipped with a one-touch search option that will allow you to access air, traffic, police, marine, ham, and weather frequencies.
How to Buy best Handheld Police Radio Scanners?
When you go ahead and but handheld police scanners, make sure that you consider the following things:
Frequencies of the Radio Scanner
If you have a handheld scanner that works on a single frequency for each channel, what you have is a conventional system. If you want to listen to multiple frequencies on a single channel, get a modern one with a trunking system. The more frequencies it covers, the better it is.
Trunking System of the Radio Scanner
The trunking system is designed to listen to multiple agencies using only two to three frequencies. It works best in congested circumstances, which means that a device with a trunking system works best in city areas. Radios with a trunking system can pick conventional signals. A conventional system cannot pick trunking signals.
Digital vs Analog Radio Scanners
A digital model usually has better sound quality and better range. It can also switch from digital to analog. Analog models are basic, and they don't have a long-range. The sound may not be of great quality. So, look for squelch technology when you go for an analog model.
Frequency Compatibility
Does a handheld scanner accept the frequencies that are used in the location where you stay? If yes, you can buy that one. If no, then look for a model that supports those frequencies.
Number of Channels
In most cases, you will get at least 10 channels, which is usually more than enough. However, depending on the type of agency that you want to listen to, you may need more channels.
Banks
Channel banks will allow you to track and categorize channels with ease. However, you may also settle for a handheld scanner that has memory. The memory will allow you to categorize each channel into its own scan list.
Scanning Speed of the Radio Scanner
If you want to follow multiple channels, it is always a good idea to get a scanner that will scan the frequencies very quickly. You will definitely not want to keep a police scanner in hand that is way too slow. An ideal scanner should be able to search 60 to 90 channels in a second.
Service Search
Settle for a model that will allow you to quickly search through different frequencies of different services. This is vital if you intend to use the scanner outdoors where you will be busy with other things. So, a system that complicates the search process will never be a desirable option.
Controls
The handheld scanner that you purchase should have easy controls. This is a big problem. Large base models can easily include a lot of easy controls because of the size. That's not the case with handheld ones. They are small, and hence, adding a lot of easy control buttons is not always a feasible design option.
Programming
If you are a power user, you might want to program your scanner. So, a device with PC programming capabilities will always be a desirable trait.
Check out recent articles;
General FAQ About Digital Radio Scanners
What is a Police Radio Scanner?
A police scanner is a radio device that scans and picks up more radio frequencies in UHF and VHF frequency ranges. A scanner will let you listen to the communications between emergency responders. Though we call it a police scanner, it is not necessarily limited to the frequency used by the police. A police scanner can pick communications from:
Highway patrol
Firefighters
Police
Security workers
EMTs
Media
Sheriffs
Federal, state, or county agencies
Why Do You Need a Police Radio Scanner?
A police radio scanner will let you listen to local emergencies in your area, first-hand! Be it a natural disaster, a freeway accident, a criminal manhunt, or a crime in progress – you get to learn about everything. On top of that, these scanners will let you know about weather conditions, traffic situations, road conditions, etc. so that you can stay prepared. These scanners are a vital tool for those who spend most of their time commuting on the road.
Is It Legal to Own a Police Scanner?
Yes, owning a police scanner is legal. However, certain activities are not allowed using a police scanner. Those include:
Listening to police communications to help a criminal escape.
Listening to police or security communications to help a crime take place.
Listening to cell phone communications and encrypted communications.
So, despite police scanners being legal, there can be a set of rules governing their usage. Make sure that you check the rules present in your state.
Different Types of Digital Radio Police Scanners
There are two types:
Base or Mobile scanners: These sit on a tabletop (base) or the car or vehicle dash (mobile). You don't carry them around in your hands. They have antennas and a better range compared to their handheld counterparts.
Handheld scanners: They are small and extremely portable. You can carry them in your pocket, your purse, or in your hand. You can clip them on your belt as well. They don't have great range or clarity as in the base or mobile variants.
That's it for today guys. Do leave us your feedback in the comments section below.
To learn more about Police Radio Scanners, visit the following pages.