I hope that you never have to use an emergency radio. I know that emergencies can hit us at any moment. Staying prepared for emergency situations like hurricanes, floods, weather storms, earthquakes, or in any other case is always a wise choice.
If you are looking to buy an emergency weather alert radio, then you are at the right place to make the best decision.
So, What are the Best Emergency Radios to Buy?
I used 17 different emergency weather radios for two weeks and I can say C. Crane CCRadio is the best emergency radio. CCRadio comes with features like NOAA Weather Alerts, Solar-Power, Hand Crank, Digital AM FM, Built-in LED Flashlight and a cell phone charger. All these features, audio quality, built quality and the reliability of this one makes the C. Crane CCRadio is a top pick for the best emergency weather alert radio category.
Here's the list of the other top-rated NOAA Weather Alert Emergency radios worth buying.
You would not need a shortwave radio frequency in emergencies, but having SW frequency support in any radio is a great addition as it allows you to listen to channels from across the continents.
If you want to buy an Emergency Weather Radio with a Shortwave frequency feature, here are two of the best Emergency radios with a Shortwave frequency that works well.
Let's dive into the in-depth reviews of all these top rated Emergency NOAA Weather alert radios.
1. C.Crane CCRadio Solar – The Best Emergency Radio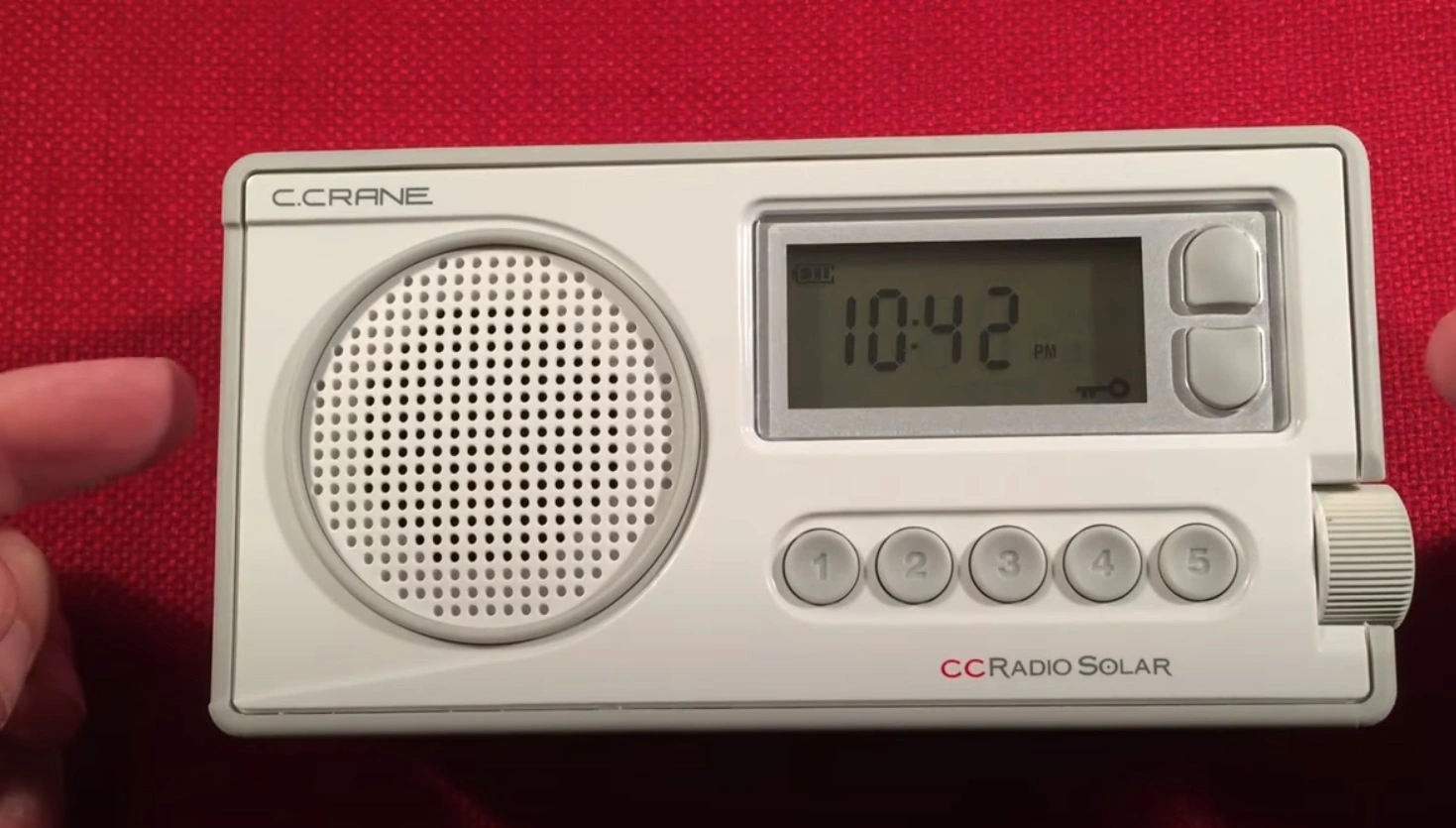 | Model | CCRadio |
| --- | --- |
| Brand | C.Crane |
| Connectivity | USB |
| Power Source | AC, Solar & Battery |
| Supported Radio Bands | AM/FM/Weather |
| Weight | 1.1 Pounds |
| Dimensions | 6″L x 2.25″W x 3″H |
CCRadio Specs
CCRadio Rating By Category
Overall Rating – 9.5/10
NOAA Alerts – 5/5
Solar Efficiency – 4.5/5
Hand Crank Efficiency – 4.6/5
Reliability – 4.8/5
AM/FM Reception – 4.8/5
Overall Features – 4.8/5
Audio Quality – 4.8/5
Value For Money – 4.7/5
C. Crane CCRadio Features
Automatic NOAA Weather Alerts
Solar Powered
Excellent LED FlashLight
25 Inches Antenna Provides Great AM/FM Signal Reception
LCD Digital Screen
Mobile Charging
USB Port
CC Radio is a Hand Crank Emergency Radio
Clock with Alarm
Optional AA Battery Operation.
C. Crane CCRadio Review and Verdict
C. Crane CCRadio is probably the best emergency radio available in the market to buy. On paper, this radio has all the features that an emergency radio must have, but having features is one thing and having reliability like CCRadio is another thing. CCRadio is perfect for any emergency as it has automatic NOAA weather alerts, A LED flash, a long-lasting battery life Hand Crank and Solar Power feature.
C. Crane CCRadio is my favourite and the top rated emergency weather radio. This is the radio that I would recommend my family and friends to have in the disaster situations. It is safe to say this is the kind of emergency radio you should have instead of those cheap ones out there in the market.

John – Radios Expert.
CCRadio is better than famous emergency radios like Sangean MMR-88, Midland ER310, Midland ER300 and other Midland and Sangean Models.
If you still want to learn more, read our in-depth CCRadio Solar Emergency Weather Alert Radio review.
CCRadio Solar Unboxing & Overview
The box comes with One CCRadio Solar, Carry Strap, Aux Cable, A USB Cable for Phone Charging and a User Manual. You can also download the manual on their website.
On the front side is a 2-inch speaker, A digital LCD showing time or frequency, a battery life indicator, tuning up and down buttons and 5 Preset Buttons with 25 AM & 25 FM preset stations. When the CCradio is turned off, these preset buttons also work as function buttons.
While the Radio is off, these buttons can be used as
Sets the Clock
Alarms
Turns of the Confirmation Beep
Turns the Clock Mode on/off while listening to the Radio on the Digital Display. You can press and hold it to show the frequency on the digital screen.
Switch b/w 9 kHz to 10 kHz (Medium Wave), on FM Band 76-108mhz.
On the right, you will also find a water-resistant jacket that contains the Aux in Port, A Micro USB and a USB port for a phone charger and a 3.5MM FM Stereo headphone jack.
Analog Volume Control on the right works smoothly and is integrated well into the design. On the left side of the radio is an LED flashlight, A hook to attach any strap you like.
On the top is a band button to Select FM, NOAA Alert Power button, Light Switch, 25 Inches Antenna. & Solar Panel. On the Backside, we have a Dynamo Hand Crank that can help you charge batteries in emergencies & battery compartments.
NOAA Weather Alerts in C. Crane CCRadio
C. Crane CCRadio gives automatic NOAA weather alerts when concerned departments activate the Weather Alert. You can get the emergency alerts like hurricanes, tornados, earthquakes, floods or any other disaster on time because the automatic NOAA weather alert feature works pretty well in CCRadio. The Solar Hand Crank AM FM CC Radio comes with the WX Band with NOAA Weather Alert.
How to turn on NOAA Weather Alert Mode on CCRadio Solar?
To turn on the NOAA Weather Alert mode, Press the Alert button on top of the radio(button with alert symbol), and the Digital display will show you Weather Alert "ON" Press it once for 4 hours; if you press it again 8 hr and press once again to turn on 16 hr alerts. You can keep it ON mode to keep the alert mode on forever.
Battery Life of C. Crane CCRadio
C. Crane CCRadio comes with 3 AA Batteries and a 18650 Protected Button Top Battery with 3,400mAh of power. You can use any one of these two methods to power the radio.
Both AA and Button top batteries have 50 hours of run time(on low power mode) & 35 Hour playback time on high power mode.
CCRadio can also run on an AC adapter, so you can plug in the adapter and use the radio continuously without worrying about the charge times.
You can also use the Solar Panel on the top and Dynamo Hand Crank on the back side to charge the battery and use the radio in disaster times.
Sound Quality & Signal Strength of C. Crane CCRadio
When we tested the radio found over 80+ radio stations. In general, Analog radios find 35-45 radio stations only. That shows the quality of the CCRadio Solar reception strength.
I found 6 out of 7 NOAA weather alert stations with clear reception. In Case you do not know, this is well above average.
This radio has excellent FM Sensitivity. You will love the FM on this CCRadio. You can do a quick FM scan by pressing and holding the Right Side, Top Corner buttons.
The CCRadio Solar model uses two Antennas. External Antenna for FM Reception & NOAA Alerts and an internal Antenna for AM reception.
Coming to the Speaker, this radio has a 2-inch speaker on the front with many holes on top. The speaker packs a punch, especially in high-power mode. The audio clarity and crispness are also wonderful. You can also use the 3.5 MM headphone jack to listen to the FM. This takes the listening experience to the next level. The audio clarity is top-notch.
So, that is all about the CCRadio. I highly recommend buying this. If you can not afford this then next best option is Midland ER310 Emergency radio.
2. Midland ER310 – Best Emergency Crank Radio
| Brand | Midland |
| --- | --- |
| Model | ER310 |
| Dimensions (DxHxW) | 2.95" x 6.85" x 9.61" |
| Supported Bands | AM and FM |
| Weight | 1.46 Pounds |
| Speaker | Single Mono |
| Antenna | Telescopic |
| Power Source | 2600mah, 6AA Batteries |
Specifications of Midland ER310
The Midland ER310 has a rugged look, which tells you that it is designed for survival scenarios. The radio is designed to be water-resistant but is not waterproof. So, don't think of taking it out in driving rain or don't submerge it in water.
Pros
SOS flashlight in morse code
Ultrasonic dog whistle feature
Mobile device charging
Telescopic antenna
Hand crank & solar charging
Long battery life.
Cons
The hand crank is not really the best in the world. It takes a while charge the battery.
Unboxing The Midland ER310
When I first opened the package, it was well-organized. The ER310 package came with a Radio, a micro USB cable to charge the internal lithium battery, a GR-300 Quick Start Guide, a manual, a brochure highlighting other Midland products, and an emergency supply kit checklist.
Features and Controls of the Radio
The Midland ER310 radio has many features and controls that make it easy to use during emergencies. On the front side, the radio has a large LCD display, clock, battery level indicator, and a high-intensity flashlight with three settings: low beam, high beam, and an SMS beacon. There is also an ultrasonic dog whistle for search and rescue efforts.
Controls on the radio include power and band select, weather alert function, mode select for the menu, volume control, and tuning up and down.
Measuring 8 inches across, 3.5 inches high, and 2.25 inches deep, the ER310 is a larger radio compared to its sibling, the ER210.
Use of Radio in Emergency Situations
In the event of an emergency, the Midland ER310 is a valuable tool. With its NOAA weather alerts, individuals can stay informed about severe weather events and stay safe.
I liked the Midland ER310 emergency radio's ability to automatically scan through NOAA channels and lock on to the strongest signal.
It will give you NOAA Weather alerts from no more than one or two NOAA channels. That is enough because it will usually lock on to the NOAA channel closest to you. That is what matters, right?
Another one of the features I liked about the Midland ER310 radio was its SOS flashlight beacon, that sends out emergency signals in Morse code so rescue teams can find you.
In case, if you are stuck in any basement or debris, the ultrasonic dog whistle will assist in search and rescue operations.
The flashlight provides much-needed light during power outages and the SMS beacon setting can signal for help. It offers a 130 lumens LED flashlight, one of the brightest you can get in any emergency radio.
Sound Quality
Midland ER310 comes with one and half inch speakers and produces more than sufficient sound for listening crucial information during an emergency. The 1.5 inch speakers produces output in the range of 90 decibels, which is surprisingly loud for its small size. It does not produce high-quality audio for listening music on daily basis but it is effective for doing it's job in survival conditions and delivers clear audio.
Solar Panel Efficiency
Midland ER310 has a solar panel on the top of the radio. The solar panel size is larger compared to its predecessor ER 210, providing more efficient charging during daylight hours. This is particularly useful in situations when the is power outages for days during hurricanes and floods. The solar power can also be used for charging mobile phones.
Battery and Charging Options
The Midland ER310 comes with a 2600mAh lithium battery, providing enough power for 36 hours during emergencies. In case, if you run out of battery power, you can use 6 AA batteries, charge the 2600mAh battery using micro USB cable, solar panel, or the dynamo crank located on the side of the radio to generate power manually.
Display
This is one one factor that don't give much value when reviewing the Emergency radios and you should not too, because of obvious reasons. But, let find out few details of the MIdland ER310 display.The backlight display is useful for nighttime use but it can cause the display to appear washed out when illuminated. Turn off the backlight during daytime use for more visible and easier to read screen.
Midland ER310 Review Verdict
Features like a flashlight, ultrasonic dog whistle, larger solar panel, dynamo crank, reliable signal and the compact design of the the ER310 makes it one of the most used emergency radio. Not only having the features but delivering those features that work when we are in need is what makes this radio one of my top three emergency radios. Considering the price of this radio, the Midland ER310 E-ready is out top pick for the best budget emergency radio.
It can also emit ultrasonic dog whistles that can aid rescue teams and individuals in finding you.
It also comes with a big backlit screen that is easy to read and gives a quick indication about the battery level.
3. Eton SIDEKICK Emergency Radio with Bluetooth – Runner Up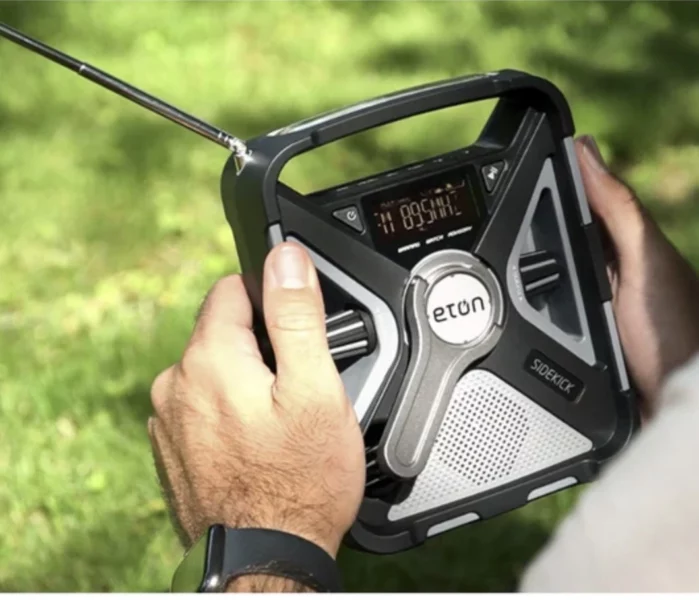 | Model | SIDEKICK |
| --- | --- |
| Brand | ETON |
| Connectivity | Bluetooth & USB |
| Power Source | Solar & Battery |
| Supported Radio Bands | AM/FM/Weather |
| Weight | 2 Pounds |
| Dimensions | 7.8″L x 2.9″W x 12.7″H |
| Display | LCD |
Eton SIDEKICK Emergency Radio Review
The Eton Sidekick Ultimate emergency radio maintains the same design as the American Red Cross Weather Radio. It comes with Bluetooth technology that will allow you to stream your favorite music from your phone or your Bluetooth-enabled MP3 player.
If I have to sum up everything about this radio, that would be; Eton Sidekick is inarguably the best emergency radio for outdoor camping and survival situations as it can help you charge the radio battery efficiently with Solar or Hand Crank.
It sports a rechargeable Lithium-ion battery that can be charged using a hand crank or a solar panel. You can also charge the battery using a USB cable. You can tuck in AAA batteries to power this thing up. This is also one of the contenders for the best emergency weather radios.
What's interesting is that the solar panel is small and not very efficient compared to the hand crank. If you want to use the solar charging panel to recharge the internal battery fully, it will take several hours to do so, and there has to be direct sunlight.
The hand crank, though made of plastic, is efficient. It can provide a working charge within a few minutes of hand cranking.
The radio comes with a bright LED flashlight, a massive ambient light, or a table lamp that you can dim as per your whims.
The Eton Sidekick Weather radio comes with a digital tuner, a red beacon light for an emergency, and support for NOAA, AM, FM, and S.A.M.E. bands. The radio can recharge any smartphone or tablet using a USB cable.
4. Kaito KA500 – Best Budget Emergency Weather Radio
Technical Specifications of Kaito KA500:
| Product Name | Kaito KA500 Voyager |
| --- | --- |
| Model | KA500YL |
| Weight | 1.6 pounds |
| Speaker | Single Mono |
| Antenna | Telescopic |
Kaito KA500 Voyager Emergency Weather Radio Review
The Kaito KA500 is one of the finest, which explains why thousands of people not only trust it but also depend on it to emerge unscathed from emergencies. The true strength of the radio lies in multiple powering methods.
There are five methods that you can use for powering this radio, which are:
Hand-cranking
Solar panel
AA batteries
Wall charging (5V AC/DC)
NiMH rechargeable batteries (that can also be replaced)
Kiato KA500 is a complete all-rounder. This is something I would wanna have in my emergency kit. This emergency radio price is also within budget. This is one of my personal favorites. I totally recommend it.

John (Radios expert Author)
The hand crank and the solar panel are particularly interesting in emergencies because they are independent of the power grid. Hand Crank and Solar features in KA500 can charge your mobile devices using a 5V USB input option so that you stay connected with those who matter the most in disaster times.
That's not the only good thing; Kaito KA500 comes pre-configured with 7 NOAA channels that offer talk shows, sports, entertainment, breaking news, and real-time weather forecast.
The radio also works with AM and FM bands and comes with the Public Emergency Alert System.
What else?
The Kaito KA500 Voyager comes with an emergency red LED SOS light, a LED flashlight, a reading light, and a telescopic antenna for better radio signal reception.
The antenna can extend up to 14.5 inches and has an advanced semiconductor circuit design that increases its sensitivity. The 14.5 works well and receives adequate reception.
Its body is made of water-resistant and impact-resistant ABS material, making it a perfect choice for outdoor use, especially in harsh conditions.
5. Sangean MMR 88 – Best Portable Weather Radio
Technical Specifications of Sangean MMR-88 Weather+Alert:
| Product Name | Sangean |
| --- | --- |
| Model | MMR-88 |
| Weight | 0.86 pounds |
| Speaker | Single Mono |
| Antenna | Telescopic |
Sangean MMR-88 Portable NOAA Weather Radio Review
The Sangean MMR-88 portable emergency radio, is a piece of art. With a robust build quality, a large digital display, a neatly placed hand crank, a solar panel, a telescopic antenna, and big but neatly arranged buttons, make the MMR-88 more than just a pretty looking radio. On top of all these features, it weighs only 0.86 Pounds, that makes it Sangean MMR 88 the best portable emergency weather alert radio to buy.
Sangean MMR-88 Weather+Alert is designed to work optimally in rugged outdoor conditions and during emergencies. The hand crank can give you the necessary power, which makes up for the absence of the possibility of powering it up with alkaline batteries.
Sangean MMR-88 is a digital radio, which means it ditches the tuning knob you find in traditional radios. The backlit screen is big enough to read comfortably while giving clear information about the battery level.
There is an emergency flashlight that you can adjust to give out light in high, low, or SOS mode. In the SOS mode, the radio flashes light in morse code, making it easily understandable for rescue teams.
The radio comes equipped with an emergency buzzer that can let out a sound to alert you of emergencies. It has 7 preset NOAA channels for providing you with real-time weather alerts. There are 19 preset AM and FM channels as well.
The MMR-88 comes with heavy-duty rubberized caps on either side to protect it from accidental falls. Other features include the ability to charge your mobile devices using the radio and to hook up a pair of earphones through the 3.5mm headphone jack so that you can get the weather alerts even in very noisy environments.
6. Eton FRX3+ American Red Cross Weather Radio
| Product Name | American Red Cross Weather Radio |
| --- | --- |
| Model | Eton FRX3+ |
| Weight | 0.93125 pounds or 14.9 ounces |
| Speaker | Single Mono |
| Antenna | Telescopic |
Specifications of American Red Cross Weather Radio
Eton FRX3+ American Red Cross Weather Radio Review
Manufactured by Eton, the American Red Cross Weather Radio does live up to the name of the American Red Cross. One glance at the radio will tell you that it is built for survival. It does not only have a practical design, but it also packs in a lot of versatility.
To begin with, it comes with NOAA weather band alongside AM and FM bands. So, you should rest assured that while it will allow you to stay connected to your favorite channels and talk-shows, it will also provide you with weather alters to ensure safety.
Some of the general features of the radio include a flashlight, a red beacon light, a solar panel, a hand-crank, a built-in rechargeable battery, and an alarm clock.
It will also allow you to recharge your phone and other mobile devices using the integrated USB port. Additionally, it has a 3.5 mm headphone jack if you need to shut off the external world for some time. Did I tell you that it is a digital radio with a large backlit display?
Oh, I almost forgot to tell you that you will not lose your radio in the dark, thanks to its glow-in-the-dark locator.
The neat design of the radio tucks in a telescopic antenna on the back and the hand crank on the front, reducing clutter. There is an easy carry handle that houses the solar panel nicely to easily absorb sunlight. The hand crank is large enough with an ergonomic design for easy usage.
7. FosPower – Best Solar Powered Emergency Radio
Specifications of FosPower Emergency Radio:
| Product Name | FosPower Emergency Radio |
| --- | --- |
| Model | FOSPWB-2376 |
| Weight | 14.8 ounces |
| Speaker | Single Mono |
| Antenna | Telescopic |
FosPower Emergency Radio Review
The FosPower Emergency Radio is yet another amazing option to check out. It doubles up as a 2000 mAh power bank when you need to recharge your phone and other mobile devices.
You can use a micro USB to recharge the internal battery. If you are confused about micro USB, just use your smartphone charger to charge the internal battery!
Complete with a hand crank and a solar panel, the radio can stay on during emergency situations when the power supply is off. In case the alternative power sources are not working, you can put in AAA batteries to power this radio.
As far as the features are concerned, it will give you access to NOAA weather channels that will allow you to get real-time weather alerts. It also works with AM and FM bands so that you can stay informed about the latest news and developments during emergencies.
It comes with an SOS alarm (and a red light), a flashlight (1 watt), and a reading lamp. The tuning and volume knobs are well-placed, and there is a flip switch to jump between AM and FM reception.
The radio also packs in a telescopic antenna that can extend out to give better reception. The unit is very lightweight and comes with IPX-3 waterproofing so that you can take it out in the rain.
8. RunningSnail MD 088s – Budget NOAA Weather Alert Radio
Technical Specifications of RunningSnail MD-088s:
| Product Name | RunningSnail |
| --- | --- |
| Model | MD-088s |
| Weight | 7.8 ounces |
| Speaker | Single Mono |
| Antenna | Telescopic |
RunningSnail MD-088s Emergency NOAA Weather Radio Review
The blissfully light RunningSnail MD-008s emergency radio looks like a Handycam. Don't be fooled, though! It is a radio with some superpowers engineered right into it. For starters, you can recharge it using its hand crank, a solar panel, or a USB cable. If you have a few spare AAA batteries, you can use them to power up this radio.
With full support for NOAA weather alerts and AM/FM reception, the radio will keep you abreast of recent developments during emergencies.
It has one of the brightest LED flashlights I have encountered so far. On a full charge, the flashlight can run for 10 to 12 hours. This is particularly helpful during power outages or power grid failures.
It is IPX-3 water-resistant, which means that you can spray up to 10 liters of water on it per minute, and it will stay functional. Don't submerge it in water, though! It is not designed for that.
The good thing is that it can charge your phones or tablets and other smaller devices that have a USB charging facility.
Topics Covered:
9. HOLABABY All Hazards NOAA Weather Alert Radio
Technical Specifications of HOLABABY All Hazards NOAA Weather Alert Radio:
| Product Name | HOLABABY (by Bestway innovations LLC) |
| --- | --- |
| Model | HO-Radio9-Green |
| Weight | 14.9 ounces |
| Speaker | Single Mono |
| Antenna | Telescopic |
HOLABABY All Hazards NOAA Weather Alert Radio Review
Assuming that you have made peace with this name, allow me to introduce the HOLABABY All Hazards NOAA Weather Alert Radio. Well, you can call it HO-Radio9-Green because it is green in color.
Despite its weird name, this emergency radio is one of the finest that you can get. At just 14.9 ounces, this radio comes pre-programmed with 7 NOAA channels that will give you real-time alerts and updates. It supports both AM and FM bands as well so that you can enjoy your favorite radio channels and talk shows.
There are 5 ways you can power up this radio. It can use a wall socket (but you will need an AC adapter for that, which is not included in the package), AAA batteries (not included), rechargeable Li-ion battery, hand crank, and a solar panel. It can also double up as a power bank to charge your phone or other smaller devices with a USB charging option.
It comes with a bright LED flashlight that can guide your way during power outages. In case you need a reading lamp, the radio has your back covered. Hidden underneath the top solar panel, the reading lamp is a great addition for camping and emergency use.
The radio comes equipped with a red beacon light and a very loud emergency alarm to let rescue parties find your location with ease.
The manufacturer includes a nice hand strap for easy carrying. There is a hang buckle as well, so that you can hook it up to your backpack easily. The small compass is also added with the radio so that you never get lost in the wrong direction.
The telescopic antenna can extend out to improve radio reception in areas where reception is not that great.
10. Esky ES-CR02 Weather Alert Radio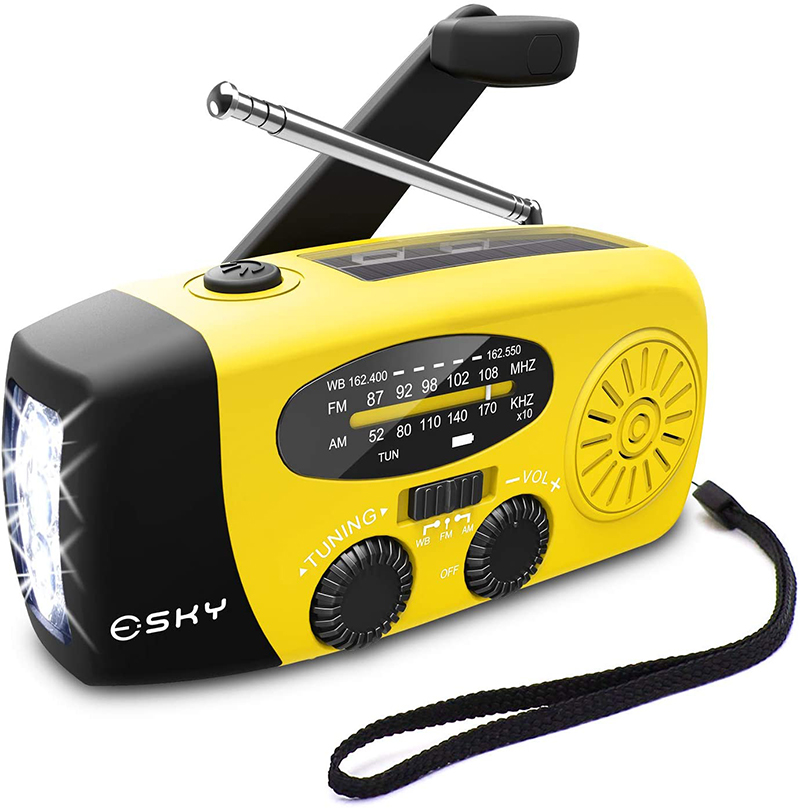 Esky ES-CR02 Weather Alert Radio Review
Another compact emergency radio, the Esky ES-CR02, packs a lot of features in a small size. With a built-in 1000 mAh rechargeable battery that can be recharged using a hand crank, a solar cell on the top of the radio, or using a USB cable.
The 1000 mAh internal rechargeable battery will allow you to recharge your phone or tablet so that you can stay connected to those who matter the most. It comes with an integrated flashlight that can guide you through the darkness in case of a power failure.
How to pick a perfect Emergency Radio?
Buying an emergency radio may look easy, but it is not. There are many factors that you should consider before you buy it. Spending money on a weather radio, something that will eventually not perform as expected during a real emergency is the last thing you want.
So, before you buy an emergency radio, make sure that you are considering the following factors:
Power options
How is the emergency radio powered? Batteries? Electrical wall outlet? Solar panel? Hand crank? You need to understand that during an emergency, power grids may be knocked off! Electrical wall outlets will not work.
So, if you need to hook up your NOAA Weather radio or emergency radio to a wall outlet to power it on or to recharge its batteries, it is not the ideal survival or emergency radio. There have to be other alternative power sources.
Ideally, the best emergency radio should have a hand crank power option. A solar panel is always a great addition, but it is not a necessity.
The best option is the one which comes with rechargeable batteries, power cord, hand crank, and even a solar panel.
Hand crank and solar panel emergency radios are particularly helpful during events of a power grid failure or when you do not have access to a power source. (for instance, when you are out in the wild).
NOAA Weather Alert
It is a must that the emergency radio that you are purchasing has NOAA weather alter. An emergency radio should be able to tell you about the weather conditions so that you can prep up for any oncoming emergency.
Most of the emergency radios come with NOAA bands pre-programmed. If you find one that doesn't have pre-programmed NOAA channels but allows you to program them, it is fine.
However, if an emergency radio never gives you NOAA channel access, you should avoid purchasing it.
Flashlight
A bright flashlight in an emergency radio will help you to find your way out of awful situations in the event of a power grid failure. Yes, most of the emergency weather radios you find in the market come with this option. So, this shouldn't be a big problem.
Weight
During emergencies, you will never want extra weight on yourself. Extra weight will only slow you down. The ability to move fast can is vital during life or death situations. So, the weather radio or emergency radio you are purchasing should be lightweight.
Even a bulky Jobsite radio can give you weather alerts or provide a flashlight. Those features don't make a job site radio an ideal option for emergencies.
Serves as a Charger
An emergency radio will not allow you to talk to someone else. For that, you have ham radios or CB radios. However, an emergency radio should preferably be capable of charging your phone or GPS devices.
During emergencies and power failures, staying connected to loved ones is important. Not only will it help in the rescue, but they also ensure that family members stay connected and provide moral support.
Easy Operation
You definitely do not want a radio that is difficult to operate. Time is vital during emergencies. So, getting a radio that allows quick tuning and easy operation is imperative. Make sure that the radio that you are selecting is not overly complicated.
Clear Display
The radio you purchase should have a decently big screen that is easy to read. It is even better to get a radio with a backlit screen that you can read in any lighting condition, especially during the daytime.
SOS Alarm
If you get stranded during an emergency, you need a way to let the rescue teams know your whereabouts. Sending SOS signals is the most practical way of doing so. Those signals can be in the form of a beacon light or a loud alarm or siren. The emergency radio that you purchase should have at least one of these two attributes. If the unit has both, it is better.
Reading Lamp
Power outages are not uncommon during emergencies. Staying in the dark is never an option. So, the survival gear that you have with you should include a reading lamp that can allow quality and comforting time with your family members, especially children.
A reading lamp is different from a flashlight. A flashlight will send out directional rays of light while a reading lamp will illuminate the surrounding areas. It is useful in many ways. Whether you want to read out stories to your children or enjoy a good dinner, the ambient light is what you need.
Typically, a good emergency radio should include a reading lamp apart from a flashlight. If a radio ditches that, it is not really a complete emergency radio. Try to avoid such units.
Build Quality
The build quality of an emergency radio is important. You will most likely use the radio outdoors, especially during emergencies, where the weather conditions are not great. So, the radio you get should have a rugged build quality that can handle bad weather conditions. You should never settle for an emergency radio that fragile. It won't last!
Price & Budget
Finally, your budget will play a big role. I always suggest keeping a decent budget to get a quality radio with essential features. There are many cheap options that you can settle for, but they will not last for long. You don't want a radio that breaks down during an emergency.
FAQ:
Here is a list of most frequently asked questions by our users.
What is a Survival or Emergency radio?
A survival radio or an emergency radio is a radio that will give automatic NOAA Emergency weather alerts. General Emergency radios do not allow you to talk with others but offer various other features like a hand crank, solar panel, ability to charge phones and GPS devices, etc., alongside weather alerts.

Some Emergency radios may allow you to talk to others. This means that a ham radio or a CB radio can be an emergency radio because they even give NOAA weather alerts besides letting you talk.

Using a ham radio will require a license. Using CB radios will not require a license, but they aren't very powerful regarding range. Other survival radios without transmission ability do not require any license, and anyone can use them anytime.
What is a Hand Crank Radio?
A hand crank radio means a Radio that contains a hand-powered generator, such radios have a coil of conducting wire wrapped around a magnet. When you spin the coil rapidly around the magnet, electricity is generated, which then charges the Radio batteries. Hand Crank method of electricity generation is pretty common in modern windmill farms.
A hand-crank radio is an excellent choice for emergencies because it will allow you to generate electricity even when there is no electrical source nearby. Keeping your radio 'on' during emergencies is important. So yes, keeping a hand-crank radio available all the time can be a lifesaver!
Do we you need emergency radios?
We need emergency radios in situations like Hurricanes, blizzards, tornadoes, seasonal floods, high winds, volcanic eruptions and other disasters. These kind of emergency situations can disrupt the natural ways of working like Cellular connectivity and Internet.
Such disasters lead to immense damage and losses to both property and life. No one can say that he or she will remain unaffected by such events. In situations like those, an emergency radio becomes an invaluable asset that can draw the line between life and death.
Emergency Weather Radios can provide NOAA weather alerts, provide light in dark conditions, and provide power to charge our phones. Some of them have beacon lights or send out high-pitch sounds to alert the emergency rescue teams.
Why Can't We Use A Phone Instead Of An Emergency Radio?
You need to understand that when an emergency hits, the natural ways in which modern society work are all disrupted. There can be a food shortage, and it may be difficult to find clean water.
The worst part is that most of the emergencies knock off the power grid. With electricity gone, it will become impossible to charge your phones after a few hours or days. Sooner or later, your phone's battery will die. Unless you charge the battery, you cannot use it.
An emergency radio that can work with electricity generated by harnessing solar power or by using a hand crank can help you to stay informed. Also, such radios can help you to recharge your mobile phones so that you can resume communications. That's the reason why you will need an emergency radio.
Where can you buy an emergency radio?
Big box stores, home improvement centers, electronic stores, hardware stores – all of them are great places to find an emergency radio. You can also buy them online. There are some benefits and disadvantages of shopping from a brick and mortar store. The same applies to online purchases from e-commerce stores like Amazon, eBay, etc.
If you want to purchase from a physical store, you can physically inspect the radio. You can check its weight, its build quality, the intensity of the light, etc. On the downside, you will be restricted to the knowledge of the seller and his marketing pitch. There won't be people standing behind you in a queue to tell you about their experience with the model you are selecting.
If you want to purchase from an online e-commerce store, you cannot inspect the product physically, but you will most likely get to read real user reviews. They matter a lot! Also, you can get discounted prices for the products, and you don't have to go to a physical store (this is particularly beneficial if you are a lazy dough like me).
Is Bluetooth necessary for an Emergency Radio?
Bluetooth is not mandatory for any survival and emergency radios. You can always get a Bluetooth-enabled emergency radio if you want to spend more money.
During non-emergency situations, you can use a Bluetooth-enabled radio for streaming multimedia content from your phone. This will be particularly helpful during camping, hiking, pool parties, etc.
Emergency Weather Radio Resources: